Click here to download the full Birmingham Leisure Property Focus.
Birmingham's Big City Plan published in July 2011 highlights the soaring ambition of the UK's second city, a status disputed in some quarters. Since then there has been a stream of good news for the local economy and property markets. In a report by Start Up Britain, Birmingham is named as the UK's most entrepreneurial region outside of London, and a "start-up hotspot".
More companies are starting up here than in any other UK City outside of the capital, with Birmingham some way ahead of its rivals Manchester and Glasgow. In another report 'Emerging Trends in Real Estate 2015', produced by the Urban Land Institute and PwC, Birmingham is named as the best property investment destination in the UK, sixth best in Europe, someway ahead of London in 10th position.
Ongoing regeneration and inward investment are a major factor as to why Birmingham is rated so highly. After a £600m upgrade Birmingham New Street Station will shortly fully reopen with the associated Grand Central shopping area and one of the largest John Lewis stores outside of London, joining the City's existing Harvey Nichols and Selfridges. Birmingham is the only UK city outside of London to achieve this hat trick of flagship department stores. Major commercial property developments have recently commenced at the 9.2 acre Arena Central site between Broad Street and Holliday Street which will deliver on completion 670,000 sqft of grade A offices and also at Paradise Circus between Chamberlain and Centenary Squares, the first phase of which will comprise 170,000 sqft of grade A offices. Each will include ground floor space for new restaurants and leisure facilities. The Snow Hill and Colmore districts now have a new master plan and the former has already been chosen by HS2 as the location for its headquarters.
There is great strength in the local economy. Birmingham has 33,000 businesses, the largest concentration outside London; a population that has increased in the last 10 years by 300,000; is the youngest city in Europe with 40% of the population under25; and some 5,500 Londoners in their 30's moved here last year alone, the highest of any regional city. A key attraction of the city is its highly skilled labour force and source of new talent. Birmingham is the UK's leading centre for financial services outside of London. The city region has the largest
business, professional and financial services industry in the country, with some 220,000 people employed in over 21,000 companies.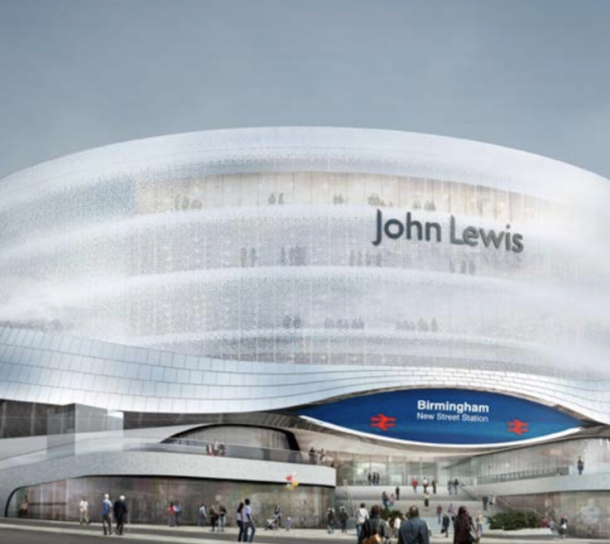 Image by Network Rail
The city has five universities and six major colleges, with some 73,000 undergraduate and postgraduate students, now set to grow with the London School of Business & Finance looking for a new home by the end of 2015. Not surprisingly there is a boom in demand for the development of student accommodation! Current estimates are for the City's population to grow by some 150,000 by 2031, leading to a further boom in city living. Major new housing developments will start this year in the Broad Street/Mailbox, Edgbaston and Jewellery Quarter areas.
Against considerable economic and political head winds, Birmingham City Council is to be praised for providing the framework for all this in the Big City Plan. The recent decision by Birmingham and the four Black Country Councils to create a combined authority in order to drive growth and modernise transport infrastructure is welcome, and in the latest developmentboth Coventry City Council and Solihull Metropolitan Borough Council have indicated that they may join the party. The Midland Metro extension from Snow Hill to New Street is coming, but more innovation and investment will be necessary to create a truly integrated transport system. It will be needed given the latest headlines. In a sensational announcement HSBC is to move its UK bank headquarters, at least 1,000 head office roles, from London to the Arena Central development. Birmingham's second city status is surely therefore assured.
Hotels
Confidence in Birmingham city centre's hotel market has seen continued improvement over the recent couple of years, with some exciting new hotel developments anticipated to add significantly to the City's existing accommodation offer. Recent hotel industry key performance data for Birmingham demonstrates not only positive sector trading improvements, but also thecontinued value for money available to visitors in comparison with many European cities.
Inward investment in hotel development in the city centre is evident from the number of new openings since the beginning of 2013. These include two new Whitbread sites for their Premier Inn brand, firstly at Stephenson's Place off New Street in close proximity to the redeveloped New Street station, and secondly at Waterloo Street in the Central Business District. The conversion of former office buildings has provided opportunities for a number of corporate brands with an Express by Holiday Inn opening at Snow Hill Plaza and an aparthotel development by Staybridge Suites at Martineau Place on Corporation Street.
The city centre fringe with the developing Eastside district is the site of the 4 star Hotel La Tour and at the north-western fringe, a second Hampton by Hilton Hotel fronts Constitution Hill, complimenting the brand's offering on Broad Street.
A number of hotel schemes are currently under construction, including the new 300 bedroom 4 star Park Regis Hotel at the Five Ways end of Broad Street, a redevelopment of former office tower Auchinleck House; a 110 bedroom Adagio Hotel in Digbeth's Beorma Quarter; and an aparthotel for Staycity, forming part of the Newhall Square development. Former offices comprising the Beneficial Building at the corner of Paradise Street/ Suffolk Street Queensway are currently being developed to provide a hotel, with an announcement of the future operator currently awaited. Hotel developments which involve the conversion and reutilisation of redundant office buildings have contributed significantly to the new hotel developments and will likely have benefited from the Business Premises Renovation Allowance (BPRA) scheme, which offered tax saving incentives for
such investment.
Developers' appetite for new hotels in Birmingham city centre looks set to continue, with hotels proposed to form part of two of the City's most significant comprehensive redevelopment schemes. A new Express by Holiday Inn is planned to form part of the Arena Central development and a replacement for the 4 star Copthorne Hotel due for demolition in 2018, is included in the master-plan for the Paradise Circus redevelopment. Another more recently
announced proposal relates to a cleared site lying at the junction of Broad Street and Oozells Way, where developer Regal Property Group have recently secured planning permission for an 18 storey hotel for European operator Innside Hotels. Horton Estates' significant investment in the restoration of the former Grand Hotel fronting Colmore Row is now at an advanced stage, announcement of a deal with a hotel operator is currently awaited.
Visitors to the City, for both business and leisure purposes, can therefore expect to benefit from an increasingly diverse choice of hotel options over the course of the next few years. Existing hotels will need to maintain their standards and may need to refresh their presentation, if they are to continue to appeal and meet the challenges provided by the new and growing competition.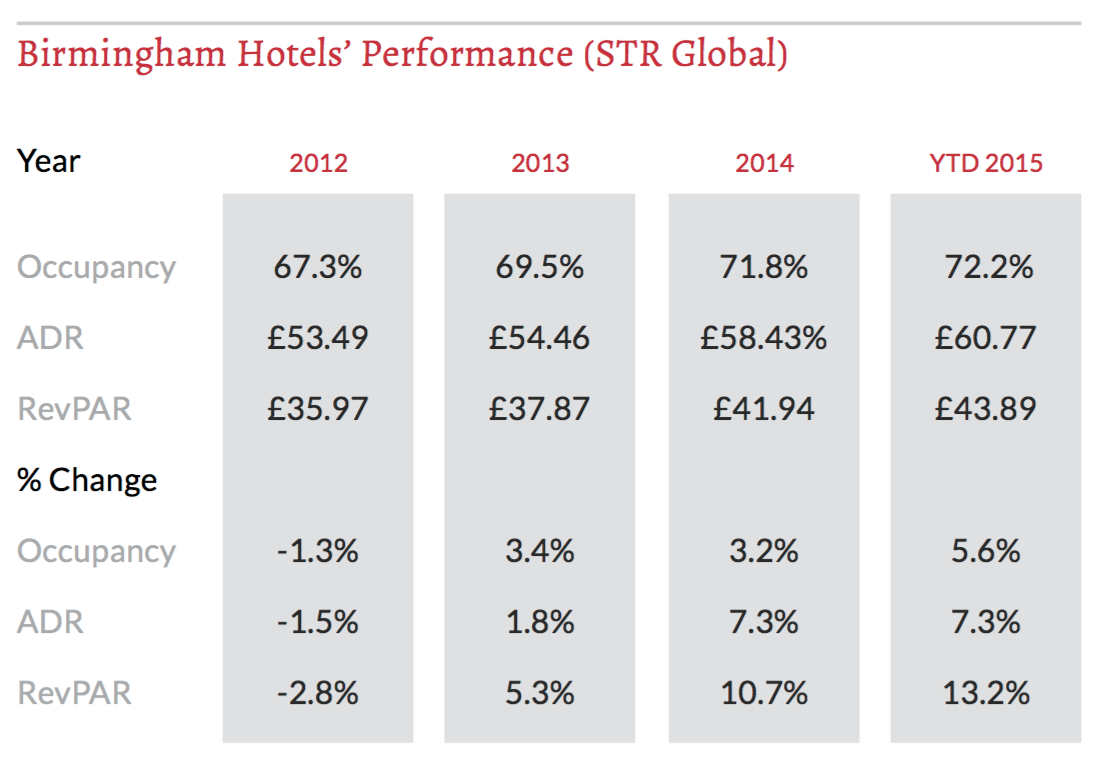 Pubs & Bars
Given its size and population, Birmingham traditionally had a surprisingly compact City Centre. Perhaps constrained by its inner ring-road, the 'middle of town' essentially comprised the retail stretch between New Street Station and the Law Courts in Corporation Street and the Colmore Row office quarter to the northern side of St. Philip's Cathedral.
If such boundaries applied to the City's pub scene though, they have now been well and truly smashed down, none more so than in the recent few years. If you were to pick up a leisure guide to the City Centre today, it would be as geographically spread as it would be diverse.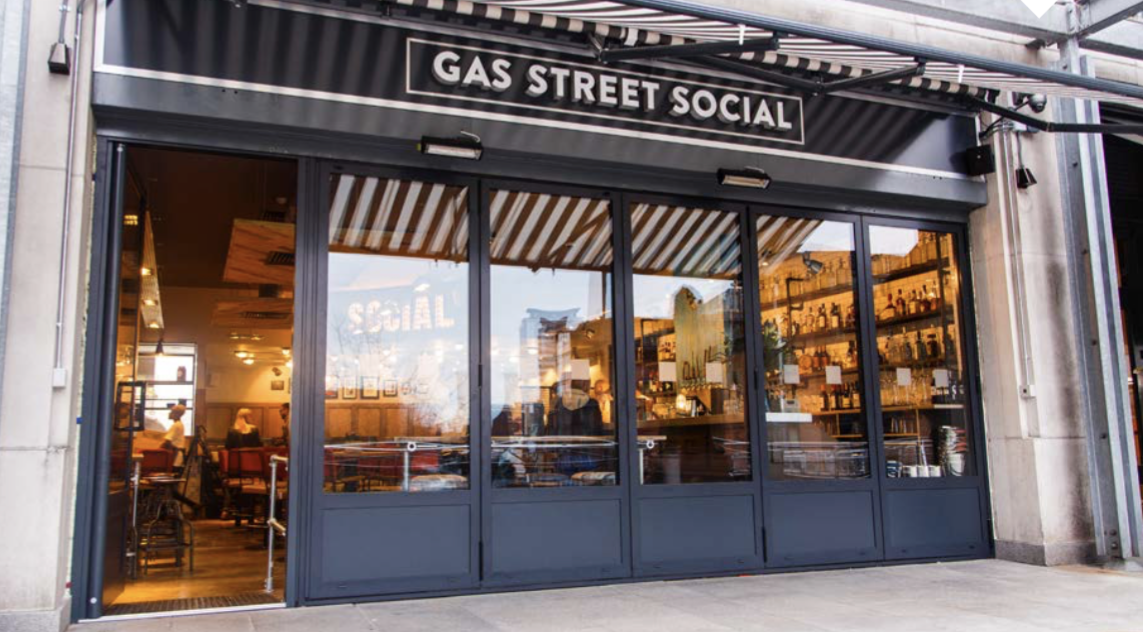 Gas Street Social
The growth of Broad Street pushed the leisure circuit to the West, whilst China Town/The Arcadian and the Bull Ring stopped turning their back on the centre and were embraced.
In more recent years, inner city districts such as the historic Jewellery Quarter and the creative hub of Digbeth, have enjoyed a huge renaissance with the independent and innovative licensed retail operators leading the march.
From Alfie Bird's or the Rainbow Venues in Digbeth (pop in for a pint and end up in a 10,000 capacity music festival - yes, really) to the more conventional Rose Villa Tavern or Lord Clifden in Hockley, there is an energy these areas haven't seen since their industrial pomp. It won't be stopping there either, the redevelopment of Curzon Street and the Eastside, in preparation for HS2, will see the creation of more leisure opportunities, as 'the Gateway to Birmingham' pushes the City's boundaries further still.
This isn't to say the traditional City Centre is being abandoned, far from it. Pure Bar & Kitchen, on the corner of Victoria Square, brought craft beer and top quality food to the heart of the Business District, Gas Street Social has recently brought cocktails, craft beers and its 'urban kitchen' to the Mailbox and the sector's poster 'bad boy' Brew Dog doffed its cap to Birmingham as the ancestral home of heavy metal when it opened in 80's hot-spot John Bright Street. Ozzy would be proud! Cozy Club has just opened its latest outlet in the original Midlands Bank inBennetts Hill and you can expect others to follow in this area as the New Street Station redevelopment nears completion. Recently reopened after lying empty for more than a decade, the Fiddle & Bone at Sherborne Wharf will once again offer a venue for music and dining following a £650,000 refurbishment by local entrepreneur Earl Wightman.
Elsewhere if a Brummie drinker from the cask ale desert of the 1980's suddenly found himself in The Wellington, the Post Office Vaults or the Craven Arms, he'd think he'd landed in beer heaven. Once the City of a thousand trades, there will soon be a beer for each at this rate!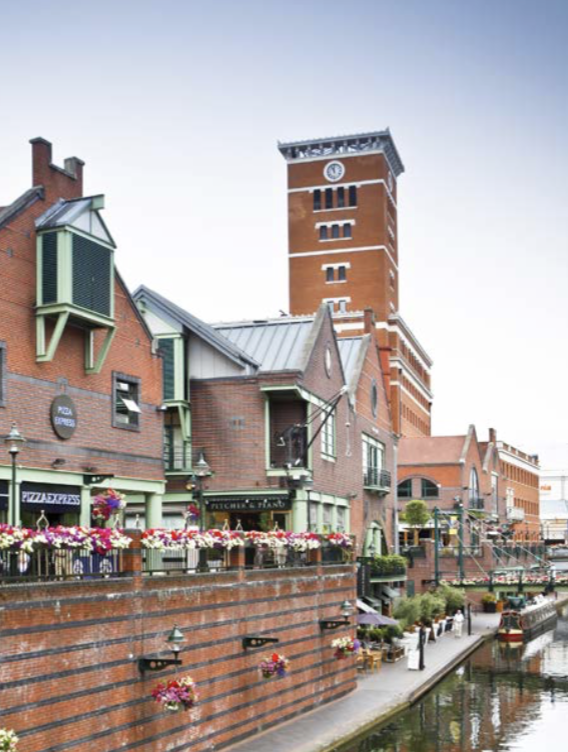 Canal Brindleyplace
Restaurants
With a population of over one million, Birmingham has one of the most ethnically rich in the UK, formed from many different cultures and nationalities. This mix of cultures means the city enjoys a wide variety of cuisines originating from as many as 30 different countries. The City is therefore able to satisfy pretty much all tastes, preferences and budgets, whether you seek a traditional pub offering, a curry or modern contemporary Michelin Star cuisine.
As with the pub scene, there is a variety of both national chains and independent restaurants within the city; which has recently been described as 'World Class'. Birmingham's rise to culinary greatness has now made it the UK's only city outside of London and Edinburgh to boast four Michelin Star restaurants and is now enjoying a reputation for good food as a tourist and a leisure destination.
Most of the major restaurant chains are now represented in the City in developments such as The Mailbox, The Cube and Brindley Place. These include the likes of established operations Miller & Carter, Cote, Marco Pierre White, Shogun Teppanyaki and the newly opened Gas Street Social within the Mailbox complex. Also opening in September 2015 the Grand Central development at New Street Station is to feature 60 premium shops, restaurants, cafes and one of the largest John Lewis department stores in the country. Of the first ten restaurants and cafés opening, seven will be new to the city, most only currently found in London and the South East such as Tortilla, Pho and Tapas Revolution.
As you would expect of the nations, second City, there is no shortage of stylish yet informal restaurants attracting the serious foodies. For example, Lasan which serves a modern twist on Indian cuisine, also appearing in the Sunday Times Top 100 UK Restaurants. The recently opened Turtle Bay Restaurant in John Bright Street, offers an authentic take on Caribbean food. A short trip to Digbeth will take you to a former pub, now serving tapas enjoying excellent reviews under the name of Rico Libre.
The newest restaurant awarded a Michelin star is Adams situated a short distance from New Street Station. Adams joins Turners in Harborne, Purnell's in the central business district and Simpsons in Edgbaston, all having a coveted Michelin Star. Outgrowing its existing premises, Adams is shortly to move to New Oxford House in Waterloo Street in the Colmore Business District and close by a new bar/restaurant by Nosh & Quaff is set for a summer opening at 130Colmore Row. Carters of Moseley has also gained the prize in the Waitrose Good Food Guides Readers Restaurant of the Year Awards.
As to the future, we see no easing up of restaurant activity within the city. In April the Botanist opened its doors to the general public following a £1.2 million refurbishment programme of Cheltenham House on Temple Street. Rumours also persist that two premium London based restaurant brands are looking at opportunities within central Birmingham, Burger & Lobster and Argentinian Steak House specialist Gaucho. With the memories of the recession now receding,operator demand and confidence is expected to continue to grow.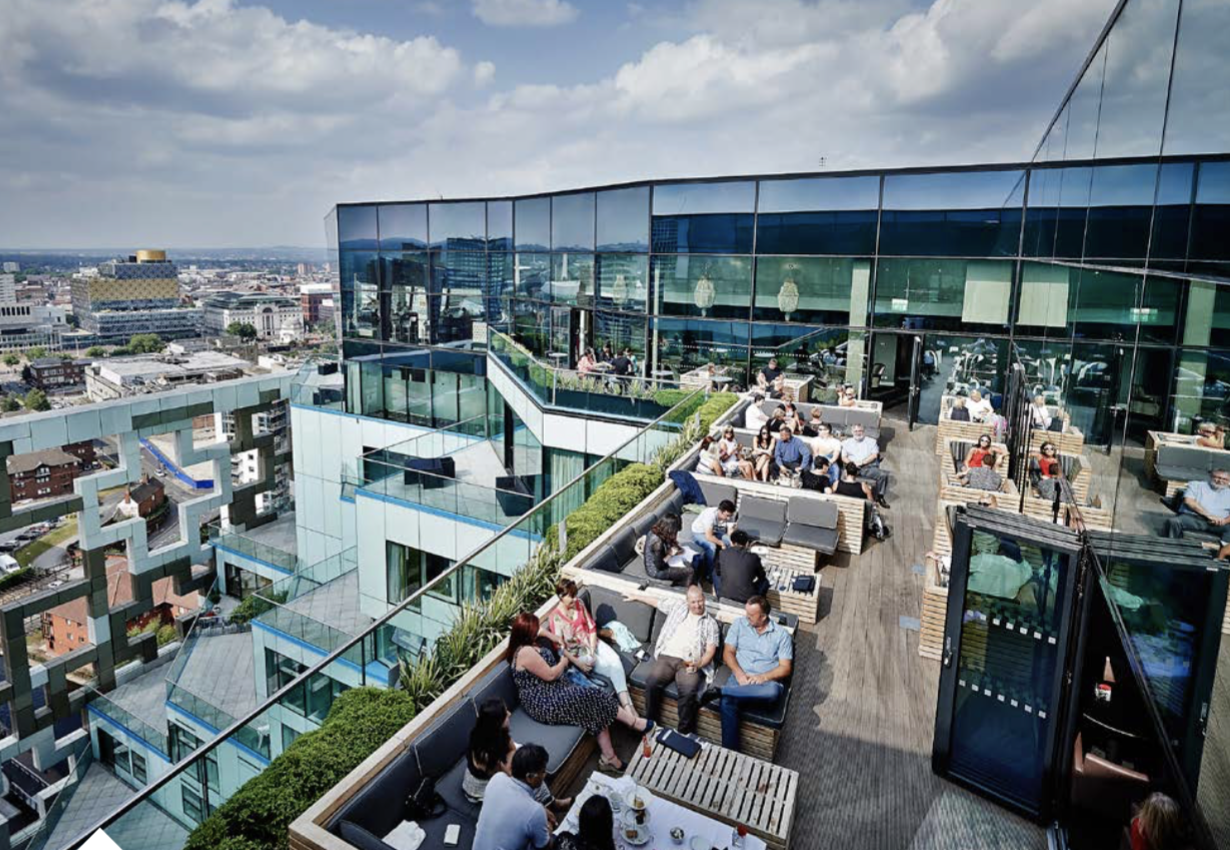 Cube Terrace
Leisure & Night Clubs
The club scene in Birmingham is big, however there is a great deal more to the City's leisure offer. On Broad Street we have Gatecrasher, Birmingham's biggest nightclub, and Players, whilst areas such as Southside incorporating the City's Gay Village and Summerrow, boast other venues such as the long established Apres and Mechu. Smallbrook Queensway nowfeatures the relocated and revitalised Snobs. These districts prove to be popular with the City's large student population, who also inhabit the more cutting edge venues to be found in the Digbeth quarter. Neither should we forget the Jam House in the Jewellery Quarter's St Pauls Square, perennially popular with city sophisticates. For those wanting a bit more risk from theirnight out there are the Broadway, Grosvenor and Genting Casinos in the city centre, as well as the Genting Casino at Star City, a purpose built leisure hub at the City's northern fringe.
Live performance forms a big part of Birmingham's leisure scene. Regular live comedy can be found at the Glee Club in Hurst Street and at Jongleurs on Broad Street. As home to some of popular music's most famous performers it is not surprising that the live music scene in Birmingham is significant. The Barclaycard Arena regularly plays host to some of the world's biggest tours, whilst the O2 Academy and other smaller venues, stage a constant stream of gigs for rock, jazz, folk and blues fans. For those looking for high quality world class cultural events, the Symphony Hall on Broad Street houses the City of Birmingham Symphony Orchestra. Birmingham Hippodrome, is home to the Birmingham Royal Ballet, and is the Midland's base for the Welsh National Opera. Aside from this the Hippodrome which sells moreseats annually than any other UK theatre including London's West End, the New Alexander Theatre, which has a memorable Edwardian auditorium, and the recently refurbished Birmingham Rep stage a rich mix of drama and musicals, and are amongst the country's favourites for touring companies. Birmingham Town Hall has also undergone major restoration to provide another magnificent venue for live performance.
Emphasising Birmingham's cultural and civic heritage is a major thrust of the City Council's Big City Plan. This will see new public open spaces added to the City's established civic heart around Victoria, Chamberlain and Centenary Squares. The stunningly designed Library of Birmingham has recently added to the City's cultural venues, including the Birmingham Museumand Art Gallery, the Ikon Gallery and the Royal Birmingham Society of Artists. There are ambitious plans to extend the City's leisure attractions. Birmingham Smithfield recently unveiled, will create a major leisure and family quarter on the site of the wholesale markets adjoining the Bull Ring, providing new museum, cinema, gallery and music space. A new Market Square will become a hub for cultural events in the city to be served by the extended Midland Metro system. Meanwhile the city's planners have recently granted consent for a new £40m Birmingham Conservatoire, to relocate this classical music venue to Millennium Point atEastside, from the current facility at Paradise Circus, now undergoing redevelopment. On a different level the Jewellery Quarter has become home to the Wonderful World of Trains and Planes, a new family attraction. With 11,000 metres of track, models and layouts from the UK, Europe and North America as well as flight and rally simulators, this is fast becoming a major visitor destination. The city really does provide leisure opportunities for everyone!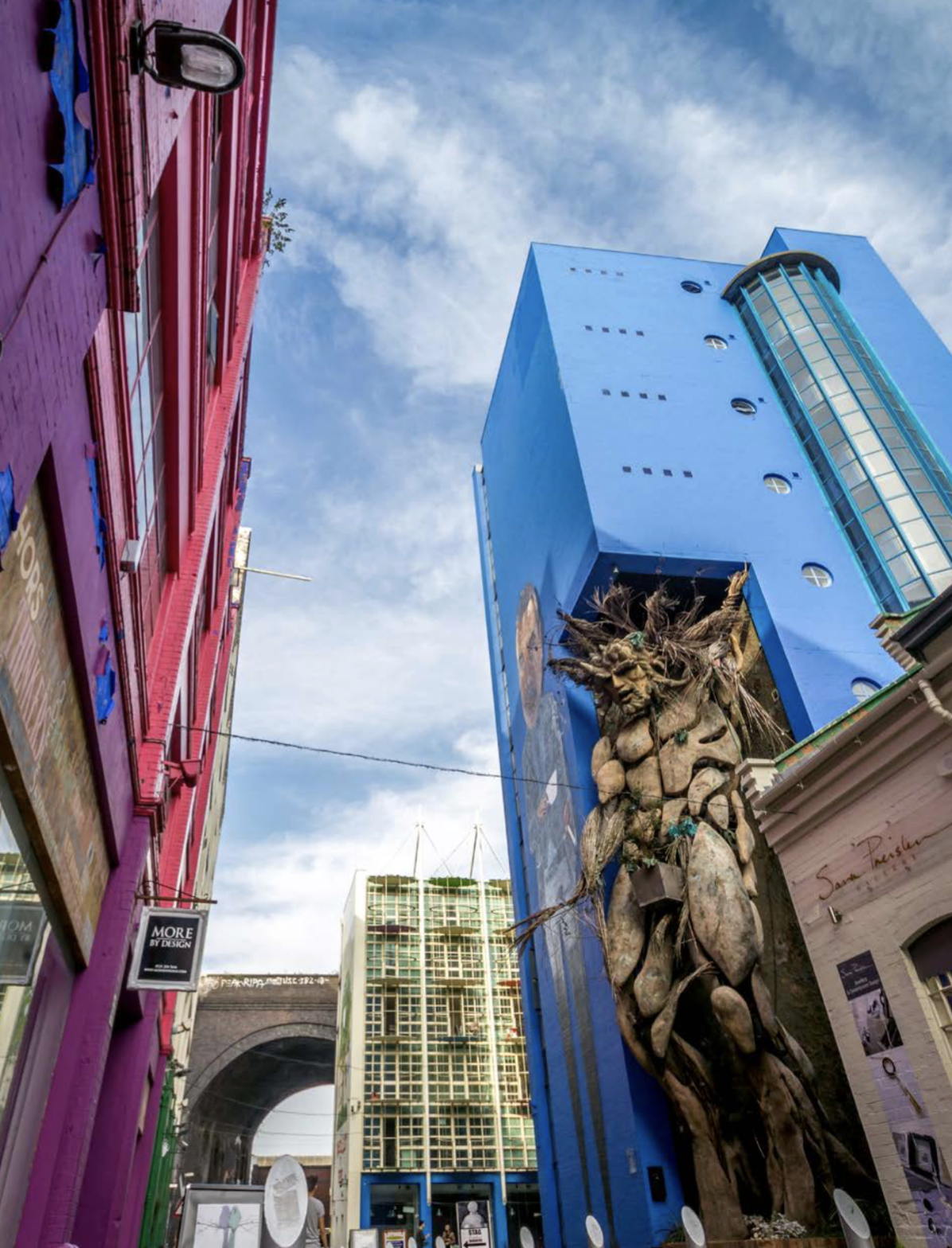 Custard Factory