Click here to download the full Bristol Leisure Property Focus
Bristol is the economic capital of the South West, being home to more than 17,500 businesses, with a third of UK-owned FTSE 100 companies having a significant presence in the city. Bristol was recently attributed as the fastest growing hi-tech sector outside of London (McKinsey and Co, 2014).
Having benefited from National Lottery funding and other grants to finance major regeneration projects, the city is a thriving destination and boasts an eclectic mix of bars, restaurants, museums and art galleries. The growing success of Bristol is evident from the recent accolades the city has received. The city currently holds the honour of European Green Capital (2015), being the first city in the UK to be a warded the title and in 2014, Bristol was declared as the overall winner in Sunday Times' Best Place to Live in Britain, acknowledging the many attributes of the city from its social scene, scenery and heritage, through to the low levels of unemployment.
Bristol also has a thriving student scene with two Universities; University of Bristol and the University of West England, with a student population of approximately 47,000 that adds considerably to the vibrancy and economy of the city.
Cabot Circus is the city centre's main shopping centre. The scheme opened in 2008 and is one of the largest retail-led city centre urban regeneration projects in the UK. With over 90 shops, 15 restaurants, a hotel and 13-screen cinema, as well as offices and 250 residential apartments, it offers broad appeal and attracts 17 million visitors each year.
Growth continues with significant developments underway to improve the city's transport links. Bristol Airport is currently in the process of undergoing a sizeable £120 million expansion that ispredicted to enable the airport to handle 11.6 million passengers a year by 2030. The extension of the airport's East terminal has now been completed and work has commenced on the West terminal. This expansion will attract new retail and restaurant brands and includes an on site hotel. A new high-speed rail service planned for 2017 will see journey times to Londoncut to 80 minutes. Proposals have also been announced for an £8 million scheme to alter traffic flow in the city centre and pedestrianise areas around the Cenotaph and Hippodrome, as well as further infrastructure improvements, such as the South Bristol Link Road.
The long awaited development of Bristol Arena, a £90 million development due to be completed in 2017 is widely anticipated to have a significant impact on the city's leisure industry, not least because it will provide the city with a 12,000 capacity, live music venue, but this also forms part of plans to regenerate a large 70-hectare site known as Temple Quarter Enterprise Zone. This redevelopment is set to be one of the largest and most significant regeneration projects in the UK.
Once viewed as a much wasted and neglected asset, Bristol's waterfront areas are benefitting from a series of large scale developments bringing life to the waters' edge with schemes such as Finzels Reach and Wapping Wharf offering mixed use developments and waterfront leisureopportunities.
A planning application to extend The Mall at Cribbs Causeway by over 50 % has also been submitted to South Gloucestershire Council. The proposal includes plans to create new retail, leisure and restaurant space as well as a hotel, apartments and improved transport links. The development represents a £316 million transformation of the area. If approved, it is anticipated the work will commence in 2017 and be completed by 2021 and no doubt the arguments whether this will have a detrimental impact on the city centre and other regional centres will continue long beyond that.
Hotels
Bristol's hotel sector is experiencing significant growth, with hotels increasingly anchoring major developments across the city. The city offers a plethora of accommodation options from quirky hostels such as the Full Moon and The Lanes, through to country estate hotels on the edge of the city, many of which are highly sought after wedding venues.
The city is also well served by a number of budget hotel operators, predominantly located at the Harbourside and near to the city's transport hubs.
With numerous, large scale developments underway, the city is set to welcome the arrival of at least six new hotels in the near future.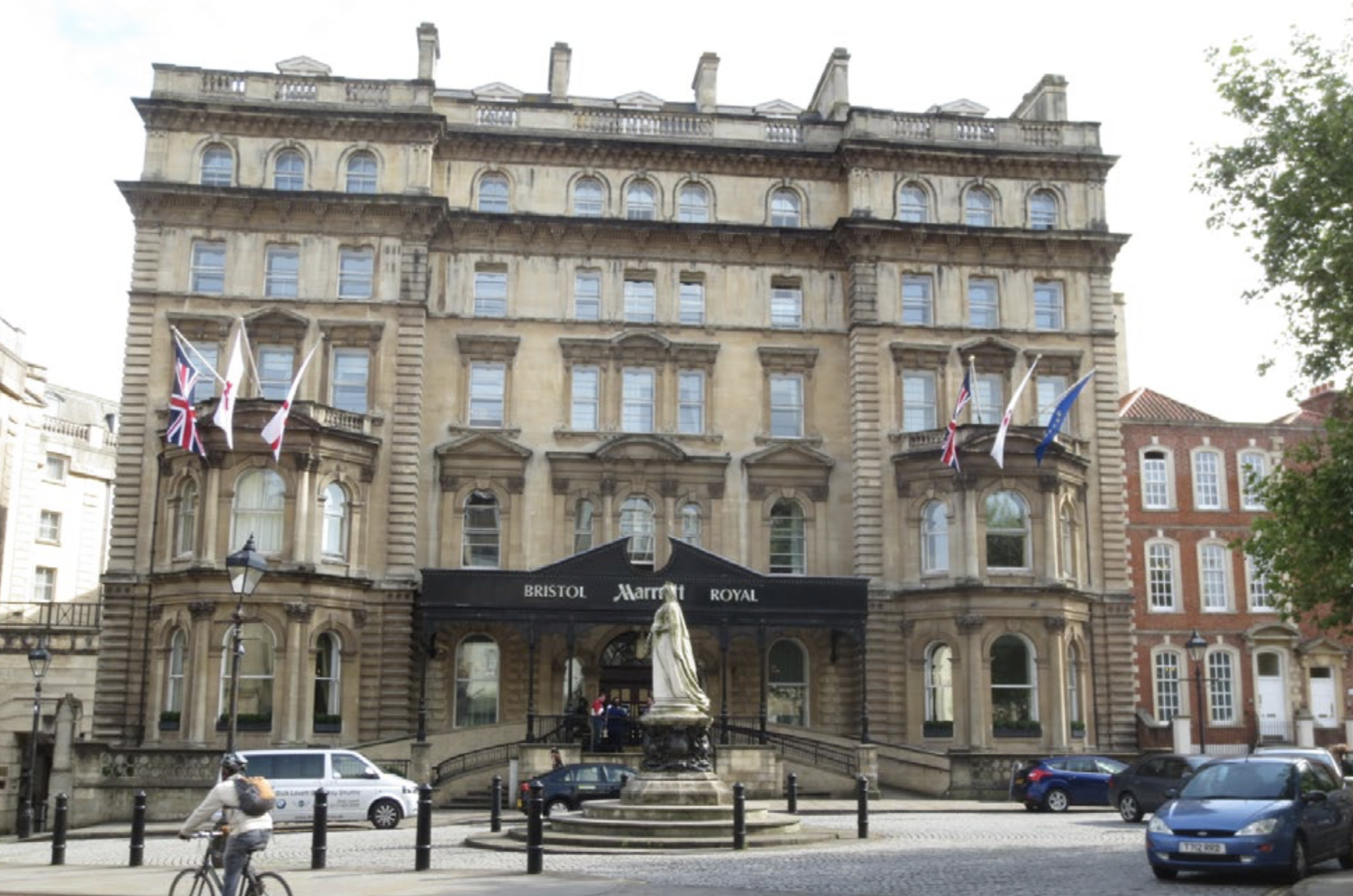 Bristol Marriot Royal
In the city centre, the developers behind Finzels Reach plan to convert the former Courage Brewery site into a 168-bed Premier Inn, this phase of the development is due to be completed in 2016, with a further Premier Inn nearing completion at Lewins Mead, joining their two existing city centre hotels.
The aforementioned airport expansion will see the welcome addition of an on-site 201-bed hotel at the airport, managed by Hilton Worldwide group under its Hampton by Hilton brand, due to be open in Spring 2016. Hampton will further enhance its presence with the opening at York House near St James Barton, following the conversion of a former office block, a scheme Fleurets marketed on behalf of the owner, which includes additional ground floor restaurant space.
The proposed extension of Cribbs Causeway also includes plans for a 120-bed hotel.
Plans are in place for Bristol to welcome its first 5 star hotel, with the £10 million conversion of the historic Guildhall, located on Broad Street. The Trevor Osborne Property Group plans to create a luxury 93 bedroom hotel with a spa complex, rooftop swimming pool, restaurant and conference facilities in this 19th century Grade II listed building and adjacent Grade I listed former Bank of England. This would be a welcome addition to a city the size of Bristol, whichcurrently lacks 5 star accommodation.
Whilst individual transaction numbers within the city centre remain low, primarily due to the fact that most hotels are operated by corporate brands, portfolio transactions continue apace, one such example being Marathon Asset Management's acquisition of a 1,200 bed hotel portfolio earlier this year, which included Bristol's Hilton Garden Inn on Temple Way.
Other notable activity includes the rebranding of the Grand Hotel on Broad Street, one of the city's best known hotels, formerly operated by Thistle, however since July now forms part of the Hotel Collection.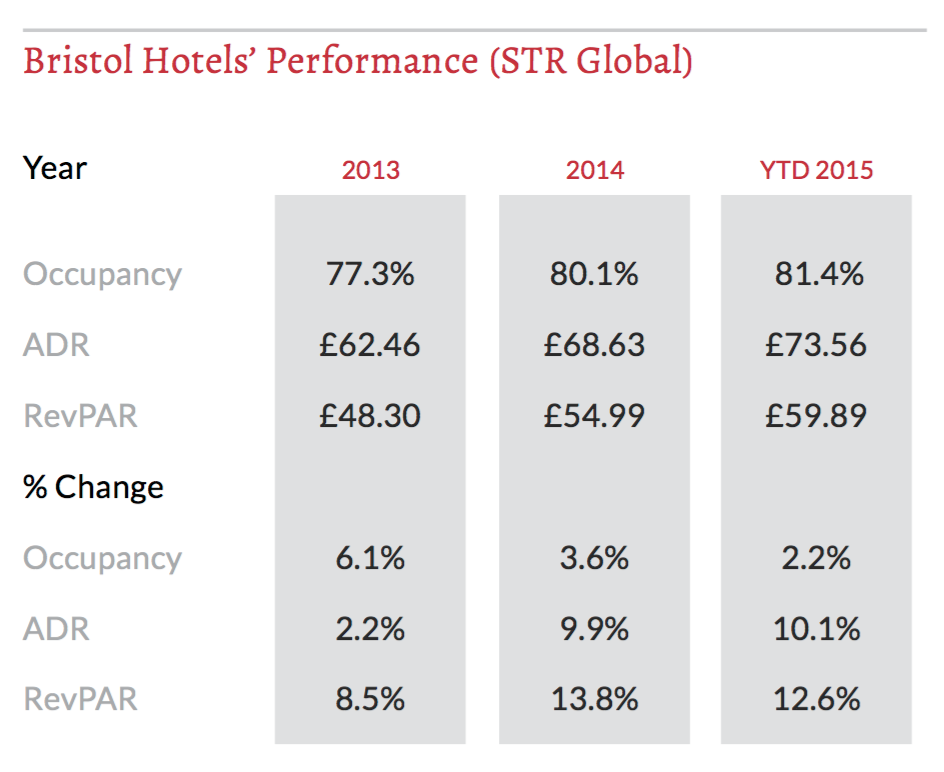 Pubs & Bars
Despite its size, Bristol has a pub and bar scene that rivals most. Alongside the underlying ethos of Bristol, diversity is the key to its success, with an impressive array of venues from traditional pubs and fine wine bars, through to hip trendy microbreweries and discrete, speakeasy cocktail bars. However, unlike the majority of UK cities, Bristol does not conform to the canonical city centre setup with a dominant primary wet led pitch, rather the city comprises of a collection of distinct areas, each with their own character and personality, influenced
by the diverse mix of cultures within the city. Whilst brands within Harbourside and Corn Street may reflect those observed in many city centres, it is the distinct areas that set Bristol apart, encourages the independent market and allows new concepts to flourish.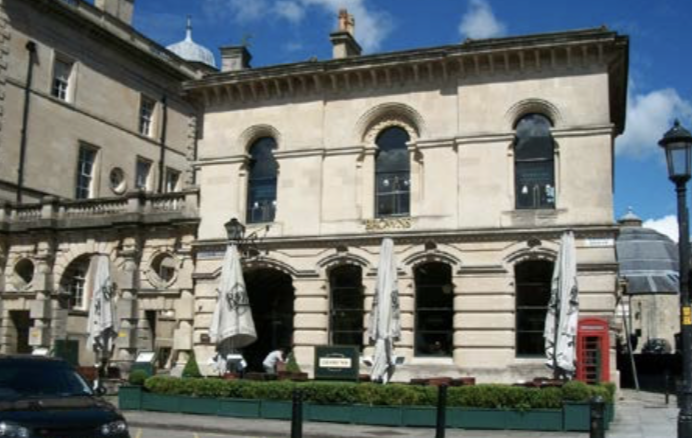 Browns
Some areas, such as Clifton Village, have long been established as sought after locations and popular drinking destinations, whereas other areas continually emerge and add further diversity to the city. Areas such as Stokes Croft, once a widely avoided part of the city, have now been transformed into the bohemian neighbourhood of the city, with street art throughout and an array of fiercely defended independent coffee shops, pubs, bars and restaurants, many being a hybrid of all these, trading from all day and evening formats.
In recent years, Bristol has witnessed a rapidly evolving Craft Beer scene. Whilst micro-breweries are popping up throughout the city, King Street and the surrounding area have now established themselves as the craft beer pitch of the city, with a collection of specialist operators dominating the pitch including national operators such as Brewdog, as well as independent operators such as the Beer Emporium, Small Bar and Kongs of King Street, all serving a wide range of fine beers. The latter three lettings were all transacted by Fleurets and we will shortly be announcing the arrival of a further operator making their debut in Bristol, withthe letting of the newly configured Riverside House on the junction of Welsh Back and King Street. The Craft Beer operators, together with a good selection of hotels and independent restaurants have made this area an extremely popular location within the city, particularly with the over 25s market. The Craft Beer movement is not restricted to this area, with concepts
opening throughout the city, with operators such as Brewhouse & Kitchen opening within the former Hill public house, acquiring the property via Fleurets, joining established operators such as Beerd and Bristol Beer Factory.
Another rising trend in the city is that of the Cocktail Bar. With creative ventures such as the secretive prohibition style speakeasy bars, run by private operators including Hausbar, Red and The Milk Thistle, through to the bustling and vibrant Be At One (their first site outside of the South East, which was acquired by Fleurets). The vast selection of high quality cocktail barsputs Bristol firmly on the map as a city that takes its cocktails seriously. The new arrival of Her Majesty's Secret Service further increases the choice. The concept takes over the former Charlie's Bar at Clifton Down, the lease of which they acquired through Fleurets.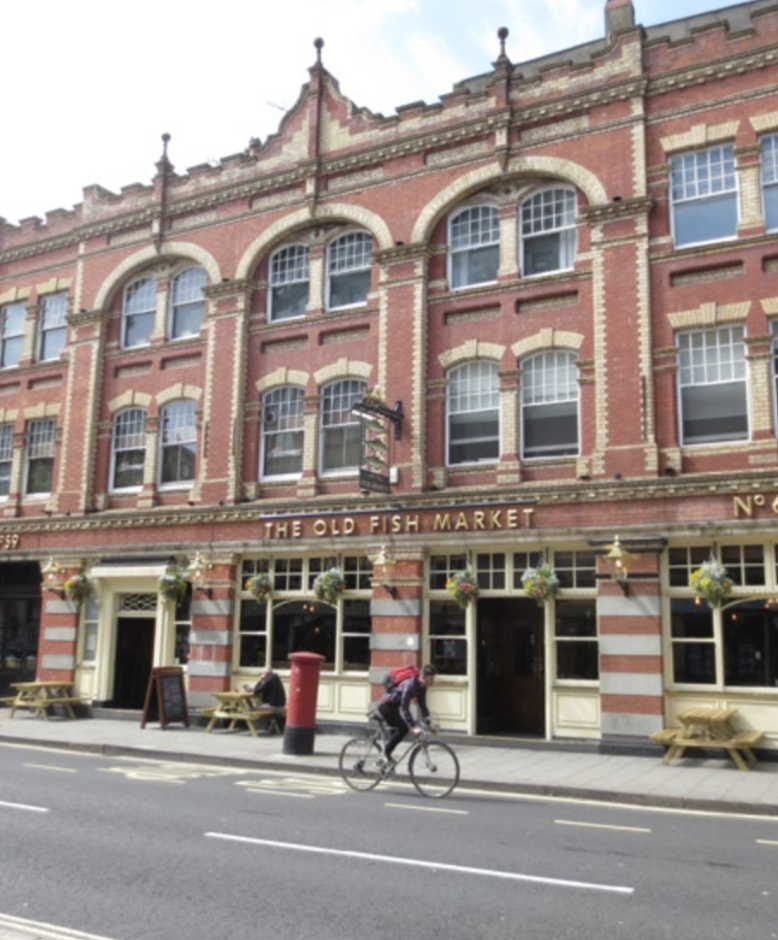 The Old Fish Market
Restaurants
Restaurant demand remains insatiable for Bristol and the city is experiencing considerable interest from national operators and emerging concepts seeking sites in the city. This can be attributed to the city's location, economic performance, two strong Universities and significantregeneration projects.
The city boasts quality, independent restaurants and is extremely proud and defensive of this fact. This individuality has created a hot bed of innovation with a number of rapidly expanding operators having started their business in Bristol, such as Boston Tea Party, Loungers and Las Iguanas. There are also many other independent operators that are starting to roll out their operations by opening sites within the city including the award winning Burger Joint, Urban Standard, Zazu's Kitchen and Bosco.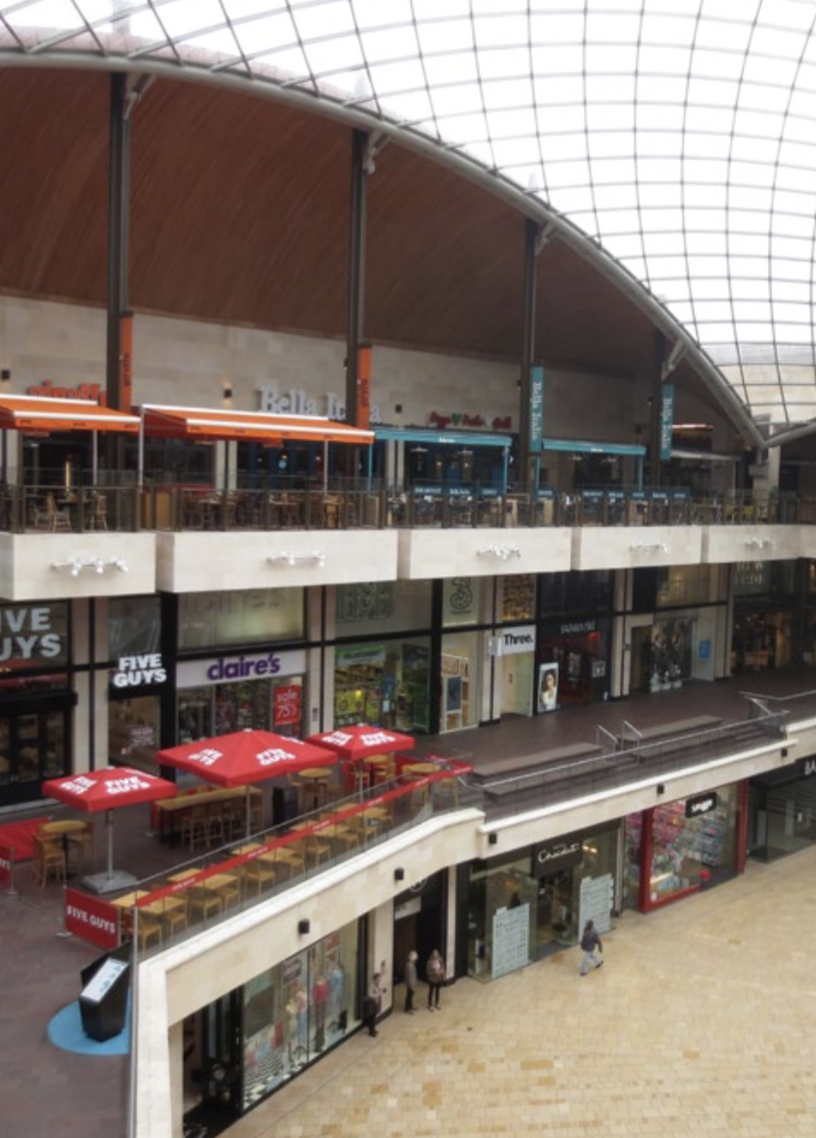 Cabot Circus
One dining concept that is proving to be ever popular in the Bristol market is tapas or small plates, albeit not always of the Spanish variety, although having a significant Spanish population no doubt helps. Restaurants serving such small plates are prevalent throughout the city, demonstrated by the likes of Bravas, Poco, The Gallimaufry and La Tomatina, the relaxed atmosphere and relatively informal style of dining harmonises with and appeals to a city that does not always conform to the norm.
The Gallimaufry situated on Gloucester Road replaced the iconic Prom Bar, a Bristol institution, via a transaction handled off market by Fleurets. Whilst most would define the 'Galli' as a pub/bar, they have introduced a superb all day menu. This and others represent the increasing emergence of venues that sit between the traditional definition of what is a pub and what is a restaurant? Café Bar concepts such as Loungers and the increasing percentage offood sales in venues which historically would be viewed as pubs are blurring the lines in
terms of the use classes and what customers perceive the operation to be.
The fine dining scene is also advancing in Bristol, with the economy improving and operators benefiting from a fantastic array of local produce. Three Bristol restaurants: Casamia, The Ox and Lido have recently been listed in the Top 100 Best Restaurants in the National Restaurant Awards 2015. There are a number of high profile chefs currently circling Bristol, seeking venues, recognising the potential for their concepts in the city with Casamia having recentlyannounced plans to relocate to a city centre restaurant.
The key restaurant pitches have evolved following the recession and areas such as the Triangle have transformed from retail to a more food-led pitch, with the arrival of national operators such as Cau, Byron and Bills joining long established brands including Browns and Wagamamas. This looks set to continue with Wahaca's latest opening. Whiteladies Road is similarly experiencing a resurgence with restaurants opening including the River Cottage Canteen, Aqua and Bosco, making Whiteladies Road a destination for both eating out and drinking in Bristol. Clifton Village remains a popular foodie destination, but due to the area's architecture, there is a shortage of opportunities. Gloucester Road continues to thrive with both the bar and restaurant scene proving to be popular as ever, with Southville emerging as a serious restaurant pitch in its own right.
The opening of Cabot Circus and Quakers Friar witnessed an influx of restaurants into the city centre, which is continually expanding. The presence of a multi-screen cinema within the main shopping centre attracted considerable branded presence and the ambience and continental feel of Quakers Friar provides superb al fresco dining.
Bristol is embracing its waterfront, a much under utilised part of the city with several large scale developments underway. Finzels Reach and Wapping Wharf, mixed use developments which include various restaurant opportunities are now coming to fruition, alongside the continued expansion of the Harbourside, which is moving towards a more food led, family-friendly destination.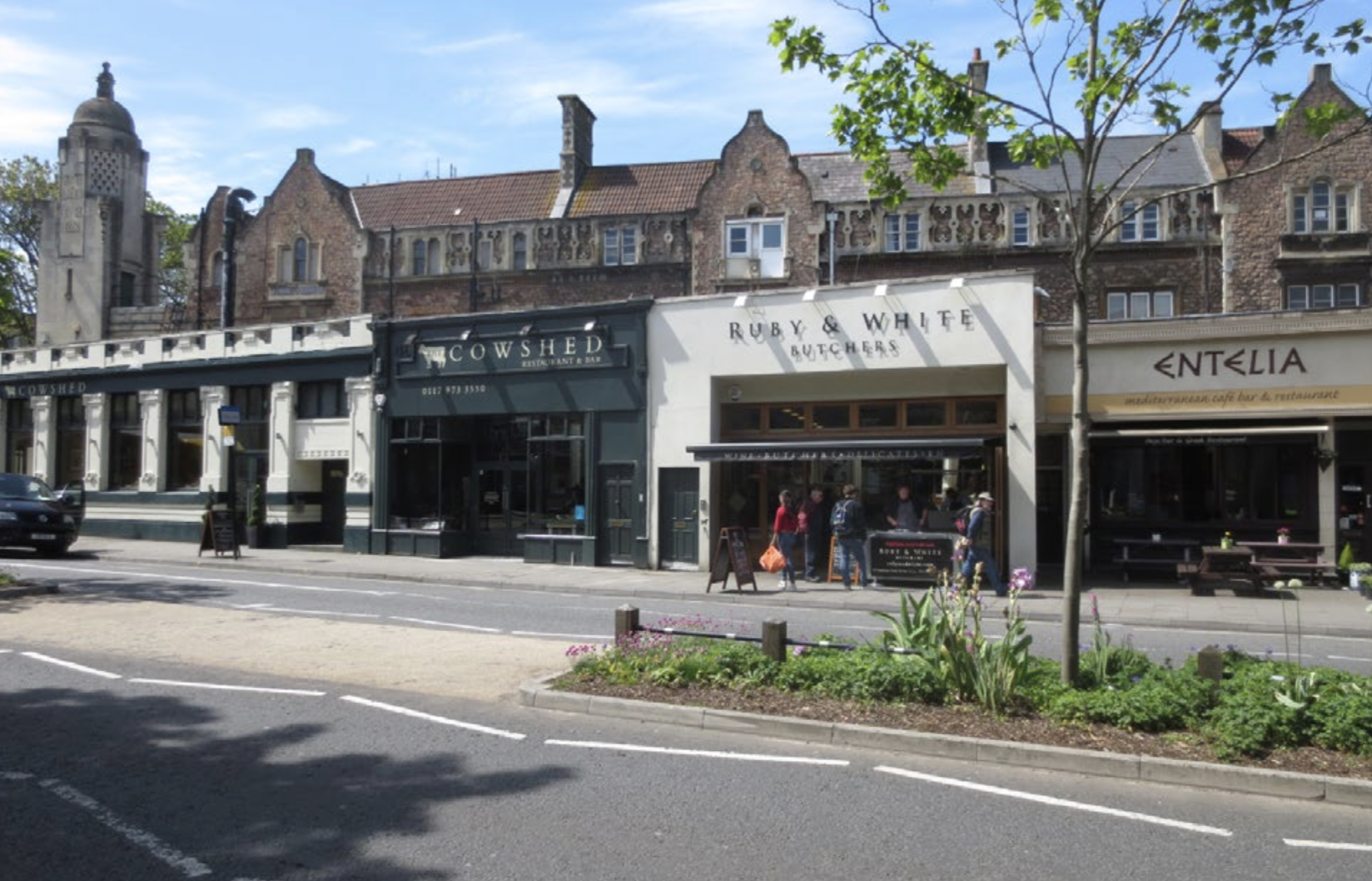 Whiteladies Road
Leisure & Night Clubs
The leisure scene in Bristol is just as diverse as that of the pub and restaurant offering, comprising both larger national chains operating super-clubs, such as Pryzm, as well as various smaller independent operators. The high number of students from Universities within both Bristol and Bath provides a continuous supply of partygoers every night of the week. The city has recently been awarded Purple Flag status for the third year running, acknowledging the city's excellence in managing the evening and night-time leisure scene.
Enthusiasts of live music are well catered for in Bristol with a multitude of live performance venues. The Colston Hall and 02 Academy provide the city with popular and prominent bands. Some, like the Bristol Folk House or the Old Duke, specialise in particular genres, whereas venues such as Motion, Thekla and Basement 45 provide homage to the alternative and underground scene with live music and DJ sets, all having reputations as being something of aninstitution in Bristol, exemplified by Thekla recently being shortlisted as the Best Small Venue in the UK by NME. The development of Bristol Arena will undoubtedly enhance Bristol's presence on the music scene, attracting both national and international performers.
In a similar vein to the distinction between pubs and restaurants, Bristol historically has accommodated a number of small capacity underground clubs, which have reinvented themselves in recent years into quasi bar/club/cocktail lounge late night venues. One example is Bar 135 on Whiteladies Road, which previously traded as Bijou, prior to Fleurets selling the lease.
Bristol is well served with cinemas and theatres alike. In addition to a number of multiplexes within the city including Showcase Cinema de Lux, the city has a number of excellent independent cinemas and a reputation for independent film and art house cinema. The Watershed, a cross art-form venue is the leading centre in the South West for film culture and digital media. For theatre, there is a wide selection of venues showing a range of performancesto suit all tastes, from the Hippodrome that holds national performances and West Endmusicals, through to the Bristol Old Vic, one of the most famous venues in Bristol and the longest continuously running theatre in the UK. The Bristol Old Vic is currently benefiting from a £12 million refurbishment to modernise the theatre.
The city also benefits from a number of other attractions such as @Bristol, Bristol Aquarium, Bristol Zoo, M Shed, SS Great Britain and the Arnolfini, many of which are located within or near to Bristol Harbourside. These attractions, combined with the large number of restaurants,bars and hotels has seen the Harbourside expand and develop, creating an all day, family-friendly environment, worthy of the attractive setting.
In addition to the aforementioned leisure venues, Bristol hosts a plethora of festivals throughout the year attracting hundreds of thousands of visitors annually. Harbour Fest, a three day event celebrating the city's finest musical and performance acts, is one of the largest free UK festivals. This year it was reported to have attracted over 250,000 people and is estimated to have generated over £12 million for the city's economy. Similarly, Bristol International Balloon Fiesta, Europe's largest ballooning event, sees half a million visitors descend on the city in August each year. A number of other festivals including Love Saves theDay, St Pauls Festival and Grillstock are must see events and attract visitors from far and wide, the latter building on its success by expanding its highly acclaimed restaurant concept beyond Bristol.