Click here to download the complete PDF
2016 marks the 31st edition of Fleurets' annual Rental Survey. This survey covers rental information relating to Rent Reviews and Lease Renewals in the Licensed and Leisure Market, including pubs, bars and restaurants. We have provided information relating to free of tie pubs and shell lettings. This survey includes all information available to Fleurets relating to deals undertaken over the past 5 years.
Reviews Agreed 2011 - 2015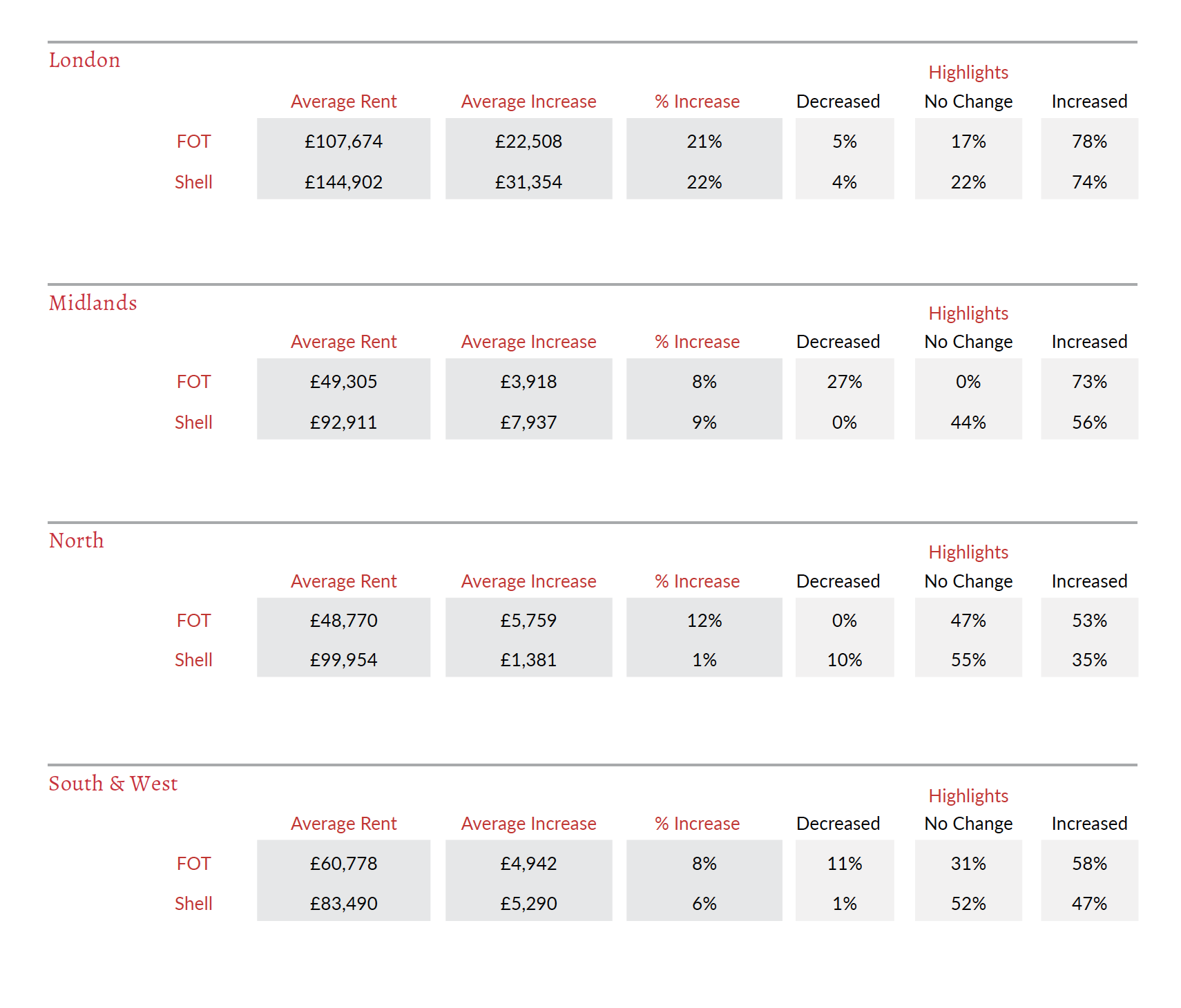 Market Background
During most of 2015 there had been a slow but steady improvement in market confidence. Major pub companies had resolved many of their financial difficulties and whilst they were no longer expanding, they had ceased their major disposal programmes. Managed House operators continued to see growth, with positive annual results being shown from companies such as Mitchells & Butler, J D Wetherspoon, Greene King and Marston's. In addition high street bar operators also showed positive results.
The past year has been one of fluctuating economic conditions. The biggest influence to hit the market has been the Brexit vote. Whilst this post dates most of the rental evidence in this survey, it will inevitably have an impact on the market over the next 2 to 3 years. The immediate reaction, however, was a period of significant uncertainty, with both political and economic upheaval. Some months later this seems to have calmed down, though perhaps the biggest impact is likely to be as and when the UK exits Europe. In the interim there are still strong underlying economic conditions with low interest rates, relatively low unemployment and also low inflation. Consumer confidence appears to have been maintained throughout this uncertain period with the likes of the restaurant operators all showing continued growth, which appears unabated.
London
The London market continues to grow. Within Fleurets, the London team have dealt with the highest number of rent reviews and lease renewals. Not surprisingly the average rents for all sectors are the highest in London. In addition, they have also shown the highest average increases. It is interesting to note that London, for both free of tie and shell reviews, show rental increases of 21% to 22%. This is significantly higher than the rest of the country, which have generally been in the region of 7% to 10%.
With the current weakness of sterling we anticipate further overseas investment into the London market. Investor landlords are seeking to increase rents, which are being driven by operator demand. Restaurateurs particularly are seeking new outlets to grow their estates. With a restricted supply of new properties, rents have inevitably increased. We have also witnessed £1m plus rents in prime locations further confirming London as one of the mostexpensive cities in the world to occupy space.
Regions
Regional rents appear to have a greater degree of consistency. Free of tie public houses have shown increases in rent of between 8% and 12% over the period. This is in part a reflection of most free of tie leases having upward only rent reviews. In addition, it also suggests that they are in greater demand that tied leases.
What is consistent across the regions is that overall tied leases have shown a reduction in average rents. We would highlight that these are properties dealt with by Fleurets and will have been the more contentious reviews, possibly where the previous rent may have been too high. The average tied rent for the properties we have dealt with has been between £47,000 and £55,000. We would consider that these rents are higher than the average tied lease rents throughout the country.
Within the regions there are hotspots, particularly urban centres such as Manchester, Bristol, Birmingham and Leeds. There is evidence to suggest that new shell lettings (which do not form part of this survey) are showing significant increases. These will impact upon operators over the next review cycle. There could be some painful negotiations ahead for many existing operators. We have previously commented that there are concerns that London operators seeking to expand into the regions are taking space without fully considering local property values and have been outbidding the market to secure space. What has also been evident is that because a brand is successful in London, it does not mean that it will be successful in the regions. This could result in failure with an overrented property being the legacy, which will have detrimental impact on the local property market.
Pub Sector
The long awaited Pubs Code is now in place. Despite a few false starts we were finally advised of the full details of the Code when it became enshrined in law on 21st July 2016. It is still early days but there are mixed messages about the level of requests for Market Rent Options (MRO). Some companies are experiencing a significant number of requests, whereas others have seen a relatively low number.
Tenants need to fully consider the implications of going free of tie. Not only will there be the loss of SCORFA benefits, they are likely to have to sign up to a new lease based on typical commercial terms. The appropriate terms have yet to be determined by the Pubs Adjudicatorbut this could involve a 10-20 year term, a large rent deposit, 3 months rent in advance, completion of outstanding repairs, full repairing obligations and restrictions on alienation.
The pubs that are likely to see the most benefit from MRO are those which have high beer volumes. Conversely those with low beer volumes and high food sales are less likely to benefit from the MRO; although it maybe that these operators, with greater experience, are better able to cope operating under a free of tie lease.
We are also seeing pub companies creating managed house divisions. For the better quality high barrelage outlets there is likely to be an increase in landlords taking back the property at lease renewal and converting them into managed houses, or operating as a franchised managed house; thus circumventing the need to consider MRO. In these circumstances tenantswill lose their ability to renew their lease and will only be given statutory compensation.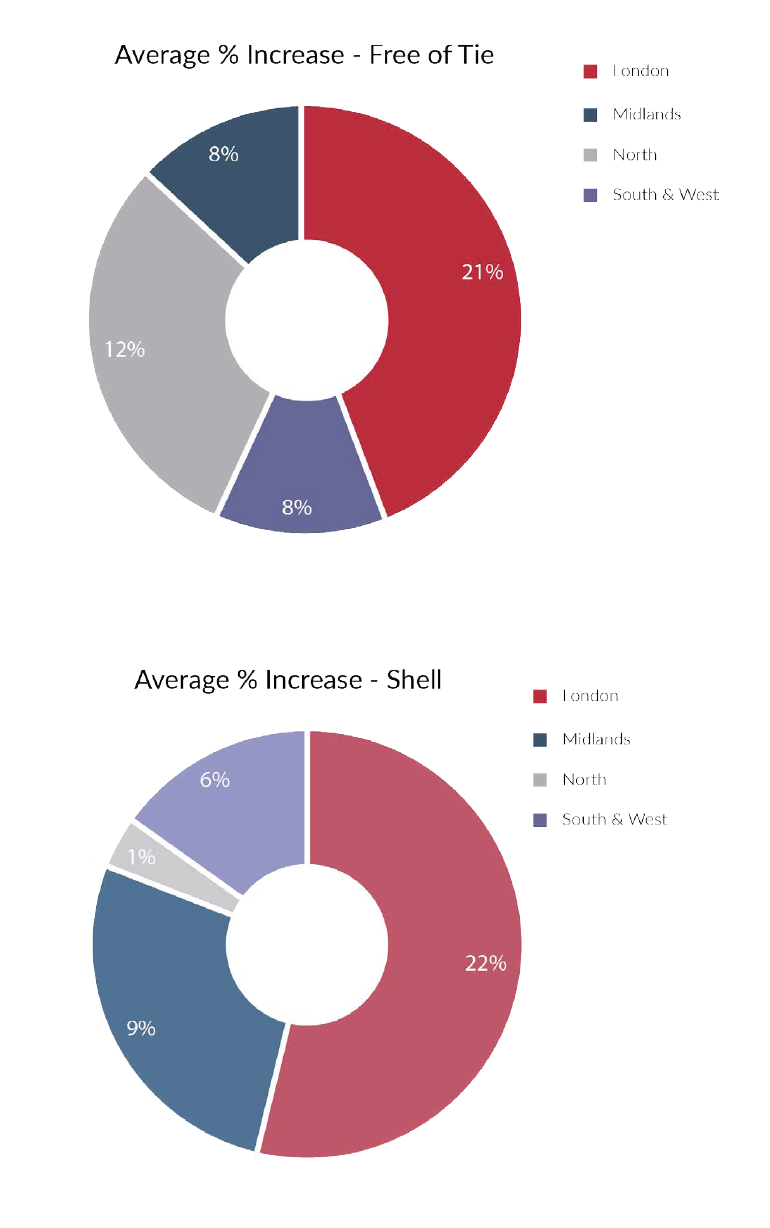 Conclusion
As with any statistics it is the background information relating to these figures that gives a greater understanding of the final figures. It is essential that statistics are not relied upon in isolation and parties should obtain professional advice to ensure the appropriate market rent isnegotiated.
Over the forthcoming period we will see how the Pubs Code Legislation will impact upon the sector. In addition, the cloud of Brexit will continue to hang over the economy. The recent announcement that the Government will be lifting its austerity measures should have a positive impact on the sector. With a greater flow of cash throughout the economy, some of it will end up in the leisure sector. In many city centres and in London in particular much of any potential gain will, however, be offset by a significant increase in the burden of higher business rates.
Despite concerns in recent years the pub industry remains healthy, with continued new entrants into the market, particularly with the growth of private freehouses and the development of micro breweries. Fleurets consider that the sector remains strong and with the benefits of tied lease rents being able to be negotiated to market rent (be that upward or downward), the market will continue to stabilise. Restaurateurs and high street baroperators will bear the brunt of most rent increases, primarily as a result of the significant acquisition anddevelopment programmes by the private equity backed restaurateurs. Given this growth there will be winners and losers.
To ensure the correct outcome is achieved it is always best to ensure that you have sound professional advice from a surveyor who understands the Licensed and Leisure Sector.