Click here to download the Cambridge Leisure Focus
Introduction
Tourist information websites, will describe Cambridge as the 'home of the famous University, carols in King's College Chapel and punting on the river Cam'; whereas, in fact Cambridge is a compact cosmopolitan city with outstanding architecture old and new. The beauty of its ancient centre is preserved with its walkable medieval streets, college courts, gardens and bridges.
Home to one of the world's best universities, beautiful scenery and some of the finest examples of Gothic architecture, Cambridge has long had a reputation as one of the UK's most-loved cities. Its charm and laidback pace appeal to people looking for both a decent quality of life and an area with exciting career opportunities.
Cambridge has become the city to watch. The group of technology and bioscience companies in the city is now one of Europe's most successful and best known clusters of its kind. David Cameron recently announced a long-term £12bn economic plan for the East, saying that Cambridge is key to keeping Britain in the global economic race. Drugs giant AstraZeneca is currently planning a £330m global research headquarters on the Cambridge Biomedical Campus in the south of the city.
Twenty years ago, there were no billion-dollar companies in Cambridge. But in the past two decades it has become a hotbed for firms of that size, with 14 created, including chip designer ARM, software firm Autonomy and technology group Aveva. This effect has become known as 'The Cambridge Phenomenon'.
Cambridge is located 50 miles north of London. As a world-famous university city with a population of only around 125,000, it's a highly desirable, compact location surrounded by beautiful countryside. If you're tired of the intense crowding of London but still want to be near to the capital, Cambridge provides the perfect balance between wide open spaces and a busy, productive city centre. It's a safe and stunningly beautiful place, full of impressive properties and well-maintained parks, and is steeped in history throughout.
The region has been referred to as 'Silicon Fen', due to its proximity to The Fens and the large number of technological and scientific companies that have emerged over the last few decades - most as offshoots from Cambridge University.
The city has expanded rapidly over the last century and Cambridge struggles to serve the large amount of vehicles on its roads, as such, traffic congestion is commonplace and in turn, so is parking. For this reason, it is famous as a cycling city, where cyclists make up over 20% of all commuters. Surveys have shown that almost half of all residents use a bike at least once a week. Coupled with how flat the surrounding terrain is, Cambridge is an ideal place for the avid cyclist.
One solution to this was the opening of the Cambridge Guided Busway in 2011. Two guided sections make up 16 miles of the route. The northern section, which uses the course of the Cambridge and Huntingdon railway, runs through the former stations of Oakington, Long Stanton and Histon. The southern section, which uses part of the former Varsity Line to Oxford, links Cambridge railway station, Addenbrooke's Hospital and the park and ride site at Trumpington, via housing on the Clay Farm site.
The world-renowned University of Cambridge, is ranked in the top five universities in the world, its reputation for excellence dates back to its founding in 1209. The university culture permeates the city, with around one fifth of all residents being students, and many buildings permanently used throughout the city for academic purposes.
Leisure time is an important aspect of Cambridge life. The River Cam which runs through the city plays host to many leisure-time activities. It's not just the academic elite who get to enjoy its calm ripples however, as anyone can rent a boat and take a punt down The Backs. The Fitzwilliam and Sedgwick museums contain art, antiquities and geology exhibitions respectively and are very highly regarded, receiving a large number of visitors annually. In the summertime, the Jesus Green Outdoor Pool always proves to be very popular with residents and tourists alike. It is one of the last remaining examples of an early twentieth century lido and also one of the longest outdoor pools in the UK, at over 90 metres in length.
If you want to go shopping, the Grand Arcade shopping centre houses almost everything you might need under one roof, centred around a large John Lewis department store.
If social drinking falls more closely under your definition of leisure, then you'll be reassured in the knowledge that Cambridge has a abundance of pubs. In fact, even in 1912, there were reported to be 365 in operation. One pub for each day of the year is surely enough for even the most dedicated punter!
Almost every worldwide cuisine is available in the city, from the large recognisable multi operating chains to individual operators and street food entrepreneurs. This demonstrates the vitality and viability that restaurants and food outlets are bringing to the city centre.
Taking all of these factors into consideration, it's evident that Cambridge is a unique city that has no equal elsewhere worldwide.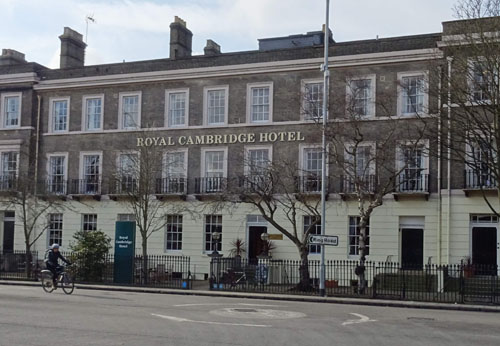 Hotels
Cambridge is an international visitor destination with strong heritage appeal. Tourism is a significant element within the Cambridge economy, in 2010 contributing over £390 million of spending and supporting almost 10,000 jobs. Of the 4 million visitors to Cambridge, 3.245 million were day visitors, and 835,000 stayed overnight, spending 3.454 million nights.
The competitive supply of hotels in and around Cambridge currently comprises 33 hotels with a total of 2,115 letting bedrooms. There are also a number of hotels in the wider surrounding area beyond the city. The Cambridge hotel supply is split primarily between 4 star, 3 star and budget hotels. Furthermore, the city has a small but growing supply of boutique hotels and relatively few 2 star and lower grade hotels.
The 4 star and boutique hotel supply is concentrated in the city centre. The 3 star supply is split between the city centre and city outskirts, while the budget hotel supply is located on the outskirts of the city and edge of the city centre.
Over the past 5 years, 4 new hotels have opened in Cambridge with a total of 381 letting bedrooms. These have included; two new boutique hotels in the city centre and budget hotels at Orchard Park (a Premier Inn and a Travelodge). The city's supply of residential apartments that are let out as serviced apartments has also steadily increased over the last 5 years.
Many of the Cambridge Colleges make their student accommodation available to the general public on a B&B basis during holiday periods. There are almost 29,000 B&B rooms available in the Colleges, a figure which is likely to increase. Approximately 40% of College accommodation is en-suite and most rooms are single.
Midweek occupancies are strong for Cambridge hotels, particularly on Tuesday and Wednesday nights, when hotels at most levels are frequently full and turning business away. Weekend occupancies are also very high, with most hotels often filling and turning business away on Saturday nights for much of the year. Sunday demand is primarily from corporate arrivals coming for the working week ahead. There is a degree of seasonality to the Cambridge hotel market, with peak months being May, June, July, September and October.
The hospitals in and around Cambridge, especially Addenbrooke's, generate demand for hotel accommodation from medical companies, visiting consultants, medical researchers and patients' families.
UK leisure break visitors are the key weekend market for Cambridge hotels and also generate some midweek business, especially during the summer. Weekend leisure break demand is primarily for single night stays, particularly on a Saturday night. The city's hotels no longer attract 2-3 night weekend break stays and have been largely unsuccessful in recent years in marketing 2-3 night weekend break packages and deals. Many Cambridge hotels are reporting a growth in UK leisure break business as a result of the staycation trend, which the city is benefitting from.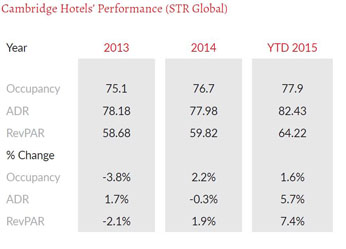 At some point, believed to be early 2017, the overdue refurbishment of the University Arms on Regent Street will eventually provide 190 rooms.
Regarding new developments in and around the city centre, Cambridge has recently seen the launch of the £105m prime development of the city's railway station known as CB1. The scheme is being undertaken by mixed-use development specialists Brookgate and will accommodate a new high quality office environment that also includes, an Accor Ibis Hotel, a new 3,000-space multi-storey cycle park and the 125,000 sq ft One Station Square office, along with restaurants, cafes and retail outlets.
The new Ibis hotel will be the largest hotel in Cambridge, making it the perfect location for Cambridge visitors arriving by train from London and beyond.
It will comprise 231 bedrooms over four floors, with a restaurant/bar on the ground floor fronting the piazza and a new restaurant area on the first floor.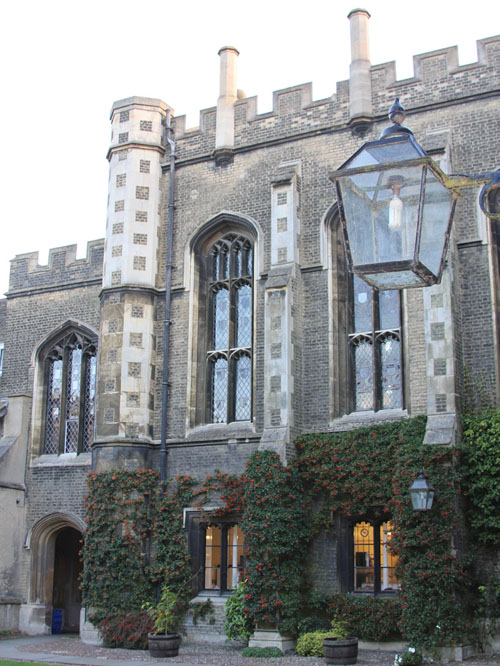 Corpus Christi College
Pubs & Bars
Despite Cambridge being a rather small city, it has nonetheless a pub and bar culture that is the envy of many larger cities and towns.
Diversity is the city's key to success offering an impressive array of venues from the traditional public house through to 'hip and trendy' bars. However, unlike other UK cities and towns, Cambridge does not have a 'drinking circuit' of any note, rather the city has a number of distinct areas, each with their own character and personality. One overriding factor that Cambridge does have an abundance of, are students and these give Cambridge a diverse mix of cultures within the city.
In the city centre, there are several groups of pubs. Regent Street and St. Andrew's Street are home to Cambridge's large pubs (and supposedly the country's largest pub, the Regal, a Lloyd's No. 1 chain pub). Cutting across Parker's Piece you get to another small group of pubs. The Free Press (Prospect Row) is regarded as one of the best pubs in the area for real ale.
Just north from these pubs, is King Street. This short street has but 5 pubs and is the route for the famous King Street Run pub crawl. The St. Radegund is very near the end of the street, and is probably Cambridge's smallest pub, which has its own rowing club.
The bulk of Cambridge's best pubs lie to the south east of the centre, off Mill Road.
The Cambridge Blue (Gwydir Street) is noted for its rowing memorabilia; whilst the Eagle (Benet Street) is a good place to visit, as it is where Francis Crick and James Watson discovered they had found the structure for DNA.
The craft beer revolution is less well advanced in Cambridge than it is in other UK cities, but it is catching up fast, with a number of pubs now offering an expanding array of craft beers. In particular, the Cambridge Brew House, the city's only brewpub (where you can watch brewer, Mark Burton, working away on his brew kit) serves six cask ales including three of its own beers. Greene King with its brewery just over the border in Suffolk, has recently launched the Grain and Hop Store, its first dedicated craft beer bar.
Another rising trend in the city is that of the cocktail bar, whilst no larger operators have yet come to the city, there are however a number of independently owned operations that firmly put Cambridge on the map.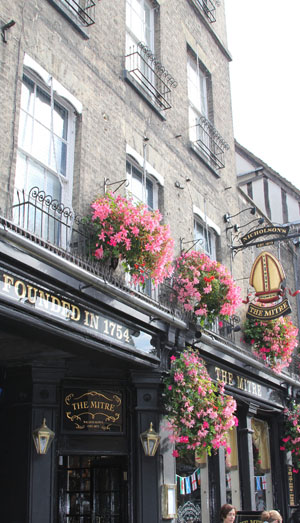 The Mitre
Restaurants
There has been no better time to experience the culinary delights that Cambridge has to offer. Over the last two years there has been an explosion of new eateries and street traders to tempt your taste buds. Whatever your appetite, there is something to suit all tastes, from intimate brasseries, fine dining and cosmopolitan cuisine, to family-friendly restaurants and charming tea rooms.
North of the city, Magdalene Street and Bridge Street offer a good mix of high street restaurants including Wildwood, Byron Burgers, Cote, Café Rouge and La Tasca; as well as a range of independents that include an Italian pizzeria La Margherita, Vietnamese restaurant Thanh Binh and La Galleria where you can sit and enjoy a view of the River Cam. Also along Bridge Street you will find a number of cafes including Patisserie Valerie, Crepe Affaire and Bridges. Pubs The Mitre, The Baron of Beef and The Pickerel all serve food which you can enjoy whilst having a drink.
On a hot summer evening locals, students and tourists alike, head to Quayside where you will find Las Iguanas, Teri-Aki, new addition Thai Khun and also the Varsity River Bar, which have an element of outdoor seating to enjoy the summer weather. Furthermore, a bit further along the River is La Mimosa. The River Bar in the Varsity Hotel offers spectacular views of Cambridge from its roof top terrace.
In the city centre you will find an array of restaurants to cater for whatever mood takes you. Firm favourites such as Jamie's Italian, Zizzi and Carluccios, are found around here. This area is also home to a great little café Armoi and steak restaurant CAU.
If you like sitting outside then Market Square is a good place to watch the hustle and bustle of Cambridge's seven day a week market, so Stazione or Don Pascale could be for you. Along Market Street you will find coffee shop favourites like Café Nero, Pret A Manger and Starbucks. Venture up Rose Crescent for more alfresco dining or head round into Trinity Street and you can combine eating with art appreciation at the Michaelhouse Café, housed in a 14th Century church.
Over near The Grafton shopping centre, there are a number of independent cafés. One of the largest concentration of restaurants in Cambridge can be found along St Andrew's and Regent Street. St Andrew's Street is home to the Picturehouse Cinema which has its own bar offering lovely pre-movie treats. National chains Wagamamas, All Bar One, JD Weatherspoons and Nandos can also be found here. Further up on Regent Street you will find a huge choice of independent restaurants like The Olive Grove, De Lucas, The Oak Bistro, Ceylon Cinnamon, Nanna Mexico and Charlie Chan. You will also find family favourites Pizza Hut, Pizza Express, Zizzi and Gourmet Burger Kitchen.
Fine dining in Cambridge comes in the exquisite shape of the 2 Michelin Star Midsummer House, a Victorian villa on Midsummer Common, where Daniel Clifford's culinary brilliance can be sampled beside the waters of the Cam. Alimentum, on Hills Road, is also Michelin starred and is where award-winning chef-patron Mark Poynton has earned a reputation for excellent cuisine and fine dining.
There are two new recently opened restaurants in the centre of Cambridge that continue to demonstrate that the city is amongst one of the most sought after regional locations in the UK.
Pizza Express' new Chicken concept Reys opened in the former Cow public house on Corn Exchange Street, this is currently their only restaurant in the UK and underlines Cambridge's strength in confidence as a major location.
One of the biggest changing factors in recent years is the emergence of the Asian food operator. Multiple chains such as Wasabi and Itsu have recently taken units formerly being retail units. These types of operators prefer high "footfall" locations and will happily pay high rents for prime locations. For example, Wasabi in the Petty Cury pay a rent in the region of £250,000 pax; where rents commonly in these types of areas are achieving around £289 psf for Zone A.
Bringing activity right up to date, the newest restaurant to open in Cambridge is due to open its doors in February. Pho is a Vietnamese street food restaurant, with branches mostly in London and large UK cities. This type of new opening is very typical of the kind of national and independent operators constantly looking to open in Cambridge.
Another new opening of note, is Thaikhun, an authentic Thai restaurant from the Chaophraya Thai Restaurant Group that offers a new and exciting casual dining experience, with an interactive dining experience as well as open kitchens and traditional rustic surroundings. This is one of six locations that the chain operate from and are located on Quayside, which is just off Bridge Street adjacent to the river Cam.
Leisure & Night Clubs
The leisure scene in Cambridge is somewhat surprisingly understated. As diverse as the pub and restaurant offering is, the nightclub offering is regarded as quite poor for the city. Yes, Cambridge is small and the narrow historical streets are not conducive for night clubs, but the city only really offers about four venues, all of which are independently owned, comprising of: Kuda, Ballare, Lola Lo and the Fez Club (the latter two are both part of the Eclectic Bar Group). There are a number of late night bars in the city centre, but currently that is about it.
Enthusiasts of live music are however better catered for. Cambridge Junction is one of the most diverse cultural venues in the UK, a vibrant centre of contemporary culture and registered charity with a uniquely varied programme. Presenting hundreds of performances each year to over 100,000 customers, Cambridge Junction covers theatre, comedy, dance, live music as well as clubs and events for young people. Operating over 3 spaces, Cambridge Junction is committed to developing new artists and providing cutting-edge performances. The Cambridge Corn Exchange is also well renowned and attracts artists from across the world.
What Cambridge lacks in nightclubs, it certainly makes up for with music festivals. Cambridge Folk Festival is one of the premier music events in Europe and one of the longest running and most famous folk festivals in the world. It has become hugely popular attracting ten thousand people, many of whom return year after year.
The festival is renowned for its eclectic mix of music and attracts the best traditional folk artists from the UK. Furthermore, it has been a launching pad for many now well-known artists. The story began in autumn 1964 when Cambridge City Council decided to hold a music festival. They approached local firefighter and political activist Ken Woollard, who was a regular attender at the newly formed Cambridge Folk Club. Cambridge City Council decided to stick with the festival and their confidence was rewarded as its popularity quickly grew.
To this day the festival embodies the same philosophy from the early days, while it has grown into a major international event. It is now run by Cambridge City Council Arts & Entertainments, together with over two hundred event staff who know and love the festival. Acclaim for the festival has grown in recent years and there have been a number of award nominations. The festival receives excellent press coverage, with reviews in both the national and local press. BBC Radio 2 have broadcast extensive coverage of the festival for a number of years and whilst BBC 4 have previously televised the festival, it is now being broadcast by Sky Arts.
Another regular event on the Cambridge leisure scene is the Strawberry Fair, a free music and arts festival in the heart of Cambridge. Each year, on the first Saturday of June, Strawberry Fair transforms Midsummer Common into a visual extravaganza where fair-goers of all ages enjoy an abundance of eclectic, sometimes eccentric activities and entertainment.
Bringing Cambridge right up-to-date and located to the south of the city centre, close to the train station, is a major 9 acre leisure site on the former cattle market. Cambridge Leisure Park houses, Frankie & Benny's, Chiquito, Bella Italia, Nandos, Travelodge, Five Guys, Tesco and Sainsbury's along with a nine screen cinema.