Click here to download the full South Bank Leisure Property Focus
Having developed from a marshland to an area which now boasts some of London's most iconic architecture, this is an area of London that throughout the decades has changed beyond recognition. Having defined the South Bank's boundaries from Tower Bridge to Westminster Bridge, this riverside stretch presents a diverse and highly attractive leisure and hospitality scene, and with the redevelopment of London Bridge station, this expansion and evolution looks set to continue.
Introduction
London south of the river; until the mid 1800s, this was little more than a marshland. Throughout the Elizabethan period the South Bank played host to London's top theatres, however this was accompanied by a notoriously risqué reputation, making the entire stretch an undesirable location. The arrival of the industrial revolution heralded the development of wharves, factories, docks and commerce. Industries established, rail travel became a reality and with Waterloo Station built in the 1850s the city finally started to connect with its south London boroughs. A city once confined to north of the river was now expanding southwards rapidly, growing in size and stature.
Wind the clock forwards 200 years, mainly over the past 30 years or so, the areas along the South Bank have evolved again. If you walk west to east along the river the development timeline is clear to see. Whilst County Hall marks the turn of the 20th century, the post war era contributes the Brutalist styled South Bank Centre incorporating the Queen Elizabeth Hall and National Theatre of the 60s and 70s, and finally More London and The Shard represent development in the early stages of the 21st century. The river is also a popular tourist attraction. Visitors come from far and wide to walk the Thames Path as well as ride the London Eye, watch performances at Shakespeare's Globe, appreciate art at the Tate Modern, peruse the goods on offer at Borough Market and of course admire the view of this incredible the city from the top of the tallest building in Europe - The Shard.
So from marshland to iconic architecture, this is an area of London, broadly contained within the boundaries of Westminster Bridge and Tower Bridge (as well as Shad Thames) that has changed beyond recognition and it's no surprise that the area supports a highly attractive and diverse leisure and hospitality scene.
With the redevelopment of London Bridge station alongside the ongoing expansion and evolution of the area, this looks set to continue. The landscape at Tower Bridge in particular is currently undergoing a dramatic transformation: One Tower Bridge is a 80,000 sq ft development comprising of retail, leisure and cultural spaces, in addition to 400 luxury apartments. The riverside location overlooks Potter's Field Park as well as boasting views of the River Thames.
The combination of boutique shops, restaurants and vibrant open spaces promise to bring a taste of Covent Garden to the South Bank. However, perhaps the most anticipated aspect of the development will be London's newest theatre. The 900 seat, state of the art theatre will be occupied by the London Theatre Company, and will enhance the South Bank's reputation for arts and culture when it opens in spring 2017.
One Tower Bridge will be the latest addition to the rapidly changing landscape with the South Bank becoming ever more popular for workers, residents and tourists alike.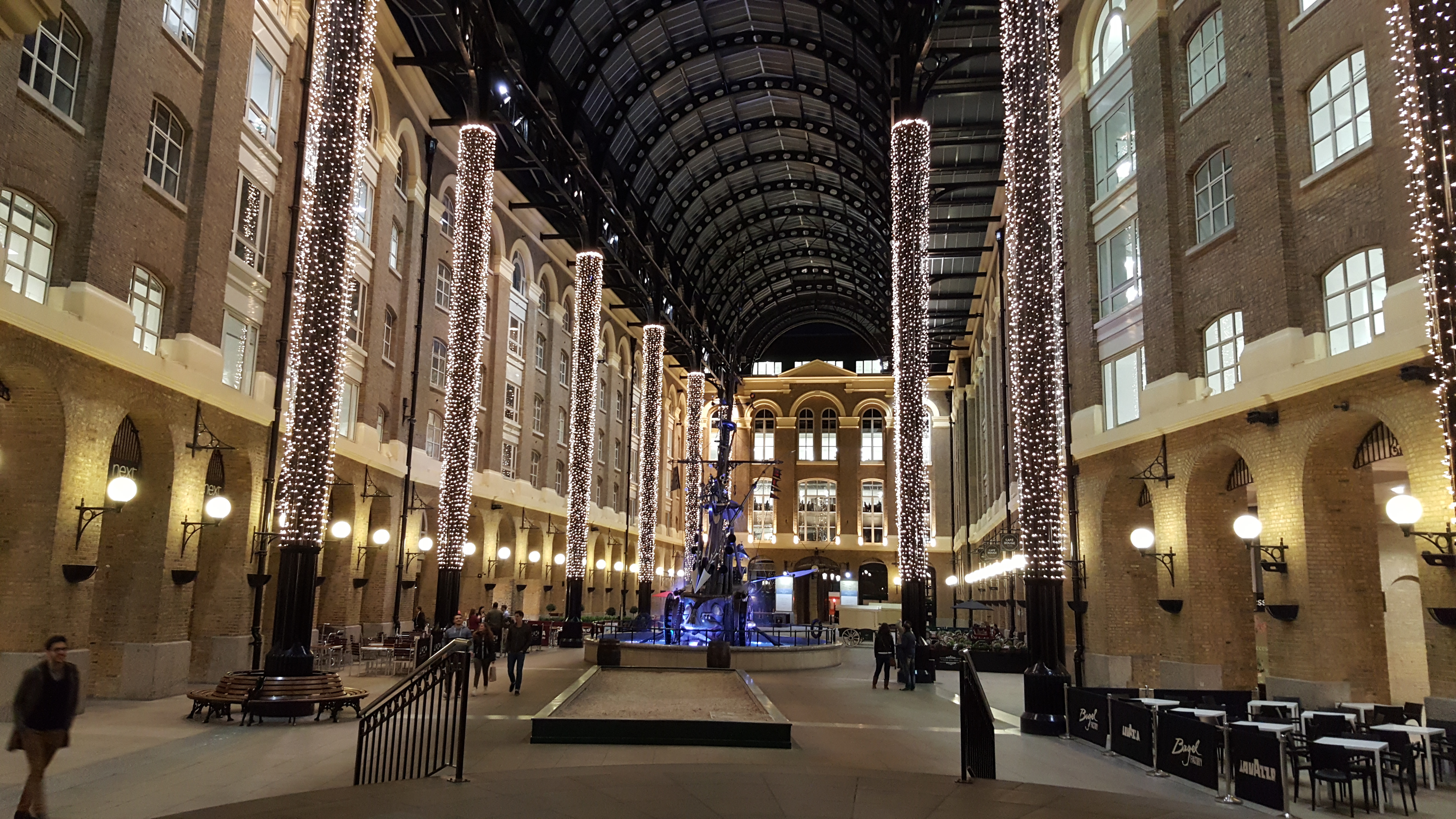 Image credit:Hay's Galleria
Hotels
According to AM:PM Hotel Data & Intelligence, there are 32 notable hotels within the South Bank District providing in excess of 4,000 rooms that range from aparthotels to hostels and from budget hotels through to five star. Four star and five star hotels dominate room supply, accounting for approximately 45% of market share, followed by budget hotels accounting for approximately 32%. The average hotel provides 127 bedrooms, albeit the three largest hotels alone (Hilton Bankside, The Mondrian and The Shard's Shangri-La Hotel) provide almost one third of the total room supply.
The profile of this location has changed dramatically during the course of the last five years with over one third of the hotels (and room numbers) having opened since 2012. Indeed, three of South Bank's landmark hotels opened during the course of the last two years; the £120m 292 bedroom new build Hilton London Bankside; the 359 bedroom Mondrian London located within the former Sea Containers House office building (perversely the building was originally conceived as a luxury hotel); and the 202 bedroom Shangri-La Hotel, occupying 19 of the 95 levels within The Shard. These hotels occupy the skyline in developments that now characterise this part of Central London.
Hotel development in this locality is by no means at a standstill. According to AM:PM Hotels, there are 13 hotel schemes in the pipeline ranging from 12 bedroom extensions through to a new 310 bedroom hotel, each scheme being at different stages in the planning and development process and not all, of course, will come to fruition. In total, there is a potential pipeline of approaching 1,300 new rooms, which would increase room supply by in excess of 30% in this location.
The pipeline is a clear reflection of the perceived strength and sustainability of the Central London hotel sector, and indeed this location, by investors, developers and operators. Appetite for new rooms is, perhaps, no surprise when considered alongside hotels performance generally in this locality. Set out in the table below are key performance statistics reported by STR relating to a sample of hotels located in London, SE1.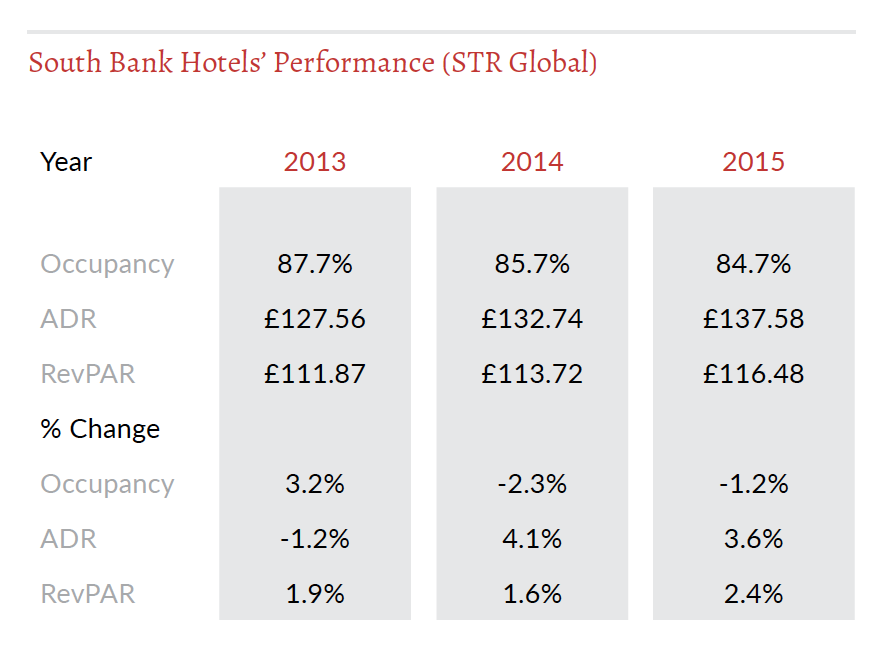 Whilst the statistics reflect a recent softening in room occupancy, a trend being experienced by many hotels across Central London, occupancy and average room rates remain very strong.
Guest demand for accommodation in this area mirrors the demand drivers across the wider Central London markets, however, hotel businesses locally have also benefitted from the seemingly endless development pipeline, which generates guest demand both directly, from guests associated with the ongoing construction, and indirectly, from guests now visiting, living or working in completed schemes.
Transaction volumes in the South Bank area specifically have been relatively subdued in recent times, market activity being dominated by new development rather than the transfer of existing hotel stock. There are, however, a number of deals rumoured to be in discussion. Indeed Fleurets has recently agreed letting terms in respect of a 49 bedroom new build boutique hotel opportunity fronting Borough High Street, so this position will hopefully change in the not too distant future future.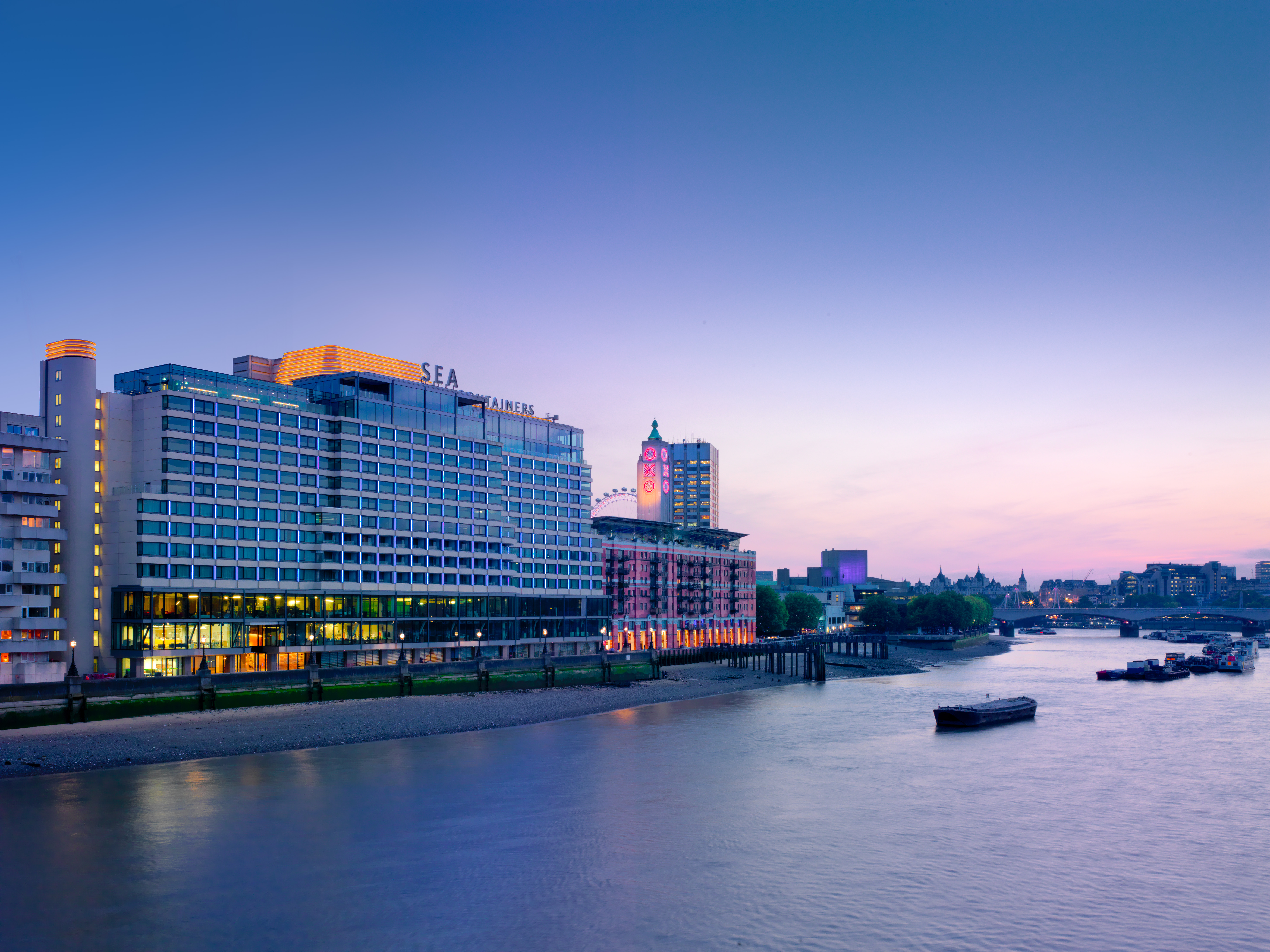 Image credit: Mondrian London (Niall Clutton)
Restaurants
A consequence of the vast numbers of tourists visiting the attractions along the Thames Path, and the equally vast numbers of office workers now based in the area, is the extensive the choice of restaurants. Wherever a tourist attraction stands, there is sure to be any number of restaurants nearby, eager to capitalise on the latent trade that flows. From one-off independents, to high street brands, to the iconic; London's South Bank has it all and continues to be high on the target list for new and existing operators.
As with so much of London's South Bank, many of the warehouses and wharves now have new uses. As do the arches beneath the railway lines. Southwark is a great example of this mix with the likes of Wagamama and Nandos housed in some of these arches and making excellent use of previously undesirable space.
Hay's Galleria is no different and provides a mixed use scheme of offices, retail, residential and, of course, restaurants, most notably Côte and Café Rouge.
Head further east along the river frontage, beyond Tower Bridge to Shad Thames and yet more former warehouse buildings now host the likes of D&D's Le Pont de La Tour and Butler's Wharf Chop House as well as Cantina Del Ponte and ASK Italian. The views along the Thames, across to the City and Tower Bridge prove strong draws to the local workers, residents and tourists alike, who come to drink, dine and soak up the views.
Sandwiched in between Hay's Galleria and Shad Thames is the More London development, the mixed use scheme which hosts high profile corporate occupiers including PriceWaterhouseCooper, Norton Rose Fulbright and Gowling WLG. Despite the size of this development, which extends to 13.5 acres, there are surprisingly few restaurants and the mix is unusual; casual dining brands Strada and Dim T sit alongside the premium steak chain Gaucho, but all boast spectacular views of Tower Bridge and the City.
Take a step back from the main river frontage and yet more restaurants spill out along the surrounding streets. Bermondsey Street, whilst lacking visibility and prominence from Tooley Street, is lined with independent and small multiple operators of all cuisines; Tanner & Co, Village East, Pizarro, Franca Manca, Casse Croute, the list goes on, and attract strong customer levels throughout the week given the mix of local residents and workers, as well as having established itself as a destination for non-locals. A key sign of the attraction of this location for operators was illustrated by the sale of the Garrison restaurant to City Pub company for a substantial sum and similarly the Woolpack to Youngs for a sum of £4-8m according to the Land Registry.
All of these restaurants sit under the shadow of one of the most iconic London landmarks and no article on the restaurant scene of the London South Bank would be complete without a mention of this building and all it has t o offer. Sitting on the upper floors of the Shard are numerous premium restaurants and bars, boasting unparalleled views across London. Aqua Shard, sitting on the 31st and 32nd floors offers modern British cuisine. Across the floor is Oblix. At Level 33 is Hutong providing high quality northern Chinese cuisine, level 35 provides Ting, another high-end Chinese restaurant and to finish, 52 levels up and 182 meters above ground, is Gong.
Whilst on the theme of iconic, surely it would be remiss not to also mention the OXO Tower Restaurant, Bar and Brasserie and Sea Containers restaurant, the latter within the boutique hotel Mondrian London; two restaurants, renowned in the London restaurant scene and desired for their beautiful views.
It goes without saying, across the South Bank, there is something for everyone.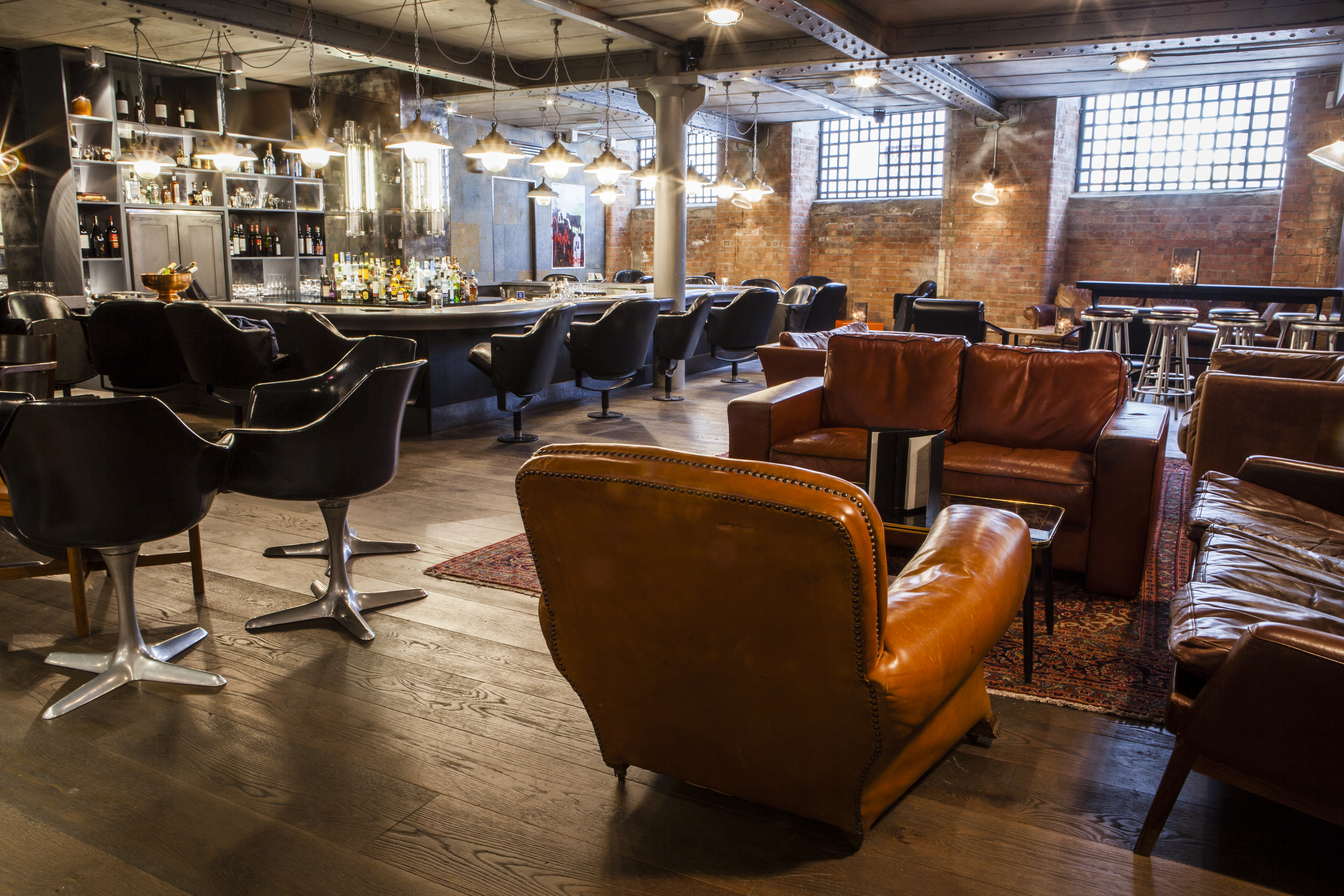 Image credit: Hixter Bankside
Pubs & Bars
If there is something for everyone in the restaurant scene, the same can be said for the pubs and bars scene. Whether it is a high street bar or local's pub tucked away on a side street; the South Bank has plenty to choose from and indeed, many of the restaurants double up as bars, providing an all-round drinking and dining experience.
The Sea Containers at the Mondrian presents the Dandelyan bar, Aqua Shard offers a cocktail and wine bar and there are many more in between.
The quantity and selection, as with most of Central London, is phenomenal, but then so are the visitor numbers, workers and residents based in this area.
Browns and All Bar One front directly onto the Thames Path in Shad Thames and as with their neighbouring restaurants, boast views of the City, Tower Bridge and east and west along the river.
Tucked away in the nearby side streets are the more traditional and often more historic pubs with the likes of the Dean Swift, a pub which Fleurets know well having acted on behalf of the landlord in relation to their recent rent review.
Head back west to London Bridge and you hit the Barrowboy & Banker, a typically traditional English pub. Once held leasehold by Fuller Smith & Turner, Fuller's have bought the freehold, recognising its prime position and being a key asset in their portfolio. Located just moments from London Bridge station, this pub is in an ideal position to attract trade from commuters, local workers and tourists alike especially given its proximity to Borough Market which sits next door.
Further west along Bankside and you come across The Anchor, operated under the Taylor-Walker brand of Greene King. This pub by virtue of location alone is extremely popular and benefits from a large riverside terrace. Steeped in history, a pub is believed to have stood on this site for 800 years and is said to be where Samuel Pepys saw the Great Fire of London in 1666, as well as being frequented by many famous icons including Doctor Samuel Johnson as well as Shakespeare, given that his Globe Theatre is just a stones throw away. Good stories regardless of whether or not any of it has any roots of truth!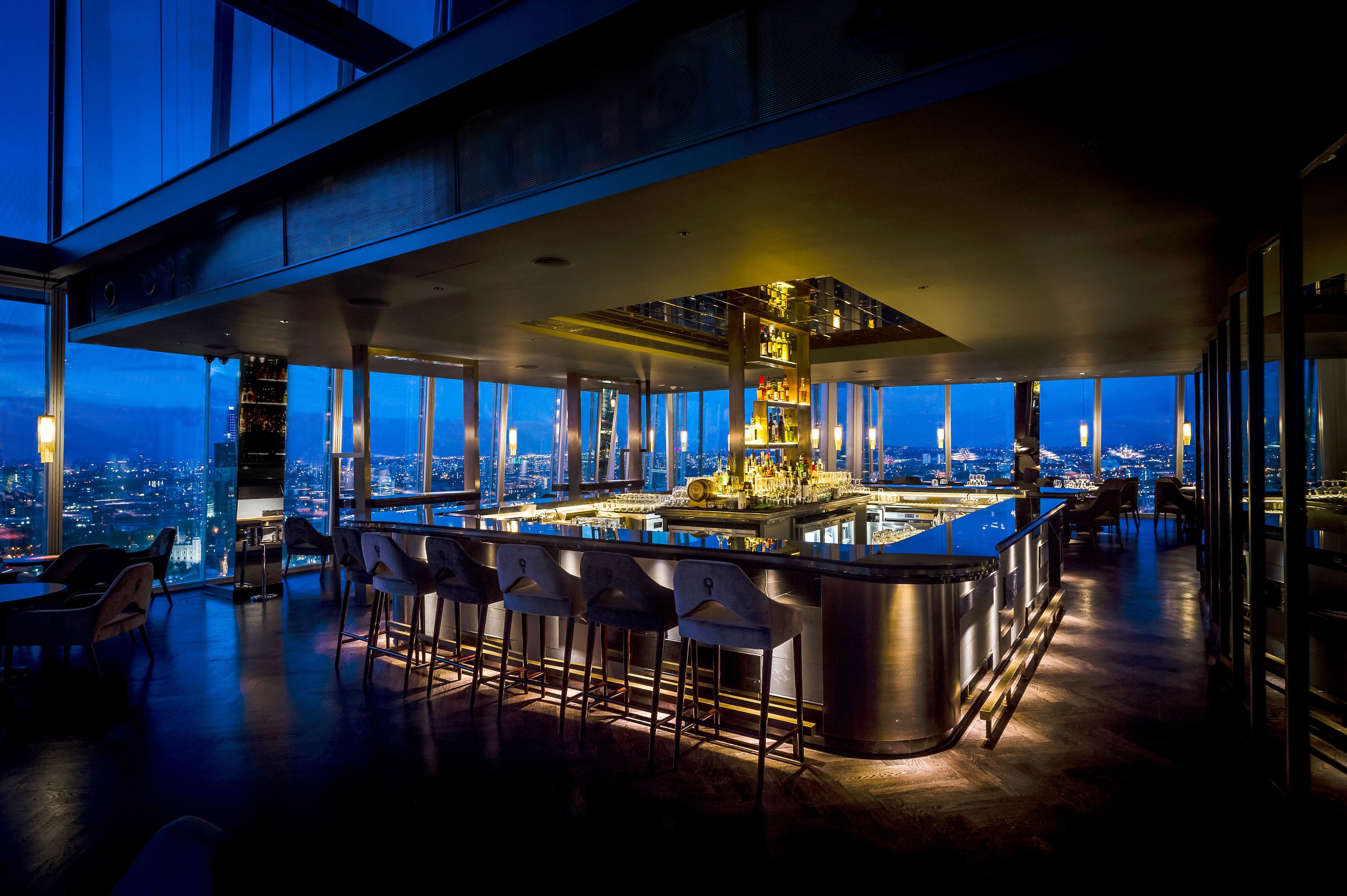 Image credit: Aqua Shard
Nightclubs
Numerous clubs have closed over the years; Turnmills in Farringdon made way for Derwent London's 70,000 sq ft office development; Bagley's and The Cross once stood on the Kings Cross regeneration site; Velvet Rooms on Tottenham Court Road is now an office and retail development and The End in the West End has ended up as part of a residential development. All iconic venues, where memories were made and lost on the dancefloor.
On the South Bank, Cable (formerly the SE1 Club) became a casualty of Network Rail's development of London Bridge Underground Station in 2013. Located in a run of arches just off Bermondsey Street, this was one of London's larger remaining clubs, with two rooms and a capacity of 800. It was a hugely popular venue and when a Network Rail development forced the club to close it was met with public outcry. Not to be outdone, however, the promoters moved to Crucifix Lane, a 650 capacity club in two railway arches nearby. The parties continued until 2015, when Crucifix Lane fell to the same fate as Cable and the doors were finally closed on London Bridge's clubbing scene.
Nevertheless, one of London's treasures has stood the test of time, developing from being the UK's first 'superclub' into a global clubbing institution: The Ministry of Sound. Located in a former bus depot between Borough and Elephant & Castle Underground Stations, the Ministry of Sound opened its doors in 1991. With a capacity of 1,600 split over 3 rooms, a world class sound system and international DJ's the Ministry established itself as the UK's leading nightclub, attracting over 300,000 clubbers a year. It is currently celebrating its 25th year and was recently recognised by the ALMR with an Icon Award.
However, this iconic club has had to persevere through the threat of closure on several occasions due to the regeneration of Elephant & Castle. From 2009 to 2014, MoS fought a legal battle to save the club from closure due to the redevelopment of Eileen House, a tower block opposite the nightclub's entrance. A landmark deal was eventually agreed between MoS and the developers Oakmayne to soundproof the club and enable Eileen House to be redeveloped without jeopardising the club's future.
This unfortunately is not the end of the Ministry's battles. In an area of London which is currently primed for regeneration, they are now locked in another dispute with another developer and the club is facing another battle for survival.
At this time of great uncertainty for London's nightclubs, the appointment of London's new mayor, Sadiq Khan, brings opportunity for change and optimism for a rejuvenated approach to protecting London's culture. With nightlife being such a vital part of the capital's appeal, Londoners can be particularly encouraged by his pledge to make 'cultural life a top four priority' and to appoint a 'night tsar' to protect the under-threat pub and club scene. And with the night tube due to launch in August, could this be the much needed boost London's troubled nightclub sector needs?
Health & Fitness
The UK health & fitness market has gone from strength to strength over a number of years with a more health conscious population switching pub sessions for gym sessions; and the lunchtime sandwich for a salad.
Once considered an expensive luxury, gyms and health clubs are now more accessible than ever before: the budget gym has captured a section of the market deterred by high monthly tariffs and long contracts.
Studios providing classes throughout the day means your class can fit into your hectic schedule, not the other way round, and 24 hour gyms give the opportunity to work out when you want, helping to balance the social side of London life we all enjoy.
With offices and residential accommodation spanning the length of Waterloo to Shad Thames, the South Bank provides a substantial customer base, and health & fitness operators have been quick to capitalise. The gym market broadly splits into three sub sectors, luxury, mid market and budget. 3rd Space operates at the luxury end of the sector, with pool and spa facilities, an indoor cycle studio, a hot yoga studio and substantial gym floor. 3rd Space have opened their third London club at More London, close to Tower Bridge.
The Circle Gym & Spa is a family-owned, boutique health club located on the ground floor of the Circle residential development in Shad Thames, adjacent to Tower Bridge. This club offers its members a luxurious escape from City life, with a heated indoor pool, Jacuzzi, spa facilities, fully equipped gym, fitness studio and a health & beauty salon. Fleurets is currently acting on behalf of the Circle Spa in relation to their rent review.
Bankside Healthclub opened in 2008. It comprises approximately 20,000 sq ft in the lower levels of the Blue Fin building on Southwark Street. Their concept is aimed at the mid-range of the market.
Fitness 4 Less are an expanding budget gym operator and currently have 12 clubs nationwide. The Southwark club on Great Suffolk Street makes an innovative use of space in railway arches, providing a modern facility of approximately 17,500 sq ft. The December 2015 rent review has reportedly been agreed at £175,000 pa, increasing from £165,000 pa. Pure Gym are now the UK's largest gym operator and focus on the budget market. In 2015 they acquired 43 LA Fitness clubs taking the total close to 150 clubs. They are currently in the process of filling in swimming pools to maximise floor space and member numbers. One of their more recent acquisitions forms part of a mixed-use development in Bermondsey called the Biscuit Factory. This is a substantial club of approximately 21,500 sq ft, which is open 24 hours a day, 365 days a year. Pure Gym reportedly took a 15 year lease at a rent rising from approximately £10 to £14.75 per sq ft over the first five years.
On a smaller scale, the Hot Yoga Society turns up the heat and challenges you to 'sweat yourself amazing'. Their studio on Magdalen Street opened in 2011 and provides a range of yoga classes and Meditation classes, improving strength of mind & body, while helping you to detox and relax.
On the South Bank, the stresses of working life are balanced out perfectly with the vast variety of bars, cafes, restaurants and health & fitness clubs, which help us unwind, keep fit and healthy, and meet the challenges the city throws our way.