Click here to view the online magazine.
Click here to open the pdf directly.
A comprehensive review in a magazine format with topical and informative articles from both experienced Fleurets staff and from external trade organisations, to inform and advise, including a round up of property availability nationwide, broken down by region and by sector that displays the extent and variety of opportunities on the market.
In this issue:
- M&A activity hots up in the regions -Ed Sandall examines the corporate M&A activity across the pub, restaurant and hotel sectors.
- Manchester: the UK's second city - David Sutcliffe looks at Manchester's leisure sector and the rents in the city's prime spots.
- Maximise the value of existing units - Elysia Wilson-Gunn explores the methods in which some of the industry's leading pubs are expanding their operations.
- London's burning - Which areas of London have been setting records with their rents? Philip Smith explores.
- Are the storm clouds gathering? - Ben Peers, Fleurets' resident Business Rates specialist reports the latest changes.
- "Man and boy" - With Fleurets veteran, Barry Gillham, retiring at the end of the month, the former chairman explores Fleurets through the decades.
- Decentralisation & diversification - Simon Hall takes a look at which operators areseeking sites in the UK's regional cities, and what the benefits are.
I know what you did last summer
Graeme Bunn - Managing Director
Meteorologically at least, we are now a couple of weeks into Autumn with the long summer evenings behind us. It also appears that the nation's concerns of a post Brexit recession have been packed away with the sand encrusted surfboards as investors and consumers alike have realised that the UK's exit from the EU just might not cause the economic collapse some politicians suggested it would prior to 23rd June 2016.
The UK service sector saw strong activity in August as the Markit/CIPS Purchasing Managers' index (PMI) recorded its biggest month on month rise in the survey's history. UK retail sales also performed strongly, buoyed by the warmer weather and the weaker pound.
Also over the summer Punch Taverns reported their average profit per pub rose by 4% between August 2015 and August 2016, suggesting that they can start to look forward rather than back. Given the historic levels of growth achieved over recent years within the tenanted pubs sector, this should be viewed as an impressive performance despite the challenges facing both the company and the wider tenanted sector.
The summer also saw, at long last, after months of Government procrastination, the introduction of the Pubs Code. Another step forward for all involved in the UK pub sector, and particularly all those who care passionately about ensuring pubs flourish.
The summer of 2016 will no doubt be seen, in the future, as a significant period in UK history, personally I am optimistic that it won't include reference to a recession. I suspect it will also not include any reference to England's participation in a certain football tournament, but let's just concentrate on the positives and remember the successes achieved in Rio. They should keep us warm in the months ahead.
M&A hots up in the regions
Ed Sandall - Divisional Director
The last issue of On Market was published in April 2016, and since then there has been a flurry of M&A activity in the public house, bar and restaurant sectors, without significant collateral damage caused by the Brexit vote. The interesting facet of recent months has been growth in regional deals.
In April Tesco confirmed the sale of the Giraffe restaurant chain to Harry Ramsden's owner, Boparan Restaurant Holdings Ltd. The sale comprises 54 restaurants with a national coverage, of which 12 are franchise sites, and three within Tesco stores. This transaction was swiftly followed by Tesco divesting themselves of the coffee shop brand Harris + Hoole to Caffè Nero for an undisclosed sum. These transactions see the supermarket juggernaut move away from food and beverage provision and focus on retail.
Towards the latter part of the month, the property company London & Regional, owned by billionaire brothers Ian and Richard Livingstone, purchased Atlas Hotels, which owns 47 limited service hotels operated under the Holiday Inn Express brand. The portfolio comprises 5,575 bedrooms, 15% of which are located in London. It was put up for sale through Eastdil Secured and Rothschild in October last year. Abu Dhabi sovereign wealth fund, ADIA, is understood to have been close to agreeing a deal earlier this year, but no final agreement was reached. The sale secures a successful exit for Lone Star, which acquired Atlas as part of its purchase of the £5.2 billion Rock and Salt non-performing loan portfolios from IBRC in 2014. At that time the company was branded Somerston Hotels. Atlas is held separately to Lone Star's £2 billion Amaris Hospitality, which owns 89 hotels including 29 Jurys Inns and is aimed at a higher-end market. The company is likely to be sold or floated in the next two years.
On the direct investment side, Whitbread sold a Premier Inn Hub in King's Cross for £84.5 million. The 389 bedroom property was held on a 25 year lease at an annual rent of £3.5 million (£8,977/room) and reflected a net initial yield of just under 4%.
In June, Graphite Capital acquired the fastgrowing pub and restaurant business, New World Trading Company, for a reported £50 million. Founded by the owners of Living Ventures Group, the late Tim Bacon and Jeremy Roberts, in 2011, NWTC now operates 14 pub/restaurants nationally. We understand that the estate is entirely leasehold and the consideration reflects circa £3.6 million per site, pricing reflecting the strength of the brand, the energy of the management team and the innovative staff engagement model. NWTC is expanding rapidly, with sites planned to open in Sheffield, York and Reading in the coming months.
The NWTC deal was the last transaction prior to the Brexit vote and whilst we suspect there were more transactions where Brexit break clauses were operated and not publicly reported, the most public casualty was Revolution Bar Group pulling out of a £16 million, four property acquisition in Scotland.
The interesting factor in the post Brexit M&A landscape is the re-emergence of demand for regional transactions. This correlates with activity in our regional office network where enquiry levels and transaction volumes are both up, resulting in increased values for good quality assets. The first transaction after 23 June was the northern brewer and retailer Camerons, acquiring Leeds Brewery's six pub estate. The Leeds Brewery Estate is entirely leasehold and comprises of the Eagle and Child, Lamb & Flag, The White Swan, The Midnight Bell, Duke of York and Crowd of Favours. Not to be outdone, Cornwall-based St Austell Brewery Company acquired fellow West Country brewer and pub company, Bath Ales. The deal, which completed for an undisclosed sum, includes the Bath Ales brewery, its portfolio of beer brands and its 11-strong pub estate in Bristol, Bath, Cirencester and Oxford.
The largest post Brexit transaction to date was the sale of the Liberation Group to Caledonia Investments Ltd by LGV Capital for £118 million. Liberation Group has 94 pubs in the Channel Islands and the West Country, two breweries and three wholesale businesses. We understand that the transaction reflected circa eight times pre head office EBITDA. This was a very interesting transaction as the portfolio offered the purchaser the opportunity to secure an experienced management team, iconic Channel Island sites, and a fully integrated business. The key opportunity for Caledonia will undoubtedly be via bolt on acquisitions in the West Country.
Whilst the post Brexit transactions might well have been committed to prior to the vote, it is encouraging that deals are still progressing.
Manchester: the UK's second city leading the way
David Sutcliffe - Director
There has been a long held debate over which city considers itself the nation's second city. Do the expansion plans of the nation's bar and restaurant operators give us any clues? Could Manchester, renowned for its historical cloth industry, Coronation Street, a couple of football clubs and (of course) Oasis, find a new identity as the prime northern location for eating, drinking and dancing?
Having witnessed increasing pressure on rents in London as well as the south eastern regions, many operators are looking to other regions for new site opportunities Equally, northern based operators, such as Living Ventures and Individual Restaurants have continued to innovate and develop new units, particularly in Manchester city centre. The result over the past decade is that Manchester has recorded the fastest rate of restaurant and bar openings anywhere in the UK. Major inward investment, including improved transport links, the fully integrated public transport network, re-development of city centre sites for residential purposes and an influx of new businesses (including Media City), has seen the city experience an economic boom.
There were over 30 new openings in 2015, with similar numbers expected for 2016. These numbers are likely to outstrip any of the other regional cities and further demonstrate the growth and strength in the Manchester leisure scene. Not only has there been an increase in numbers, but also an improvement in the quality, with operators such as The French and Manchester House pursuing Michelin star status.
Within the city centre, the Corn Exchange re-opened in July 2015, following a £30 million refurbishment by the owners, Aviva Investors Property Trust and Queensbury Real Estate. Within this development there are a large number of restaurants including Wahaca, Cosy Club, Byron, Zizzi's and Gino D'Campo's My Restaurant, the latter being their first venture into the UK. The rent achieved reached a heady £50 per sq ft reflecting the desirability of this prime space within an iconic Grade II listed property.
Elsewhere in Manchester, rents continue to grow, with sites on Deansgate now commanding rents of around £40 per sq ft. Bill's acquired a unit in John Dalton House, just off Deansgate in March 2014 reflecting £42 per sq ft, and setting a new benchmark for Deansgate rental levels. Deansgate, one of Manchester's main streets, is home to the neo-Gothic John Rylands Library as well as the Hilton Hotel, the UK's tallest building outside of London. Alongside the likes of House of Fraser and All Star Lanes (which allows customers to drink and dine whilst ten pin bowling), resident restaurants include The Living Room, Hawksmoor, Evuna Spanish Tapas Restaurant, Bella Italia and Las Iguanas to name but a few. Whilst just off Deansgate sit The Grill on the Alley, Revolución de Cuba as well as Australasia, the latter being part of the Living Ventures group.
At the most southerly end of Deansgate lies Deansgate Locks, where the railway arches play host to the likes of Vodka Revolution, a Manchester grown brand founded in 1996, which has since expanded from their first site a short distance away on Oxford Road to become a national household name. Even though this location may be considered secondary, these sites are still commanding rents of £25-£27 per sq ft. Similarly, Spinningfields, dubbed Manchester's luxury dining quarter, is attracting restaurateurs paying £35-£40 per sq ft, and operators include the likes of Carluccio's, Artisan, Ibérica, The Lawn Club, Manchester House as well as the
unmistakable Oast House.
Every thriving city has a new and 'upcoming' area and for Manchester it is the Northern Quarter, which is now seeing rents between £10 and £15 per sq ft. Here the tastes of the experimental and quirky are all catered for and operators include the likes of Turtle Bay, Luck Lust Liquor and Burn, Home Sweet Home and Almost Famous.
Operators are keen to get their brands into central Manchester locations and to become part of the buzz. Recent new sites include Smokehouse & Cellar, having taken a site next to Manchester City Hall, whilst Drake & Morgan are set to take two sites in Spinningfields as well as One St Peters Square. The strength of the occupier market has not surprisingly had a positive effect on investment values as yields have fallen. 76/80 Deansgate, let to La Tasca and the New World Trading Company (t/as Botanist), was sold by La Roque Trust Company to CBRE Global Investors in July 2015 for just over £7 million, reflecting a net initial yield of 5.47%.
Recently, Manchester-based restaurateur Karina Jadhav, co-founder of Neighbourhood restaurant and bar in Spinningfields, has launched a city centre concept restaurant, Menagerie, investing £1.5 million. The bar/restaurant will occupy a 7,500 square foot ground-floor site within One New Bailey, an eight-storey development on the banks of the River Irwell. The venue offers an "immersive" dining experience with tables positioned to witness anything from fashion shows to theatre performances.
These headline rents are some of the highest, if not the highest, in the country outside London and the South East, and are indicative of Manchester's booming market. Manchester is possibly reaching a saturation point and it has been noted there have recently been a number of casualties in the restaurant sector. As with any growing market only the fittest and best located are likely to survive. It must be remembered what is successful in London does not always necessarily translate to the regions and to coin a phrase from the late Tony Wilson: "This is Manchester. We do things differently here".
Whilst there are undoubtedly many other factors to consider, based on the activity and diversity of the leisure market, Manchester possesses strong claims to be considered the nation's second city. Perhaps the most appropriate title would be the UK's second dining city.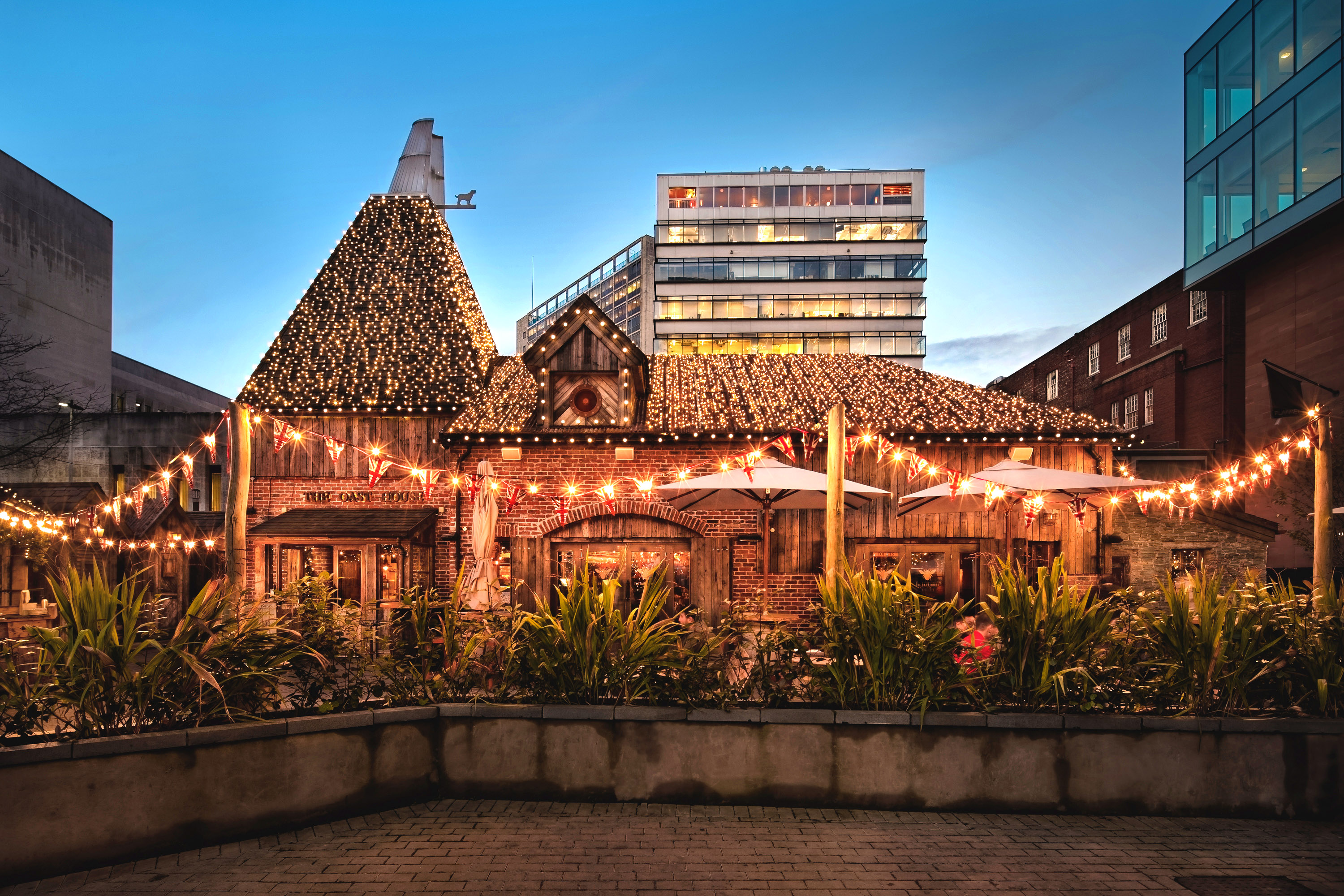 Oast House (credit James Brown)
How to: maximise the value of existing units
Elysia Wilson-Gunn - Associate
With the current cost of assets, growing rents, rates bills and other operating costs, maximising value by increasing turnover is now more critical than ever. Various strategies are being employed across the trade although dependent on the unit, size, location and the demographic catered for.
One of the largest overheads within a business is the cost of alcohol; what if you could increase profit on alcohol whilst creating a niche product for your unit? It has now become more feasible, with the aid of space saving automated equipment, to successfully house a microbrewery on site. This can raise profit margins as marketing and transportation costs are removed, whilst quality products with unique flavours remain. This also capitalises on the craft ale movement and a feeling of uniqueness that is the zeitgeist of a growing customer base. Many people today when entering a public house like to feel they are party to an individual offering, preferably coupled with a 'localism' product. Gresham Collective of The Pride of Paddington and Cork & Bottle Leicester Square, have created a microbrewery in their new unit at the Load of Hay at Haverstock Hill, London. Customers can venture into the basement to look through a window at the microbrewery, witnessing their pint of The Load of Hay beer being made. Will Clayton of Gresham Inns states: "With margin squeezes hitting all areas of the business, financially it is vital to counter balance this wherever you can to help maintain and protect your bottom line profit. Brewing your own beer is just one way of doing this. Moreover, it is a real talking point for the business. Customers and staff alike love having ownership and input into the product they are drinking, especially when it comes to naming the latest brew!" For many years units have tried to optimise the use of space to allow for additional private rooms; these can then be reserved for dining or drinks parties, and governed by a minimum spend or set fee when booking. This provides forward income of cash flows and delivers a captive, long-stay audience, appealing to customers in need for a special service set apart from a standard booking, whilst also encouraging increased spend per head. Lovely Pubs created a private room at first floor level in Baraset Barn, Stratford-upon-Avon. Located in the eaves of the renovated barn, the area overlooks the restaurant through a large glass window.
With more employees working remotely, thus without need for an office, there is an opportunity for some units to provide an offering to meet this social trend. Meeting spaces will still be needed, hence there is an opportunity for private dining rooms to also be utilised during the day as serviced meeting rooms. Again, operators benefit from a booking fee and also a retained audience with the possibility of a further spend per head on drinks and food after
vacating the room. A successful example of this is The Somers Town Coffee House, London, operated by Yummy Pubs. The four themed rooms are used by day for meetings, providing a welcome alternative to oppressive corporate spaces, but still have all the amenities that are required, such as internet, presentation screens as well as tea and coffee making facilities. The unit benefits from its close proximity to Euston and King's Cross, making it logistically a viable option for national companies. They have also maximised their space by converting the substantial cellar into a bar area to allow for not only an over flow area but a cocktail bar.
Products that are produced on-site, but sold as takeaway goods, are on the increase. The supplementary revenue is generated without having to seat customers or provide table service. It could also be considered an 'impulse buy' if found serendipitously; if you are walking past you may pick up a sandwich for lunch or your morning coffee. A good example of this is Camden's Daughter in Kentish Town owned by Jasper Cuppaidge, of Camden Town Brewery,which opened in November 2015. This property has a hatch by the bar servery referring to itself as a 'snack bar' where a selection from the changing menu is offered on a takeaway basis, with a 10% reduction in price.
When there is no space within a building to allow for expansion of trade areas, can the roof tops become usable space? This allows an added attraction to be created, especially if there is no beer garden available in the warmer months. This is what The Culpeper Public House on Commercial Street in London has developed, and it has become very popular; on a first come first served basis customers flock to drink here as they take in the vista overlooking the City. The enclosed greenhouse (which has the added functionality of growing the herbs and vegetables used in the restaurant) is now also available in the winter for private functions. This feature again capitalises on the localism and sustainability trend that is a visible marketing tool and encourages drinking customers to book the restaurant on the first floor, increasing spend per head. Due to the size of the four storey building at The Culpeper, letting bedrooms have been added to create a revenue stream that was not present when 'Mad in London' took up occupation.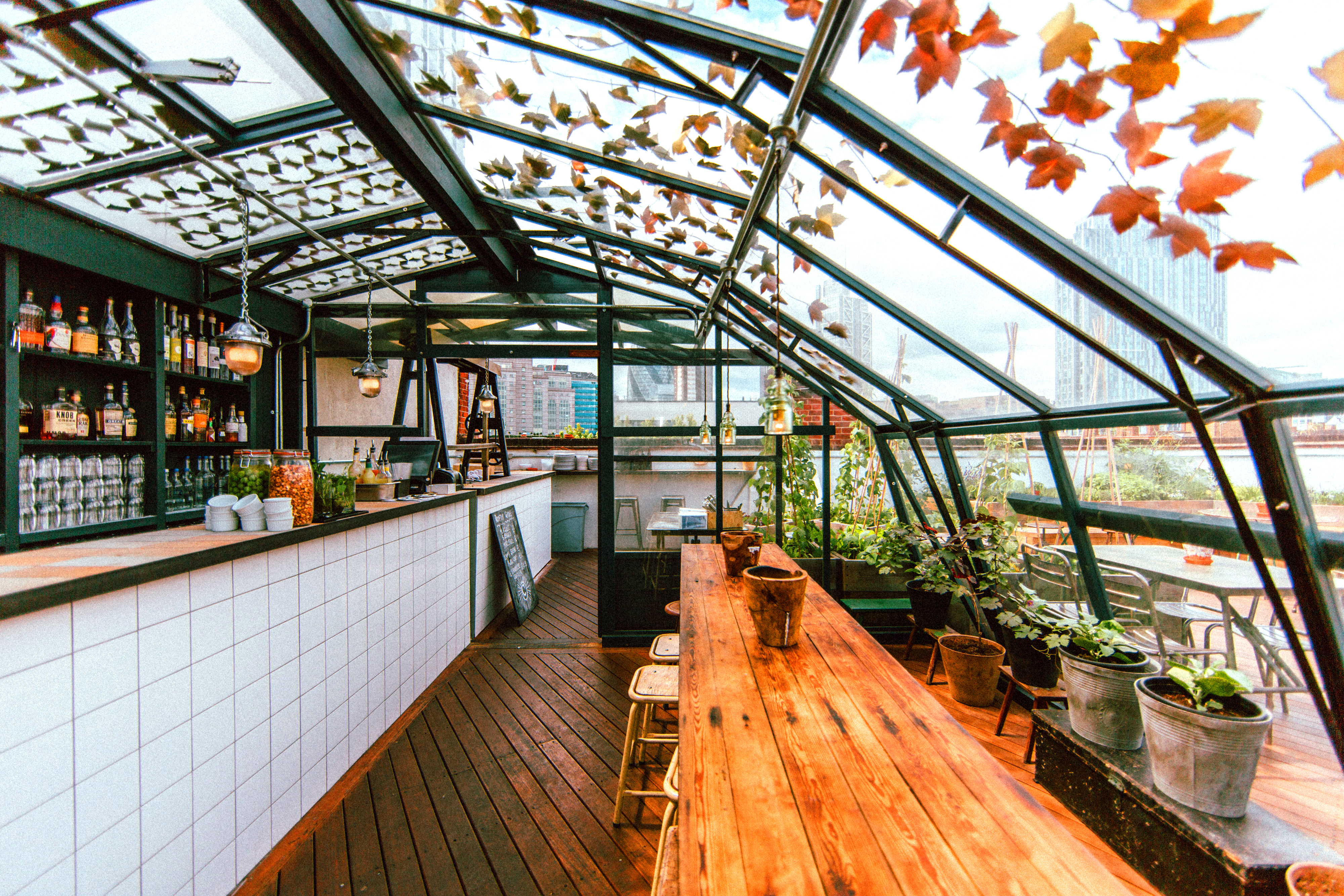 The Culpeper, Commercial Street
Nico Treguer, Managing Director of the company commented: "The vision for our pubs always starts with a complete use of an iconic, but somewhat forgotten, building. We refurbished the entire Princess Alice from top to bottom to give birth to The Culpeper in 2014, which has now four floors open to the public: a ground floor pub, a first floor restaurant, a second floor hotel and the rooftop kitchen garden where we grow all our salads and herbs in addition to it being a rooftop bar and grill. We are keen to show our customers that they are welcome to explore the upper floors and the creation of a lightwell at the core of the building, connecting all the floors together. Most customers now use more than one floor when they visit us, either having a drink downstairs in the pub or on the roof before having dinner on the first floor or simply spending a whole evening on the rooftop before going down one flight of stairs for a great night's sleep." This captures increased spend per head through diversity and capitalises on the knowledge that customers from the rooms will be likely to eat and drink on location as well.
Letting rooms above pubs have become more prolific in the last 15 years, with more operators choosing sites which benefit from having space for rooms. Pub companies such as Young's have created rooms in existing units such as the Rose and Crown in Wimbledon Village in 2 003, as well as the Dog and Fox, also in Wimbledon Village in 2014; due to the success andhigh occupancy rates. Their newest site, the recently acquired Bell in the Cotswolds, has five letting rooms. The average revenue per available bedroom is up over 4% on last year with 56.82% in 2015 compared to 52.02% in 2014. They have added an extra 76 bedrooms to the estate between 2014 and 2015 from investing in existing sites, creating more rooms and the addition of the two newly acquired sites.
Whether an occupier is fully utilising space, making the most of the location, keeping up with social trends or creating/growing produce on site, many operations are choosing to add value by identifying with the customer and giving them a feeling of ownership and something exclusivethat can't be had at every public house. Any sensible operator will make sure this increases turnover and in turn profit, keeping the leisure trade thriving.
London's burning
Philip Smith - Senior Associate
September 1666, The Great Fire of London broke out in Pudding Lane, bringing devastation to the City over four days and changing the landscape of London forever. 350 years later, whilst the destruction caused by the Great Fire has long since been replaced, another fire has been raging in Central London, and its boundaries are ever widening.
The London leisure property market has been red hot for a number of years. With limitations for space in the prime pitches and fierce competition between occupiers, record rents are being set with new open market lettings. The inevitable backdraft for existing occupiers will be at the next rent review. In the following Central London hot spots, operators face getting more than their fingers burned:
Borough Market - Southwark
Over the last 10 years, with the development of the Shard and London Bridge Station, Borough Market has become one of the busiest marketplaces in the world. Following the substantial increases in footfall, rents for restaurants in Winchester Street have increased from £30 ITGF in 2005, to £85 ITGF in 2015. A new letting is rumoured to complete shortly and expectations are that the rent, like the Shard, will be sky high.
Shoreditch - East London
Shoreditch has evolved from a City backwater into the trendiest part of town. Over recent years, rents per sq ft in the Shoreditch Triangle doubled, settling at circa £50 ITGF. However, Dirty Bird's acquisition of 42-44 Kingsland Road is ruffling the feathers of operators facing their next rent review. This letting completed in July 2014 at a stepped rent rising to £235,000 p.a. which reportedly equates to £95 ITGF.
Berkeley Square - Mayfair
Mayfair is associated with exclusivity and extravagance, and prices in the restaurants must more than help balance the rent. Nevertheless, in July 2014, when Sexy Fish acquired 4-6 Berkeley Square at £1.1m p.a., equating to a record £188.50 ITGF, it made even the most exuberant of restaurateurs' eyes water. Nobu are now feeling the heat, having had to accept a 59% increase at their subsequent rent review.
Trafalgar Square - Westminster
One of London's most iconic landmarks and a landmark Arbitration with Fleurets representing the landlord. Fuller's acquisition in March 2014 of the former Albannach (now the Admiralty) at £300,000 p.a., £75 ITGF set landlords chasing a new tone. An Arbitration involving the Lord Moon of the Mall on Whitehall has since been concluded, whereby a 50% increase in rent has been awarded, equating to £70 ITGF.
Leicester Square - West End
It is perhaps no suprise London's centrepiece is top of the hot list, so when the former Yates' was brought to market in 2015, demand was substantial. The successful party was TGI Fridays, agreeing a rent of £1,800,000 p.a., equating to £240 ITGF, 20% above the existing tone. At the next review, other operators may well be priced out of the market when their rent becomes too hot to handle.
Whilst the Great Fire was contained within the City, rental growth in London's leisure property market has spread like wildfire; east and west, and north and south of the river. With continued gentrification of secondary locations, and aggressive expansion driven by private equity backing, as long as consumer preferences remain unchanged, competition to secure new premises will fuel rental growth and rent reviews will continue to be hotly contested. Whichever side of the debate you sit on, landlord or tenant in times of significant rent inflation it pays to take professional advice from an industry expert. The burning question is; how long until this Great Fire starts to die down?
Business Rates: are the storm clouds gathering?
Ben Peers - Surveyor
We read a lot in the press concerning the Government's commitment to creating a fair tax system, but is the treasury missing the point when we look into the issue of reforming the business rates system?
With the 2017 draft rating list fast approaching, operators will shortly be looking into the implications of their new Rateable Value and how they might appeal.
In simple terms, Business Rates are a tax on business occupancy, with periodic valuation (typically every five years) to reflect changes in commercial property values.

The key dates for your diaries are below:
Valuation Date: 1/04/2015
Draft List Publication: 30/09/2016
Date new charges apply: 1/04/2017
Business Rates and the current 2010 Rating List have been particularly sore issues amongst operators. There was firstly the unpopular postponement of the revaluation, which should have been implemented in 2015. Then there was the 31st March 2015 appeal deadline restricting the ratepayers ability to claim backdated Business Rates refunds to April 2010. The outcome ofthis has led to the embarrassing situation whereby the Valuation Office are now swamped with a backlog of 300,000 unsettled appeals.
The spring budget gave a few sound bites which may have provided a glimmer of hope for some, namely the increase in the small Business Rates threshold being doubled from £6,000 to £12,000 from 1st April 2017.
This is possibly great news if you run a small business i.e. a village pub, as you may be one of the lucky few exempt from paying rates altogether. However, there will be limited enthusiasm particularly from multiple operators with combined Rateable Values of hundreds of thousands of pounds.
Last month, a consultation on the statutory process began and the Government are proposing an even more draconian minefield consisting of a "three stage" process as follows:
1. Check - Whereby facts concerning a property must be agreed between the Valuation Office and the ratepayer.
2. Challenge - The period during which the majority of appeals will be resolved, according to the Government.
3. Appeal - Whereupon any involved parties will focus on outstanding material issues.
The most concerning point in these proposals is the Valuation Office being potentially granted a "margin of error". These proposals state that, when considering an appeal, the Valuation Tribunal for England should only order a change in the Rateable Value where the valuation is "outside the bounds of reasonable professional judgement." The impact this will have on the number of successful appeals is still unknown and will all depend on how much leeway theValuation Office are granted.
The Government would seem to be unaware of the real implications of these measures, particularly for businesses with sites in prime Central London or indeed prime regional centres already feeling the pressure from high rents. Commercial rents leading up to the 1st April 2015 should theoretically mirror the 2017 Rateable Values. These increases will be more severe in those areas where there has been fierce competition by corporate operators willing to pay eye watering rents to secure the best sites.
However, we are hopeful of some respite for those occupiers exposed to large increases, this is known as "transitional rate relief" which limits the impact on changes in rates bills between the Business Rates revaluations. A consultation on the scheme is due to take place shortly, thiswill determine the maximum increases and decreases in the rates payable which will be phased in over the duration of the 2017 Rating List.
"Man and boy"
Barry Gillham - Director
This will be my last On Market, as I call closing time on my career with Fleurets after 52 years as a one-company man, joining straight from school in 1964 at the tender age of 16 (before I was legally old enough to enjoy my client's products).
As my last act, I have been asked to write my own professional obituary. Given there are very few people in the industry as seasoned (or as old) as me, I thought I would provide an insight into how the industry, and Fleurets, have developed in each decade I have been in practice.
In the swinging 60s, Fleurets had a single office in Bloomsbury Square, two partners and six staff. The prevailing governmental issue impacting the sector was Labour's exceptionally high death duties allowing the outgoing senior partner to boast that he had valued or sold 21 breweries in 21 years. The valuation methodology of the day was by reference to barrelage, with the 'dry rent' being of subsidiary interest and generally between £1 and £4 per week inreturn for a 100% tie and higher wholesale prices compared to the (very small) free trade, what in today's terms might be called a 'franchise partnership'.
After an initial bedding in period, my interest for the pub industry grew. I became an associate in 1969 and opportunity struck 4 years later when one of the partners retired and I became a full partner in 1973 aged just 25. In 1972 the recessionary clouds formed, with hyper inflation and crippling interest rates (12-15%), the outlook was gloomy. The brewers reacted by evicting tenants from their best pubs, to expand their managed house estates. In response to these evictions the Watney Mann Tenants Association was formed, which was the forerunner of all current tenants' organisations.
As with all recessions they provide opportunity and this recession resulted in Grand Metropolitan, headed by Maxwell Joseph, a hotel and property man, acquiring Berni Inns (the predecessor of Beefeater), as well as Watneys and Trumans (two of the top ten breweries at the time). As the recession lifted, Fleurets was asked to value the assets of Grand-Met on the basis of their "open market value" representing the start of the modern system of valuation and discarding the barrelage method.
The mould was broken, but I remember the vast majority of small freehold tenanted pubs outside London being valued at between £18,000 and £30,000. There was a very limited market for the more profitable sites and they were generally valued at only around 4 to 5 times the income of the brewer/ owner. Few could afford the very high interest rates to be able to buythem, the banking environment was less receptive to the sector in those days and valuationreports only ran to five pages!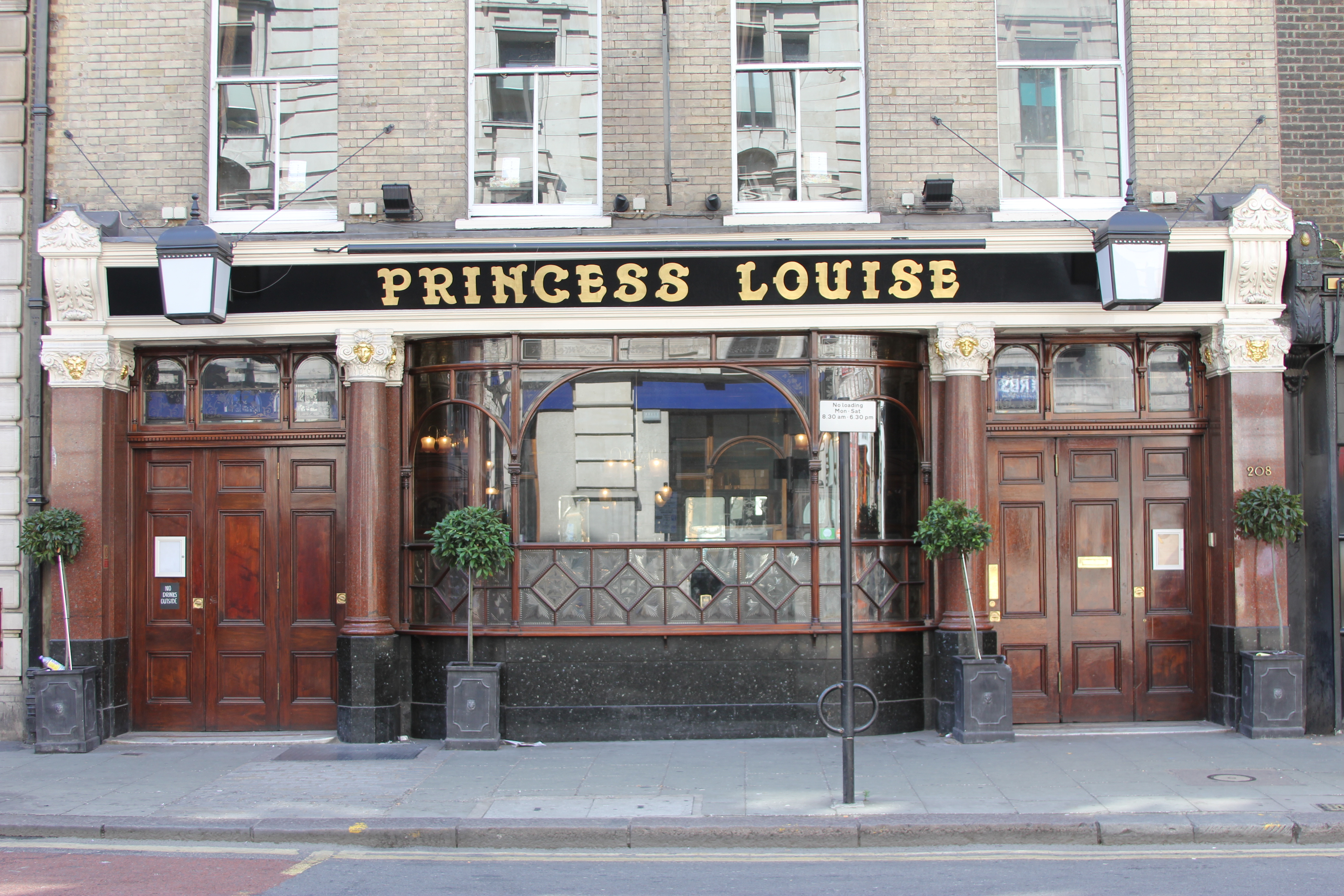 Princess Louise, Holborn
At the same time similar things were evolving in the rental market. A pub called the Princess Louise in Holborn was let by the Crown Commissioners to Watneys. At lease end, Watneys made a bid based upon the old barrelage system of £8,000 p.a. A second brewer made (andthen withdrew) an offer of £12,000 p.a. The Crown Commissioners decided to put the pub on the open market resulting in a bid of £19,000 p.a. based upon the operator's expectation of netprofit. The cartel had been destroyed and the world has never been the same since.
From the mid 1970s the brewers started selling pubs in fairly large numbers, both inner city and in the country. I recall selling the freehold of the Bricklayer's Arms in Shoreditch for £29,000. Back then, Shoreditch was more Kray twins than dotcom. With the hipster invasion by the millennium, the freehold transacted off an asking price of £1,350,000 in 2007.
The 1990s saw the most dramatic shift of my time with Fleurets. By this time we had grown to 7 offices around the country, 6 directors and 70+ staff. Following the Monopolies Report in 1989 Pubcos started to offer Free of Tie leases, others were offering partial ties or incentives to buybeer. The Pubcos were beginning to take over from the brewers and they had large numbers of pubs that needed money spent on them. The answer was the conversion of tenancies to full repairing leases.
The late 1990s and early 2000s saw expansion of the Pubcos with a healthy sprinkling of private equity resulting in large scale expansion on the high street with a heavily branded offering. This period also saw the perfect storm smoking ban (July 2007), beer duty escalator (2008), increased discounting from the supermarkets, the emergence of branded restaurants and finally the 'Credit Crunch' (August 2008). The indebtedness of the Pubcos coupled with the contraction in consumer spending resulted in the large scale disposal of assets, a lot for alternative use. Many, in truth, had never been viable full-time businesses but the need for food skills and not just selling pints was the final nail in their coffin.
For me the story over the last five years (post credit crunch) has been the significant acquisition appetite in the London/South East pub and restaurant market. Scarcity of sites has caused rental inflation and operators seeking different ways of acquiring sites. A perfect example of both is one of my last assignments at Fleurets. I acted for McMullens (the freeholder) of the Lord Moon of the Mall. The investment had been acquired due to
the scarcity of prime assets. We managed to secure an increase in rent to £241,750 reflecting c. 50% growth on the previous rental. This level of growth is now fairly typical.
I am pleased to report that like the salamander the industry has regenerated after the 'credit crunch' with the innovative operators, who put the customer at the heart of their offer, drivingthe industry. Whilst the implementation of MRO and the rating revaluation might result in some stormy waters, there is a genuine feeling of optimism and I suspect that technology will be the story of the next 10 years in the sector.
As I swap hats from advisor to customer, I would like to give my heartfelt thanks to all my clients, fellow surveyors and colleagues both past and present.
You have made the last 52 years memorable, interesting, challenging and most importantly fun. I wish you all the best!
Decentralisation & diversification
Simon Hall - Director & Head of Agency
In search of growth, operators are becoming more creative by diversifying their offer andbroadening their target areas, but prime locations and quality remain the key.
Following trends seen in London, the high rental levels and steep competition in many northern cities is encouraging operators to develop new concepts and seek out the best locations in smaller towns.
In central Leeds headline rents have exceeded £30 per sq ft and new operators seem to open every few months, putting more and more pressure on previously established bars and restaurants to maintain their target levels of return.
Following the development of the very successful Trinity retail and leisure development, Leeds has seen a flood of new openings including; Banyan, Gusto, Alchemist, Pieminister, Head of Steam, Revolución de Cuba, Lost & Found, Ricci's Tapas & Cicchetti and 53 Degrees North.The yet to be completed Victoria Gate development will add more A3/A4 units to the market in late 2016/2017 (including Searcys and Tattu) adding more competition and potentially moving the circuit again.
Given this relentless activity you would be forgiven for thinking that many are repeating the mistakes made in the original boom of the high street circuit in the early to mid 1990s. Then many new operators would break budget in the first year or two only to find new competition opening and stealing the trade to leave a loss making unit by year three. There is a growing feeling this is happening again, led by the rapid expansion of the fast casual market leading to the failure of secondary concepts and secondary locations in the big city centres.
In an attempt to avoid the rapid fluctuations of a highly competitive city centre, operators are seeking more sustainable growth by developing in smaller towns, where there are lower overheads and less competition. They are also creating more specialised concepts that will have less chance of directly comparable competition opening near by.
Equally the 'pitch' shifting is less likely or problematic in small towns. Given the old adage that 'turnover is vanity and profits sanity', we explore the type of market leading transactions which are taking place.
This can be seen by the recent resurgence of activity in Huddersfield, that has, until recently, been ignored by the major players. In the last year however, we have seen Turtle Bay take a lease in the former Cotton Factory at approximately £10 per sq ft overall, offering their unique blend of Caribbean food and drink. The Jones Bar Group have developed their Roxy Lanesconcept, in the former Picture House, paying approximately £10 psf overall, involving a table tennis and bar concept. This deal in particular not only shows the increasing trend of decentralisation but the increasing demand for diversification. More and more units are evolving niche brands. Jones Bar group leads with table tennis entertainment as well as a cool and trendy bar. Banyan heavily promotes cocktails, Potting Shed and Headrow House love theroof terrace. Gin Bars, Cider Bars, American craft ale, cask ale with vegetarian Indian tapas... the variation and specialisation is endless.
Back in Huddersfield, the former Sin/ Che/Livingstone's nightclub, empty for four years, has also just been let, at a rent equating to only £5 psf overall, and will be developed as a high quality bar and club operation.
Other operators like the Burning Night Group have found the opportunity to acquire reasonably priced freeholds with limited competition, sufficiently attractive to develop their Potting Shed brand in towns like Beverley and Bingley. Their Beverley site was previously a Hodgsons pub. Downing, a London-based investment management firm invested £3 million inJanuary 2016 via its Pub EIS scheme. An £800,000 refurbishment included: adding an enclosed roof terrace, a new dining bar area as well as five brightly coloured sheds on the patio. Nick Merrick, Operations Directors has been quoted to say that the concept is looking to expand further across Yorkshire within the next 12 months.
This trend is set to continue with increased activity being seen in locations like Sunderland and Wakefield, suggesting a resurgence of the high streets in these often overlooked towns might be on the horizon.
In 2017, Hull will be celebrated as the UK's 2017 City of Culture, and with it bringing multi million pounds of investment and redevelopment, transforming the historical port of Hull into a vibrant and prime city. Savvy operators are seeking sites in Hull to capitalise on this. For example an empty unit in Hull's rejuvenated Fruit Market is set to receive casual dining concept Butler Whites. Founded by four Hull chefs, Butler Whites will offer hearty bistro-style dishes.
Possibly the best example of operations seeking prime sites in second tier towns is Loungers, 'informal, neighbourhood food led cafe/bars'. Founded in 2002 by Jake Bishop, Dave Reid and Alex Reilley, the company's first acquisition was an empty opticians located on North Street in Bristol, which opened on 29th August 2002. Fourteen years on, Loungers now possess 72 sites across the UK; some in recognisable prime cities, whilst others will have you reaching for Google Maps. Some of the secondary locations include: Urmston, Keynsham, Woodley, Lichfield and Heswall. This aggressive expansion, paired with the knowledge of three sites set to open shorty (in Oldham, Telford and Mumbles) displays Loungers' successful acquisition plan and indicates that perhaps prime cities are not the only way to make prime profits. If youwant it in figures, as reported by Propel Info in 2015, Loungers announced a 50.2% rise in EBITDA, to £10.8 million in the year to 26th April 2015, having opened 18 sites during this period and having invested £12.7 million. Backed by Piper Private Equity, the company's turnover increased 42.3% to £48 million with company EBITDA (before exceptional and pre-opening costs) increasing to £6.6 million from £4.4 million. Like-for-like sales for the periodgrew by 3.9% with like-for-like site EBITDA increasing by 11.7%.
A word of caution however; being the first in to a developing circuit is not enough on its own. History has shown, secondary units and poorly crafted concepts can quickly reach their best before date. But get it right, and the rewards can be considerable and often longer lived than in many neighbouring city centres.
Investments - In times of uncertainty, head to the pub
Ed Sandall - Divisional Director
As if people need any encouragement to head to the pub on a Friday, waking up to the Brexit announcement on Friday 24th June must have resulted in a P&L spike. For some a toast to a successful vote, others to drown their sorrows; I am sure a good number of investors and fund managers were first to the bar. In the days and weeks after the vote there was significant doom and gloom, increased uncertainty, stagnation in liquidity, the closure of some funds, property shares taking a battering and deals falling over.
Whilst the market remains uncertain, the interest rate cut makes long income property a compelling target, particularly if you are holding cash. It seems that some investors liked what they saw at their pub visit and are now drinking in the asset class. I am going to explore the post Brexit transactions and the fundamentals that underpin the sector.
The first notable post Brexit transaction (July 2016) was the sale of the Goat, High Street Kensington, by TH Real Estate to an overseas purchaser (passing rent £306,441 p.a.) along with the Two Chairmen, St James (passing rent £196,905 p.a.) for £13.5 million (£6.75million average), reflecting circa 3.5% net initial yield. Both assets were let to the Spirit Group for another 28 years, a wholly owned subsidiary of Greene King Plc. The leases provide for annual growth from March 2017 at 1.25% p.a. and then at 2.5% p.a. from 2022.
TH Real Estate acquired the assets in December 2014 as part of a larger portfolio for £54 million (£6.75 million average). The portfolio included Shakespeare's Head on Great Marlborough Street (W1), Friend at Hand in Bloomsbury (WC1), The Roebuck in Chiswick (W4),Marlborough Street (W1), Friend at Hand in Bloomsbury (WC1), The Roebuck in Chiswick (W4), The Rutland in Hammersmith (W6), The Ship in Mortlake (SW14), Museum Tavern on Great Russell Street (WC1), The Goat on Kensington High Street (W8), and The Two Chairmen near St James' Park (SW1). The total rent roll was £2,636,787p.a. (average rent £329,598 p.a.) and the purchase price reflected circa 4.6% net initial yield. To draw simple comparisons, the transaction suggests yield compression of 110 basis points or approximately 31% growth in just less than two years.
The aforementioned transaction was not the only swallow this summer. Lasalle purchased a portfolio of six public houses from Aprirose for a reported £17.8 million (£2.96 million/site) reflecting a net initial yield of 4.5%. The portfolio comprised; Fox & Hounds in Putney (Stonegate), Albion in Islington (Punch Taverns Plc), Malt House, Birmingham (Spirit Group), Green Dragon in Croydon (Stonegate) , Royal Oak in Farnham (Spirit Group) and Old Bell in Harpenden (Spirit Group).
The portfolio was a blend of assets from two portfolios purchased by Aprirose in the last couple of years. The first was a portfolio of 18 Stonegate sale and leasebacks for a reported £25.3 million, reflecting 6.67% net initial yield in September 2014. The second a portfolio of 11 public houses (2 Punch Taverns and 9 Spirit Group) for £22.5 million in December 2014, reflecting a net initial yield of circa 6.25%.
My analysis suggests the reflected yield compression of between 100-150 basis points. I accept there might be examples of post Brexit transactions moving the other way, however, it seems there are still keen buyers prepared to transact for the right assets. I set out below what I consider to be some of the fundamentals behind a purchase of a public house investment:
- The Property: Investors are seeking well located assets, in attractive buildings with good proportions and underutilised upper floors (i.e. staff accommodation or storage).
- Rental Gearing: Investors and their funders are focused on the level of rental gearing (being the relationship between rental and EBITDAR).
- Vacant Possession Value: The savvy investor/funder understands that the valuation methodology for vacant possession is not income and yield as with mainstream properties, it is the profits approach, with the most likely purchaser being an operator. This is again an area toseek advice from a specialist to understand the trading profile and the depth of market for a particular asset.
- Lease Terms: Investors typically seek long leases, to robust covenants, with guaranteed rental growth. This allows the investor a relatively uncomplicated investment holding.
The key question is: Will the demand for pub/leisure assets continue? I consider that the current inertia from some of the funds and banks will lift at the back end of this year or early next, and this will add a wall of money to the market that will compete with the high-net worth investors, SIPPs and foreign capital that are all seeking a safe haven and a bank beating return. Not to mention the intangible, that it is fun to own your own pub.
Hotels - Coastal resorts
Nick Earee - Divisional Director
The British tourist resort is a key part of our heritage which, over recent years, has experienced rejuvenation, supported by increasing visitor numbers, the growing benefit of the 'Grey Pound' and, more recently, a growing trend of 'staycations'.
According to Visit England, in 2015 there were approximately 11.2 million domestic overnight trips in England that involved visiting a beach, approximately 11% of the total domestic overnight trips, producing spending of approaching £3 billion. The vast majority of trips involving visiting a beach were taken on holiday (76%) or visits to friends and relatives (22%). According to ONS, the number of trips including a visit to a beach during the course of the five years to 2015 reflected an annual average growth of around 3%.
According to a report published in May 2016 by the National Coastal Tourism Academy, reflecting data produced by GDTS in 2014, the South West is the most visited region, accounting for around 40% of domestic trips, followed, albeit by some margin, by the South East at 17% and the North West at 13%.
As with the provincial hotel market generally, hotel key performance indicators for many of our seaside resorts have seen and upward shift that, in light of the above, looks set to continue, at least in the short term.
In many instances, the commercial decision or business case for buying a small coastal hotel or bed & breakfast is supported by the personal/emotional lifestyle decisions of the buyer, wanting to acquire a property that both generates an income as well as providing a home. Demand from such buyers has been relatively consistent in key seaside locations.
This profile broadly mirrors the pattern of purchaser demand that we have experienced across our regional offices dealing with hotel sales in these markets.
Hotel pricing in the smaller hotel and bed & breakfast sectors of the market vary substantially geographically, premier coastal locations such as Brighton & Hove attracting prices equating to £100,000/ room, compared with those in more secondary locations at a significant discount to these levels, £25,000/room in instances. The wide disparity in pricing is, as would be expected in a sector of the market that is strongly reliant upon lifestyle purchases, a reflection of the equally wide disparity in residential property prices in such locations.
The challenge for both buyers and sellers of small hotels and guest houses, which are frequently operated in a manner to suit lifestyle choices rather than by commercially driven optimised business, is that property pricing is often difficult to support by business accounting information alone, which in turn proves challenging when securing loan finance to supportpurchase. Therefore, whilst property pricing in this sector of the market is aligned to prevailing residential property prices, values remain contingent on individual business performance.
Heathrow -v- Gatwick
Paul Hardwick - Director & Head of Hotels
On 1st July 2015, the Airports Commission recommended Heathrow for a new third runway ahead of Gatwick's proposed second runway scheme, however, following the UK's vote to leave the EU, and the subsequent resignation of David Cameron, the final decision whether to expand Heathrow or Gatwick has been delayed.
In 2015, Heathrow passenger numbers approached 75 million, compared with Gatwick at around 40.3 million. As would be expected, this disparity in passenger numbers is reflected in local hotel room supply, there being 10,090 and 6,878 respectively. (Source: AM:PM)
Gatwick has experienced the greatest increase in room supply since 2011 at circa 13%, including the 245 bedroom Bloc Hotel and the 192 bedroom Hampton by Hilton, both in 2014. Heathrow supply has grown by only circa 5%, the most recent opening being the 140 bedroom ibis Styles earlier this year. This balance does, however, look set to be addressed as whilst there are no new hotels imminent around Gatwick, 2,571 new rooms are due to open aroundHeathrow by the end of 2018, including a Premier Inn, Holiday Inn, Holiday Inn Express, Moxy Hotel, Crowne Plaza and a Novotel. Arora Developments has only recently secured outline planning consent on behalf of Heathrow Airport Ltd for a new 13-storey, 298 bed hotel that would be linked directly to Heathrow T2.
2015 room supply and passenger numbers reflect a ratio of passengers to hotel rooms some 27% higher at Heathrow (7,429:1) than Gatwick (5,855:1). This simple test suggests that potential demand for accommodation at Heathrow is significantly ahead of that at Gatwick. This is reflected by the Key Performance Statistics reported by STR, with Heathrow hotels reportingmaterially higher occupancy and room rates, resulting in achieved RevPAR over 26% ahead of Gatwick. However, if the pipeline of new rooms at Heathrow comes to fruition without a corresponding increase in passenger numbers, it is likely that hotel performance will come under pressure.
As would be expected, hoteliers in both locations are closely monitoring progress as the decision on which to expand will have a very significant impact upon both the trading prospects and value of their hotels in the future.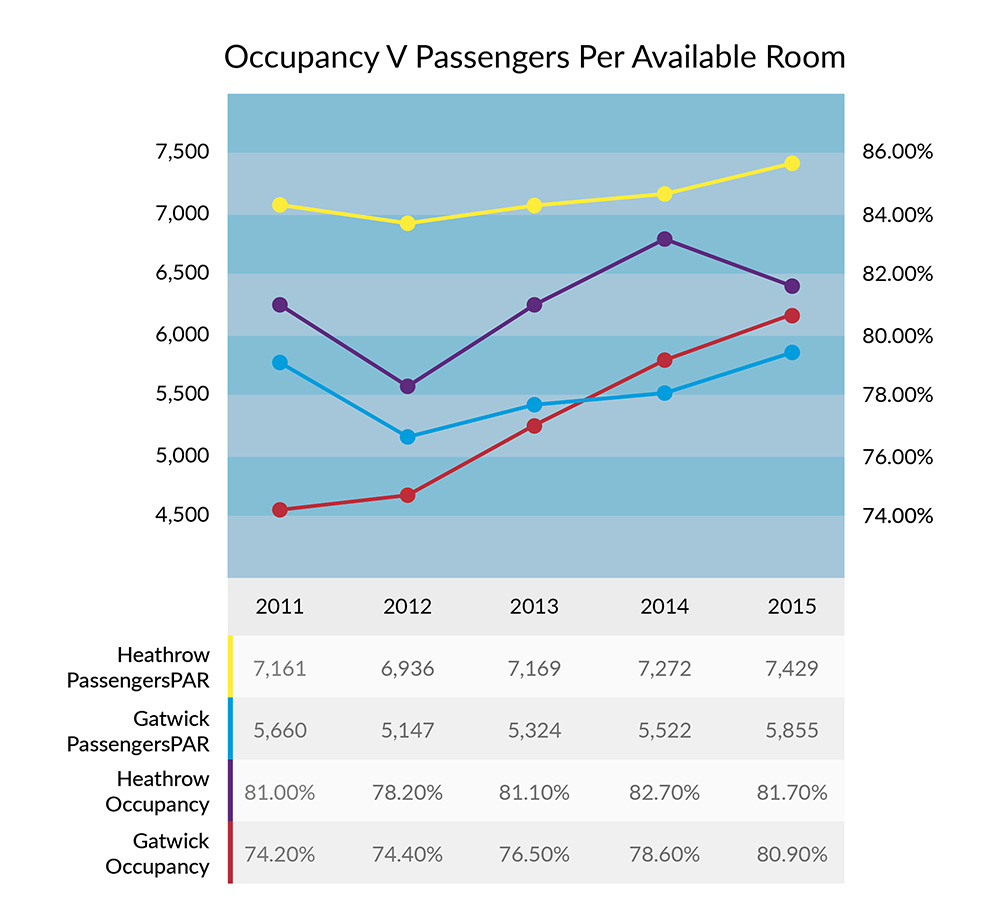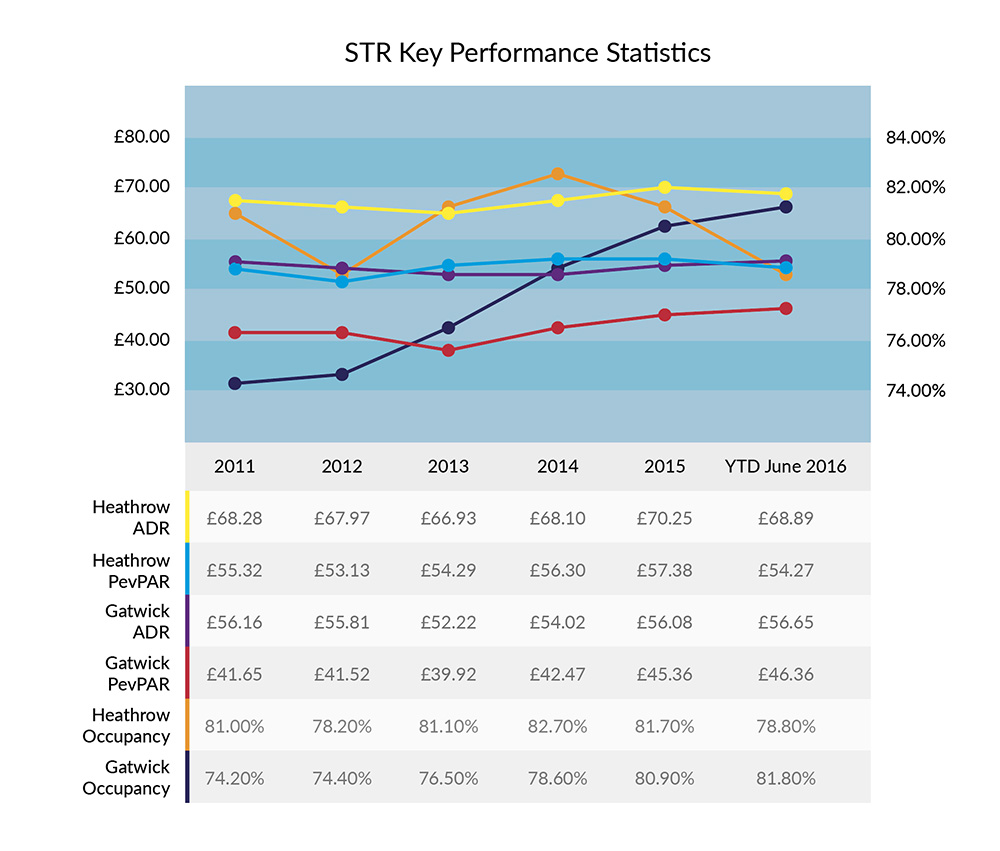 Restaurants - Delivering the roo-volution
Rosie Hallam - Senior Surveyor
For someone born in the 1980s, and consequently now in their late 20s, you would think I'd have an app for everything and be posting my every waking move on social media. I am however rather behind the curve and tend to end up joining the trend several months after the hype and popularity has died down. It is perhaps not surprising to learn that I don't own aniPhone, or own anything Apple branded for that matter, nor do I play Pokémon Go! Not that I'm knocking it; restaurants are literally tapping into this and using it to their advantage, generating a short term boost in turnover as a result of becoming a PokeStop (Google it - probably the most bizarre phenomenon I've come across!).
So, when I first heard of Uber, I was slow to embrace and a tad sceptical. Having now joined the Uber revolution I am the ultimate convert. What could be better than being able to tell a car where you are, it comes to you and not the other way around, and costs a fraction of the traditional black cab fare? Even better, I no longer have to bother about having cash!
With Uber proving popular with customers, albeit not so popular with black cab drivers, they have now sought to expand their offering beyond just transporting people to places - transporting food to people. As if Uber couldn't make life any simpler for us. Short of downloading the app and telling them what you want to eat and where to deliver it to, there is nothing else to do. It automatically links to your standard Uber account and off you go.
But Uber was not the first here, nor does it match its main competitor for coverage, although they are now expanding outside of zone 1 as well as into regional cities. Fear not, Deliveroo has it covered.
2016 must mark a turning point in the eating out sector; the age of eating in has arrived, but in a far different form to its predecessors, and it is Deliveroo, set up by Will Shu and Greg Orlowski in February 2013 that have pioneered this.
3 ½ years on since inception and it is only recently that it has been really hitting the headlines. Investors have bought into the concept, funding has been fast flowing and more and more companies are seeking to get in on the action. Even Amazon are looking at it.
As explained by Will Shu in an interview with Wired.co.uk, Deliveroo's concept is about improving the range and quality of home delivered takeaway food, taking it above and beyond what has typically been a fairly low quality, fast food offering, often fairly unhealthy and confined predominantly to Indian, Chinese, Thai and similar cuisines. This time it is about engaging with existing restaurants which don't provide a takeaway service and providing the facilities and technology to do so. In turn, this enables the restaurant to focus on enhancing thebusiness and maintaining food quality, but without affecting their physical restaurants and without adding costs to the business. In return Deliveroo charge a delivery fee, payable by the customer, and a commission payable by the restaurant, based on a percentage of the order value.
As of August 2016 Deliveroo was established in 12 countries and 54 cities, nearly 40 in the UK and Ireland. In London alone over 2,500 restaurants have now signed up to the concept. According to the Telegraph website, revenues are set to hit £130 million this year, reflecting annual growth of 1,000%! Little surprise that the venture capitalists such as Bridgepoint are ploughing money into the concept, providing the leverage for it to expand even further.
So how does it work for the restaurant operators and is it a worthwhile venture? I put this question to Food & Fuel, operators of 11 gastropubs and café bars across London who have recently embarked on this new relationship.
When an operator signs up to work in partnership with Deliveroo, they are supplied with a tablet computer which interfaces with the Deliveroo app and technology and also syncs with thecouriers who have the app on their smart or iPhones. Deliveroo foot the cost of the tablet, not the restaurant, so start-up costs are minimal.
The restaurant operator retains control over the use of the service and there are no minimum requirements imposed on them, so when the restaurant is busy and they can't or don't want to provide the service, the tablet is turned off and the restaurant disappears from the list on theapp. No longer can the customer chose this restaurant.
Food & Fuel only have positive things to say about the relationship so far, and it would appear that the staff at the restaurants, those having to physically facilitate it are on board as well. Peter Myers, Financial Director, says that there has been no negative impact on their restaurants. It has boosted trade, particularly on the quieter trading days, Sunday nights for starters, which are the most popular nights for orders. When asked how he thought it
translated in terms of brand image, again he believes it is a positive.
So, it would appear that it's all positive news from the financial side of the operation but it can't all come without any bumps along the way, can it? Timing, product quality and packaging is a key consideration to ensure a reputation is upheld. One Sunday night I trialled Deliveroo (UberEats don't cover where I live currently) and put Wagamama to the test - all in the name of market research. Order placed, estimated delivery time of 18.16 - it arrived early, piping hot, in a Wagamama bag and with chopsticks, napkin and cutlery, and presented exactly as if I had ordered it from a table in their restaurant.
So what on the face of it appears to be merely a takeaway service is revolutionising the sector. Never before has it been possible to have such a range of food available and delivered to your door, at the touch of a button, and indeed the range of operators now signed up to the likes ofDeliveroo and UberEats is surprising. You can get anything from a Gaucho steak or a Dirty Burger to Yo Sushi or Pho to Amorino ice cream or Crosstown Doughnuts. There is something for everyone, to satisfy any craving. And it's not just food. You can order drinks as well, BrewDog, for one, have signed up.
One must start to wonder though, are we all about to become terribly antisocial? You could eat, drink, work, shop and socialise all from the comfort of your sofa. Could this have a serious negative impact on our mental health and could we see the demand for physical restaurant space dry up and rents start to fall?
Personally, I doubt it. For most people, eating out is an enjoyment and a social activity, a forum for meeting friends, family, colleagues, hosting dates... Eating take out at home is a convenience, a lazy treat but not necessarily sustainable. What we may see however, is a rise in the number of central production kitchens if the concept proves so successful that the individual restaurants can't support its new customer base.
I do think that this is a concept that is here to stay and may evolve again. It is convenience at its peak and has revolutionised the take out market bringing it to a level I never expected - a picnic in the park looks set to take on a whole new meaning. Thanks to Deliveroo, they couldsoon be bringing the restaurant not only to your home but to wherever you are, be that a field, a park or even on the beach.
Pubs - If pubs were in the Olympics...
James Davies - Director
Welcome to our pub section. After you have read this brief introduction, overleaf you will find pages of opportunities available across the country to suit most styles and budgets.
Pubs are brilliant - 2016 has brought many new challenges but I make no apology for being positive and enthusiastic about the pub sector. Despite all of the obvious pressures there have been some fantastic new openings across the country which prove the industry is as fit and healthy as our Olympians.
I have been lucky enough to visit a number of our great cities in recent months including Belfast, Edinburgh, Glasgow, Manchester and Newcastle and have been blown away by the innovative concepts being created. It feels like 2016 was the year the regional pub sector bounced back into rude health after a difficult period. One of the catalysts for the resurgence has been displaced operators that have found the entry costs to London and the south-easttoo high.
A great example of this national demand was the decision by J D Wetherspoons to sell an additional 33 of its outlets across the UK and despite well over 50% of these disposals being outside of London and south east we understand demand for trade assets has been strong.
This trend can also be evidenced by looking at a few operators' recent acquisitions;
Brewhouse & Kitchen - Bedford, Chester, Wilmslow, Southbourne and Litchfield.
City Pub Company - Warwick, Cheltenham, Cambridge and Birmingham.
Hawthorn - Blackpool, Rotherham, Mansfield and King's Lynn.
The London leisure property market is normally a good indicator for what is likely to happen across the country so I am delighted to confirm our London Agency team have dealt with the sale of more freehold public house sales in 2016 than ever before. These have included highprofile sales such as:
- Commercial Tavern, Spitalfields - in excess of £4,600,000
- Coach & Horses, Clerkenwell - £2,800,000
- George & Dragon, Fitzrovia - in excess of £2,000,000
- Falcon, Queen's Park - in excess of £2,750,000
- Arab Boy, Putney - £1,250,000
Whilst the acquisition of these transactions is not totally surprising, what has been interesting is the number of enquiries and viewings, which translated to very busy bid deadlines.
The last Fleurets Survey of Pub Prices showed the national average of pub sales being split exactly 50/50 between continued public house and alternative use. I am therefore delighted to confirm our 2016 average for London and the Home Counties is currently 77% of all freehold pub sales being for continued pub use, most with significant investment planned.
We cannot ignore the challenges which lie ahead with MRO and Brexit being the topics in sharp focus. It is impossible to say yet how much of an impact the MRO legislation will have but such an important shift in the structure of landlord and tenant negotiations which may result in long term change in how leases are drafted in terms of length and tie obligations. As such we may see some short term caution whilst the market adapts to the changes.
As we watch the pubcos respond to MRO, it appears the unintended consequence might be that they will flex their L&T Act muscles and take back some of the best sites at the end of the lease. You only have to look at the industry stars lining up to provide their services to the Pubcos to realise there might be less sites being available for assignment or divested fordisposal, therefore limiting opportunities in the market.
Brexit presents a very different challenge, however, provided that the funding dynamic remains competitive and the consumer keeps consuming, the main impact is likely to be operationally rather than an adjustment in property demand/value. Feedback from various individual and larger companies suggest it is the retention and recruitment of staff going forward which could cause concern. With a significant percentage of workers from mainland Europe employed in the leisure sector, we will have to wait and see how the government intends to deal with a potential exodus. It is likely there will be dispensation to allow existing workers to remain but
there may be a longer term reduction in migration to the UK.
I reiterate our positive view on the sector. We have many fantastic clients that have great track records in the sector, innovative concepts, head office infrastructure, supportive funders and bags of energy; they just want sites. I don't think there has ever been a better time to sell a pub with liquidity at every sector of the market and we would be delighted to speak withanybody that might be interested; please give us a call.
I hope the selection of pubs for sale and to let is of interest. Please remember, the current choice becomes historic as soon as we go to print so for the latest instruction, please contact your local office who will be happy to update you.
Leisure - Competitive socialising
Graeme Bunn - Managing Director
Games within pubs is not a new or even relatively modern pastime. Indeed, sporting activity can be traced back many centuries, although no doubt the games have changed since the 16th Century. As snooker was not invented until 1875, Shakespeare and his contemporaries would have enjoyed card games and possibly cock fighting. It is even reputed that Balls Pond Road in Highbury, North London, was named after a pub run by Mr Ball that had a pond out the back filled with ducks where drinkers could go, for a fee, and take their chance at shooting
the creatures.
Wind the clock forward and innovative operators have developed businesses specifically focused on indoor sporting activities. Hurricane Rooms took pool and snooker to the next level. It was, however, the development of Bounce, launched in Holborn, London, in 2012 which perhaps created the indoor sporting venue as a sub-market for the pub and bar market.Occupying a cavernous basement in an office building, the table tennis venue with full bar and food menu offering has seen enormous success.
Not unsurprisingly, other sporting activities have followed suit, and Flight Club has done to darts what Bounce did to ping pong, with their first venue at Finsbury Square, near Moorgate in the City. It opened in 2015 and, like Bounce, has enjoyed tremendous trading success. Perhaps, most surprisingly, it has seen a high level of female custom, who historically, have not been traditionally associated with darts in pubs. Keen to expand, I understand that a second venue has already been secured, with no doubt an appetite for more.
Most recently, the cleverly named 'Swingers', has opened in St Mary's Axe, also in the City, providing a crazy golf facility including two nine hole courses, five cocktail bars, three of London's best street food vendors and a two storey clubhouse with gin terrace. The venue wasborne out of a hugely successful pop up in Shoreditch, and I have no doubt the venue will succeed.
From a property perspective, this sub-sector provides landlords with the opportunity to secure long term occupiers and rental income on non ground floor space. Bounce, Flight Club and Swingers all primarily occupy basement accommodation which has become increasingly redundant within office buildings beyond cycle storage for office tenants. Rental levels will also be typically ahead of other potential uses for this accommodation, certainly comfortably ahead of storage levels and also likely to be above that of budget gym operators who have typically led occupier demand for such space.
The successes of Rio Olympics might lead to a bold operator developing an indoor fencing operation, or even archery, albeit our friends at the Health and Safety Office might have some concerns. Personally, I would be delighted to see the opening of a Connect 4 venue, although I have heard a rumour of croquet and cocktails. I anticipate further growth in this sub-market for as long as humans enjoy competitive socialising which I suspect is inherent in all of us.