Click here to view the online magazine.
Click here to open the pdf directly.
A comprehensive review in a magazine format with topical and informative articles from both experienced Fleurets staff and from external trade organisations, to inform and advise, including a round up of property availability nationwide, broken down by region and by sector that displays the extent and variety of opportunities on the market.
In this issue:
- M&A Activity - Alive and Well - Paul Hardwick looks at corporate M&A activity across the pubs hotels and restaurant sectors.
- Lifestyle Businesses - What constitutes a lifestlye business? and how do you find one? Simon Bland explores the trend.
- Can I Secure the Funding? - Representatives from Metro Bank, Lloyds, Barclays and NatWest discuss funding.
- Birmingham - Exploring development and investment and the effects on Birmingham's hospitality industry.
- Bristol in Bloom - Kevin Conibear, our new Head of Retail Leisure & Restaurants looks at Bristol's casual dining market.
- Family Brewers - Chairman Martin Willis explores the role of the family brewers within the drinks market.
A Punchy start to 2017
Graeme Bunn - Managing Director
With Q1 2017 already consigned to the past, it would appear that the leisure sector is continuing to defy pessimistic forecasts, alongside a UK economy which continues to do the same. We have seen better than expected GDP growth, with the economy expanding by 1.8% as a whole during 2016. UK unemployment also continues to fall with the unemployment rate now 4.7% - its lowest level since 1975. Therefore it is perhaps of little surprise that the UKpopulation continues to enjoy staying, drinking and dining out. Perhaps the best barometer of the leisure sector trading environment within the UK is represented by JD Wetherspoon PLC who reported 3.3% like-for-like sales over H1 FY17. Across in the restaurant sector, Wagamama reported average restaurant sales of almost £42,000 per week in January, whichcompares to the same restaurant sales two years prior of £34,000 per week.
It is little wonder therefore that the leisure sector remains attractive to investors. Canadian based real estate investor, Jimmy Lai, acquired 170 pubs let to the Spirit Group from Cerberus in a deal reported to be worth £400 million. Within the hotel sector, Generator Hostels, was acquired by Queensgate Investment from Patron Capital, an investment partner of Invesco Real Estate, for a reported €450 million. The company operates 8,639 hostel bed spaces in locations including London, Paris and Copenhagen. Clearly Patron hope to use some of the funds generated from selling Generator Hostels in the acquisition of Punch, subject to the outcome of the CMA investigation, will see Heineken and Patron acquire all 3,350 pubs for just over £400 million.
Headwinds remain, however, not least with the Business Rates Revaluation which will see many businesses suffering upto a 42% increase in business rates payable as of this month. The imminent introduction of the Apprenticeship Levy will also add to the tax burden of most multiple operators.
However, there is still much to celebrate and enjoy from the leisure sector. It remains a significant and growing part of the UK economy and Fleurets is delighted to play our part in its success. Fleurets was recently announced by EGi as 2016's Most Active Agent in the leisure and hotel sector for the first time in our history. Our challenge is to remain in pole position for 2017.
M&A Activity - Alive and Well
Paul Hardwick - Director & Head of Hotels
2016 fell short of the previous year in terms of transaction volume, albeit this is perhaps a reflection of the exceptional levels of activity witnessed in 2015, rather than a sign of market deterioration in 2016. Furthermore, some players were distracted whilst digesting the fruits of their previous harvest. Of course, the referendum caused a brief hiatus, although any blip in activity has seemingly passed, the last few months witnessing significant activity across all ofthe leisure property sectors.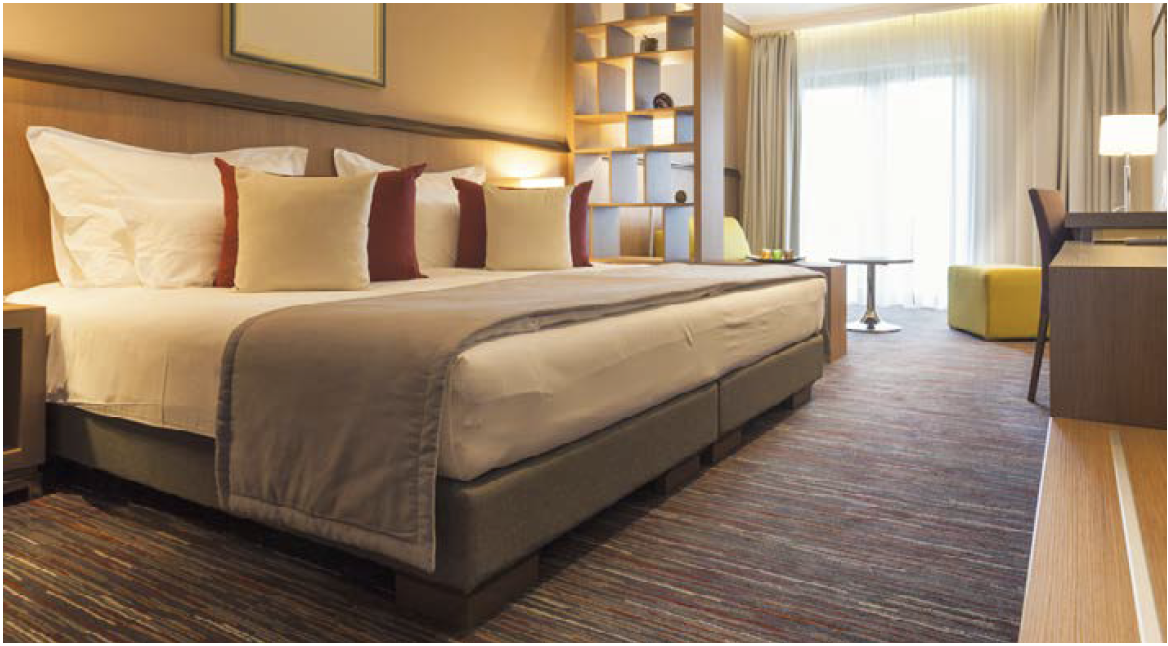 Hotels witnessed two portfolio investment transactions, both involving Travelodge. Secure Income REIT acquired a portfolio of 55 Travelodge investments for around £200 million, reflecting a net initial yield of around 7%. This was followed a month later by Mansford's acquisition of the Booking Portfolio of 17 long leasehold Travelodge investments for a shade over £28 million, again reflecting a net initial yield of 7%, approximately £48,000 per key. Bothtransactions appeared to offer value to the buyers, pricing reflecting a substantial discount of about 25% to returns often witnessed for the Travelodge covenant and for assets offering long term, upward only RPI linked income with strong trading fundamentals.
The pub sector attracted continued investor appetite as LaSalle Investment Management acquired a portfolio of six pub investments let to subsidiaries of three major pub operators located predominantly in the South East for £17.8 million, reflecting a blended net initial yield of around 4.75%. Once of interest to only specialist investors, pubs are now firmly accepted as amainstream investment asset class.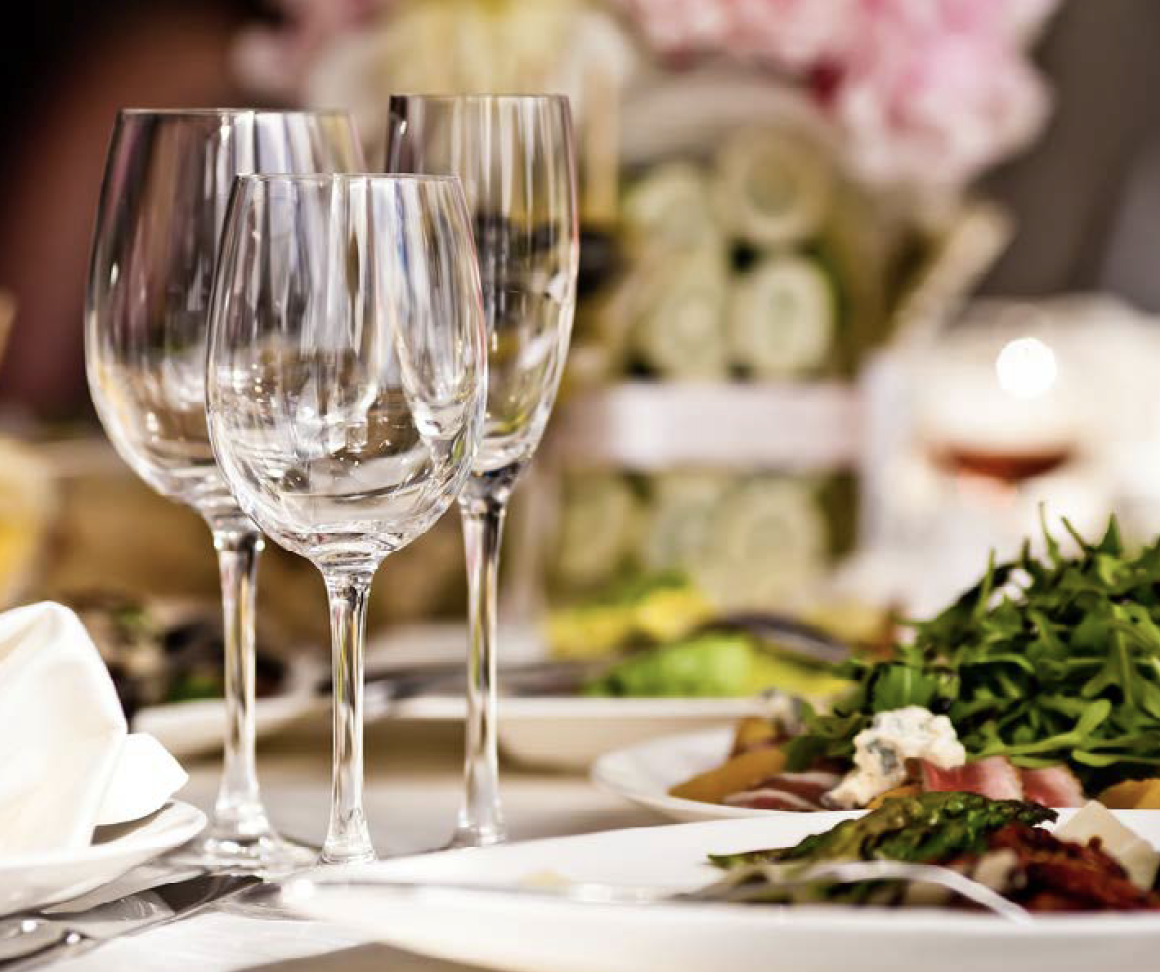 It is, however, activity from trade buyers that has dominated the headlines. DW Sports acquired Fitness First and its 62 clubs in a deal reported at £70m, increasing its portfolio from 78 to 140 units in September, which turned out to be a busy month. Famous Brands acquiredGourmet Burger Kitchen and its 75 UK sites for around £120 million (£1.6m per site). Hot on the heels was Boparan Restaurants Holdings', owner of Giraffe, acquisition of the Ed's Easy Diner brand, head office team and 33 restaurants in a pre-pack administration; and StonegatePub Company acquired 10 units from JD Wetherspoon, taking Stonegate to a total of 664 sites.
September also saw Singha Estate and Fico Corporation acquire three provincially located branded hotels providing 229 rooms, off a guide price of £12 million, reflecting around £52,000 per key and, of course, Marriott International completed its modest acquisition of Starwood Hotels & Resorts, creating the world's largest hotel company in a £13 billion merger involvingaround 5,700 hotels with 1.1 million rooms across 110 countries.
After a quiet October, November picked up again with Shepherd Neame's acquisition of Village Green Restaurants Limited, which operated five freehold pub restaurants in its Kentish heartland, for £11.85 million (£2.37m per site), reflecting approximately 13 times operating profit.
Following a major £100m refinancing earlier in the year, Newcastle based hotel and baroperator, Cairn Group, continued on the expansion trail with the acquisition five hotels out of the Hotel Collection portfolio off a guide price of £75 million, reflecting approximately £113,000 per key. The group now comprises approximately 3,000 bedrooms spread nationally.
Several notable deals brought the year to a close, spanning the pub, restaurant and leisure sectors. Lion Capital acquired the majority stake in Loungers, a group comprising 94 sites, valuing the business at £137m. Stonegate acquired Intertain from Better Capital, the group operating the Walkabout chain of bars for a price believed to be in the region of £39m reflecting circa 5 times EBITDA. Dominion Hospitality acquired 28 hotels and pubs from the privately owned Chapman Group for an undisclosed price and, in the year's biggest story to hit the pub headlines, Punch agreed to a £402.7 million takeover offer from private equity firm Patron Capital Advisors and Dutch brewer Heineken. The deal reflects approximately 10 times Punch's EBITDA and would involve around 3,300 public houses.
Whilst activity has perhaps been a little subdued at the time of writing (which is often the case in the early months of the year), there is a competitive pool of well funded ready buyers across the spectrum. With several opportunities already in the market, in addition to a steady flow of unsolicited acquisition approaches opportunities will also arise as recent buyers gradually consolidate and rationalise their estates. There are certainly the right ingredients for an active 2017.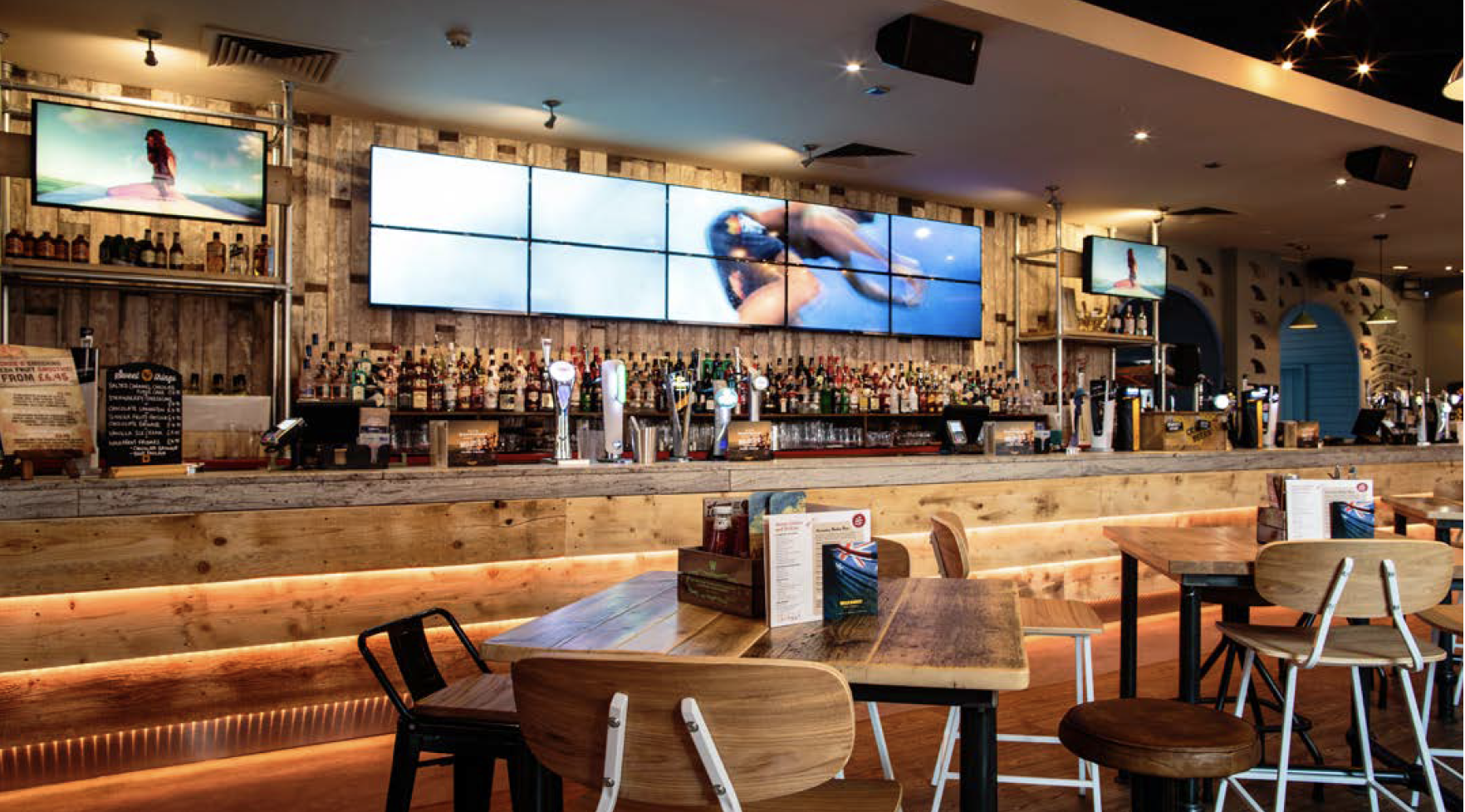 Reef Bar, Walkabout, Solihull
Lifestyle Businesses and Where To Find Them
Simon Bland - Associate
The Monday morning traffic jam or overcrowded commuter train, and the daily grind are perhaps apocryphal but recognisable aspects of modern life for many people drawn to buying a lifestyle business or setting up their own.
As leisure property specialists, Fleurets has been involved in the sale and acquisition of many such businesses and properties that have allowed many entrepreneurial buyers to realise their dream.
The appeal of a lifestyle business is easy to understand and is usually defined as a business that is run by its owners, primarily with the aim of sustaining a particular level of income or to provide the means to enjoy a particular lifestyle. The Licensed leisure sector provides numerous opportunities promising this and attract people from all walks of life. Government figures tell us there are comfortably in excess of 5 million private sector businesses in the UK and 2016 was another record year for new businesses with over 80 an hour being born
according to Companies House.
Lifestyle businesses come in all shapes and sizes but there are universal attractions, such as being your own boss, spending more time with the family and maybe moving somewhere greener. These are some of the attractions of holiday parks and particularly touring caravan and camping sites, which have attracted a lot of first time operators since the credit crunch and the resulting huge increase in the number of families choosing to holiday at home rather than abroad. And it's no surprise that such businesses are usually concentrated in many of the most attractive areas around our coastline and countryside. They are affordable traditional holiday options allowing greater access to popular holiday destinations such as Cornwall, the Lake District or Scotland.
These are mostly small businesses providing modest incomes but usually crucially including a house. The novelty of cleaning toilets and showers 10 times a day (and dealing with the inevitable blockages) will wear off but since site licenses mostly limit the operation of the business to around 8 months of the year there are also obvious rewards and, these days, greater variety and innovation partly brought about by environmental concerns, giving rise to the trendy 'Glamping' businesses that have sprung up. And because there are significant barriers to entry, in addition to a living to be had, there is the prospect of selling the property to fund retirement. I have known clients run such businesses for 30 years and realise they are millionaires when the time comes to sell - a sum they could never have hoped to retire on if they'd stuck to the day job!
Small hospitality businesses are some of the strongest magnets for first time business owners and Fleurets has sold everything from boutique hotels to traditional seaside B&Bs as well as guesthouses in towns and cities across the land. A classic example being the Bryn Derwen in Llandudno on the North Wales coast. Recognising the potential interest from buyers with no previous relevant experience, the business was marketed with an innovative 'try before you buy' offer, which was eagerly taken up by the couple who went on to purchase the 9 room guesthouse in August 2016. Bridging the gap between hospitality businesses and the licensed trade, a pub (or perhaps a restaurant) with rooms offers lifestyle buyers another tempting option.
Again, these run the gamut from modest hostelries with the odd letting room to high-end gastropubs with luxury rooms, like the renowned Drunken Duck in Cumbria or the Bull at Ditchling in East Sussex, current winner of the Best Freehouse at the Pub of the Year Awards 2016. Fleurets' Leeds office is currently marketing the Buck Inn in the stunningly pretty Yorkshire Dales village of Buckden, a freehouse with 14 letting rooms as well as a restaurant and owner's accommodation.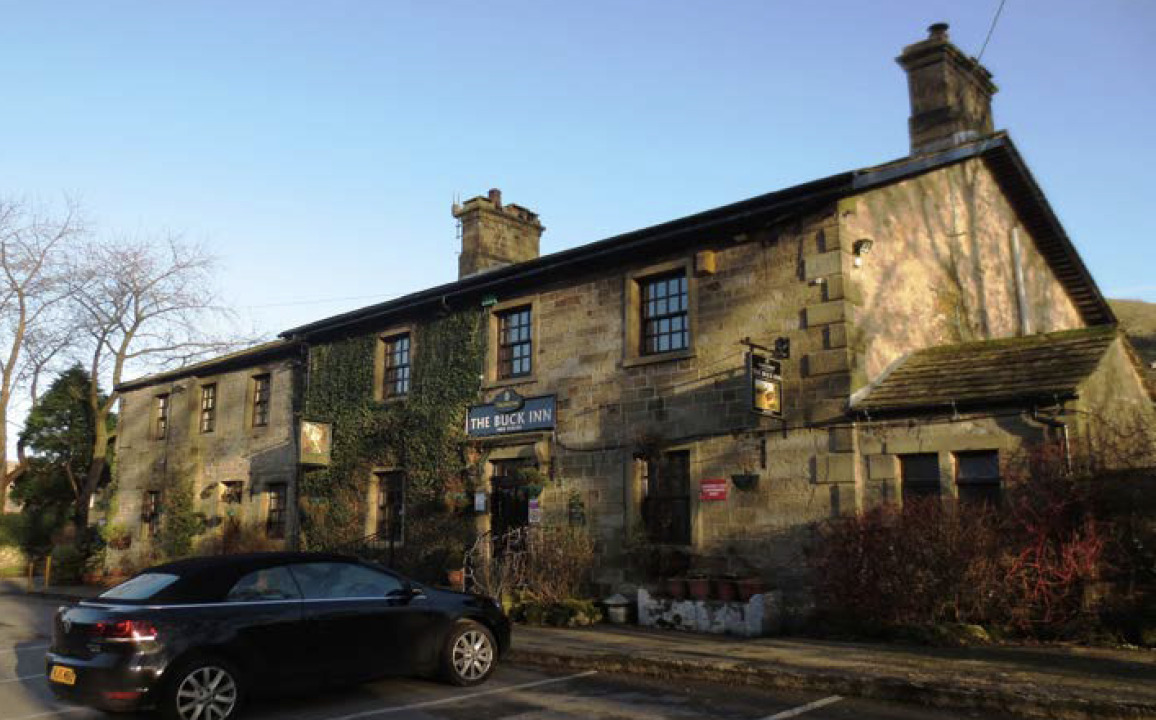 The Buck Inn, Buckden
So, if Mrs Miggins got the idea for a pie shop today (also serving craft beer, obviously), how would she fund it? Traditionally the money comes from equity in a house or flat. Steve Chester of Axis Commercial Finance, who specialises in arranging funding in the leisure sectors, acknowledges that new entrants' lack of experience isn't really a factor in hospitality. But, while lenders will take outside income into account, they will also want to see that the business can support a loan. The additional security in the 'bricks and mortar' of guesthouses etc. makes this attractive to banks and borrowers alike, the latter maybe having one eye on retirement. Additionally, in these days of very low interest rates there is little difference between the costs of commercial and residential property finance.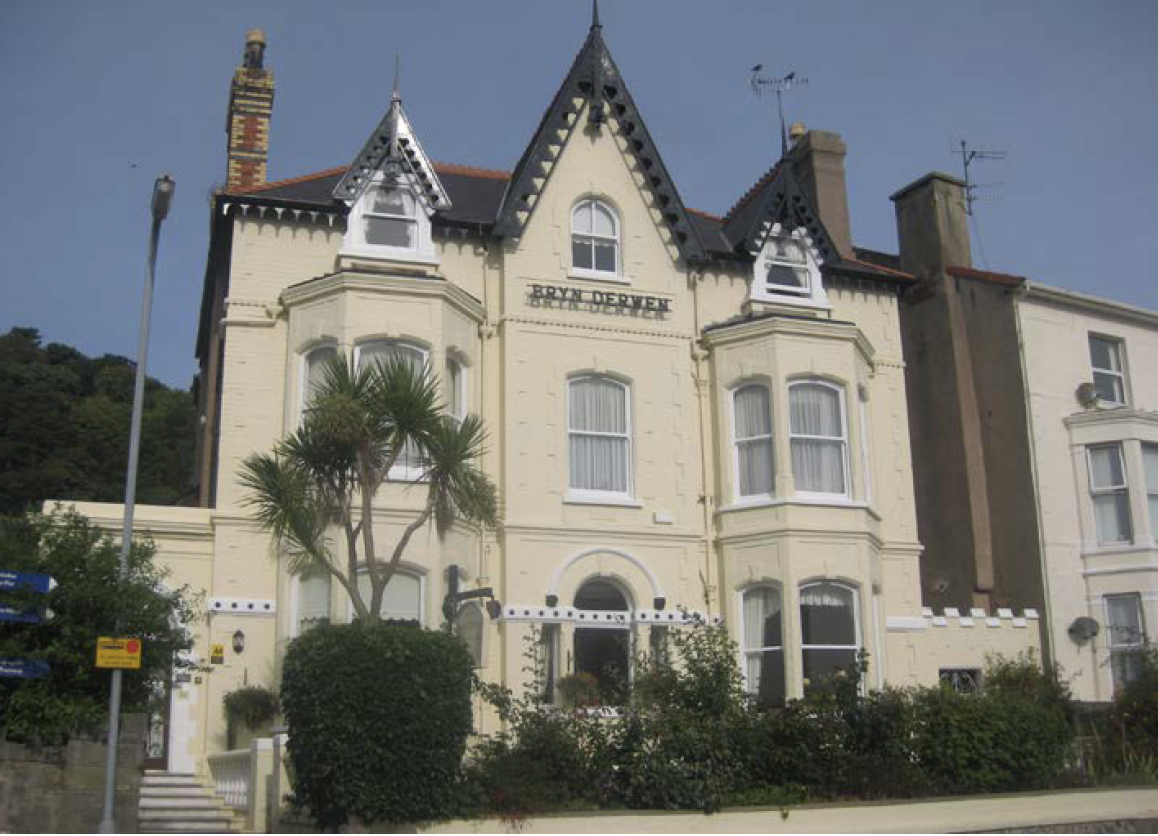 Bryn Derwen, Llandudno
Set against the doom and gloom of pub closures in recent years, the ever-increasing popularity of craft beer in this country has meant that by September 2015 it was reported that the number of UK breweries had reached an 80 year high. The spectacular rise in the popularity of craft beer is at the heart of the dramatic growth of the micropub movement. Thiscounter culture, a reaction to the perceived dominance of the pub chains, is fast gaining traction and it is expected there will be as many as 800 by 2018.
The Black Dog in Whitstable is not only one of the best micropubs, it has been featured in a recent book as one of the 50 best pubs of any description in the UK. Having moved to the fashionable Kent seaside town with his family 15 years ago, owner Mike McWilliam was inspired by a visit to the original micropub, the Butchers Arms, in nearby Herne. This crystalised a latent idea which has become a fantastic lifestyle business and a real labour of love. The Black Dog was created in what had previously been a disused shop and while, as far as Mike is concerned, there are a few, if any, rules, the essence of the appeal of a micropub was the concept of a small free house with low start up costs. He says the Black Dog is 70% about the ales but totally about his vision of what makes a perfect pub. In 3 years turnover has grown to apoint where it comfortably exceeds many traditional pubs with much larger trading spaces, which Mike puts down partly to his mantra of making an improvement to the business every single week. The micropub movement is a truly democratic one. Martin Hillier, owner of the Butchers Arms and founder of the Micropub Association has put the cost of starting a micropub at as little as £5,000.
To anyone who is looking to acquire a lifestyle business, we suggest a review of the opportunities advertised in this issue of On Market. We are also always willing to provide our expertise to anyone considering selling one.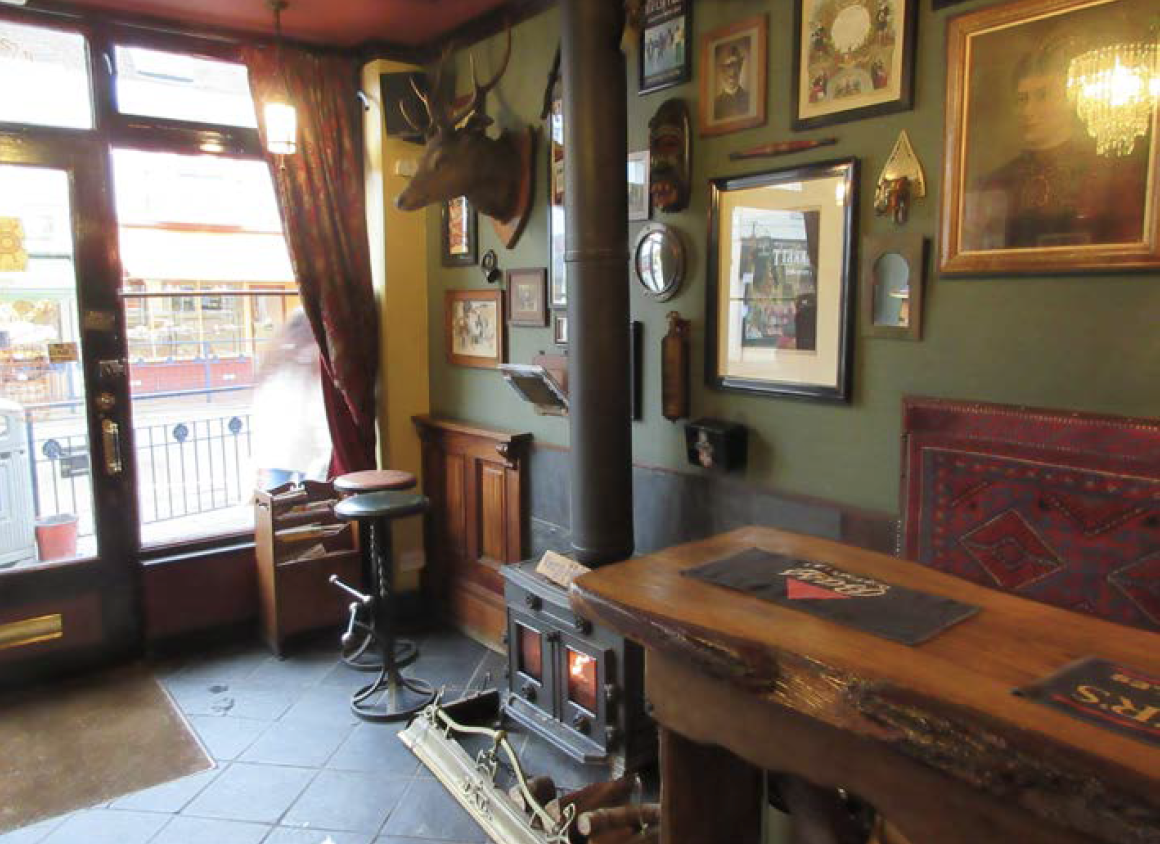 The Black Dog, Whitstable
Can I Secure the Funding? Ask the Professionals
Ed Sandall - Divisional Director
With the cost and availability of finance being an increasingly important aspect of the hospitality sector, I thought it would be interesting to get the view of Relationship Directors from the main high street banks on a number of issues. The assembled experts were:
- Avril Carroll - Relationship Director, Lloyds (AC);
- Bob Silk - Relationship Director, Barclays (BS);
- Matt Walton - Head of Hospitality and Leisure Metro Bank (MW);
- Mark Flett - Relationship Director, National Westminster Bank (MF).
1. How do you view the Business Rates risk?
AC: For prime locations in central London this is a very big issue, with some of our clients seeing large rises taking effect from April. Where possible, we are trying to ensure that all rate increases are built into cash flows and budgets, as we are aware that this additional cost could possibly affect cashflow.
MF: We know some of our customers are still appealing the previous list; the experience seems to be any refund takes time and is hard fought. The key is communication between us and our customers to ensure both parties understand the state of play.
BS: For some operators this has clearly had a significant impact which, coupled with the other well-rehearsed cost headwinds are difficult to defray. They combine to move the dial in terms of businesses break-even points, thereby placing cash under pressure and further intensifying the need to build a sustainable competitive advantage.
MW: The above are both true, I think the intangible cost is the diversion of operators' time and energy away from their "knitting" to focus on a technical area, that they need to learn fast. We are advising all our customers to take specialist advice.
2. What are the main issues about growth for your customers?
AC: Finding the right sites in the right locations, at an affordable cost, remains the age-old challenge for businesses looking to grow. With site acquisition costs at a historic high, it has caused some firms to halt their expansion plans. Small independents are struggling to competewith the rapid expansion of chains, causing some operators to look outside of London to cities such as Manchester, Birmingham or Leeds for more affordable premises options.
MW: I agree with Avril, the issue of scarcity is just as prevalent in the freehold public house and hotel space. We speak to lots of operators that are young and dynamic and are keen to grow, however cannot secure the sites to match their ambitions.
BS: Aside from resisting the temptation to grow too quickly, human capital, the search for talent, has always been and seems likely to increasingly be, a fundamental constraint.
MF: An issue which my customers are grappling with is margin pressure, be it national living wage, Business Rates, rent, utilities, cost inflation in raw materials and the increased burden of compliance. In some businesses the margins are being squeezed and operators are now looking at all of their existing sites to drive more yield from underutilised space or seeking to implement more efficient service procedures.
3. Do banks lend on leaseholds?
MF: Freeholds are obviously an easier sell; however a good proportion of our book is leasehold and the restaurant sector is almost exclusively leasehold and this is a space we are very comfortable in, so yes!
MW: With the cost of freehold assets particularly in London and the South East, this is the route that a large part of the market has to exploit and we are supportive of that.
BS: Yes, we have even lent on tied lease agreements for the right operators.
AC: Yes, particularly to proven concepts with strong trading track records where debt serviceability can be proven from historical financials.
4. So four yeses, what are the key considerations?
BS: Management; not just in the board room but at a business' "sharp end", both front and back of house; managements' ability to generate sustainable cashflow across the economic cycle is critical.
MF: Site selection is important, with significant competition for the best sites, we want to understand how it sits verses the competition and it is not just expansion for expansion sake.
AC: The lease terms must be fully understood, particularly forfeiture clauses and rent reviews. If you are negotiating terms and will be seeking bank debt, it makes sense to have a chat with us at this stage as we have sector specialist teams who can advise on this.
MW: If we are looking at an assignment of an existing lease with a rent review within the next couple of years, we always like to see that the operator has taken some independent advice regarding rental budgeting to protect the integrity of the cash-flow. After that, we want to see a good unexpired term and a protected lease.
5. What is the funding impact of Brexit?
BS: Currently we have seen no adverse impact; there is no shortage of liquidity in the market at the moment. We have not adjusted our credit policies or appetite.
AC: There was a little bit of a 'wait and see' attitude immediately following the referendum, but we have since seen momentum pick up and it's very much business as usual for us now. Looking forward, we're well-placed to help our clients manage any future risk or volatility with a clear focus on helping Britain prosper and maintaining support to the UK economy.
MW: The issue of Brexit does add uncertainty, but the hospitality sector is used to uncertainty and has always been good at dealing with speed bumps, look at the smoking ban, credit crunch etc. and MRO. We try to deal with any business risk in a measured way and are still actively seeking new customers - Brexit does not impact that.
MF: To put a positive spin on things, the devaluation of sterling has provided an unexpected rise in tourist numbers and more interest from overseas buyers. We have seen no real impact, or adjustment to credit policy and remain very active in the sector with an appetite to lend.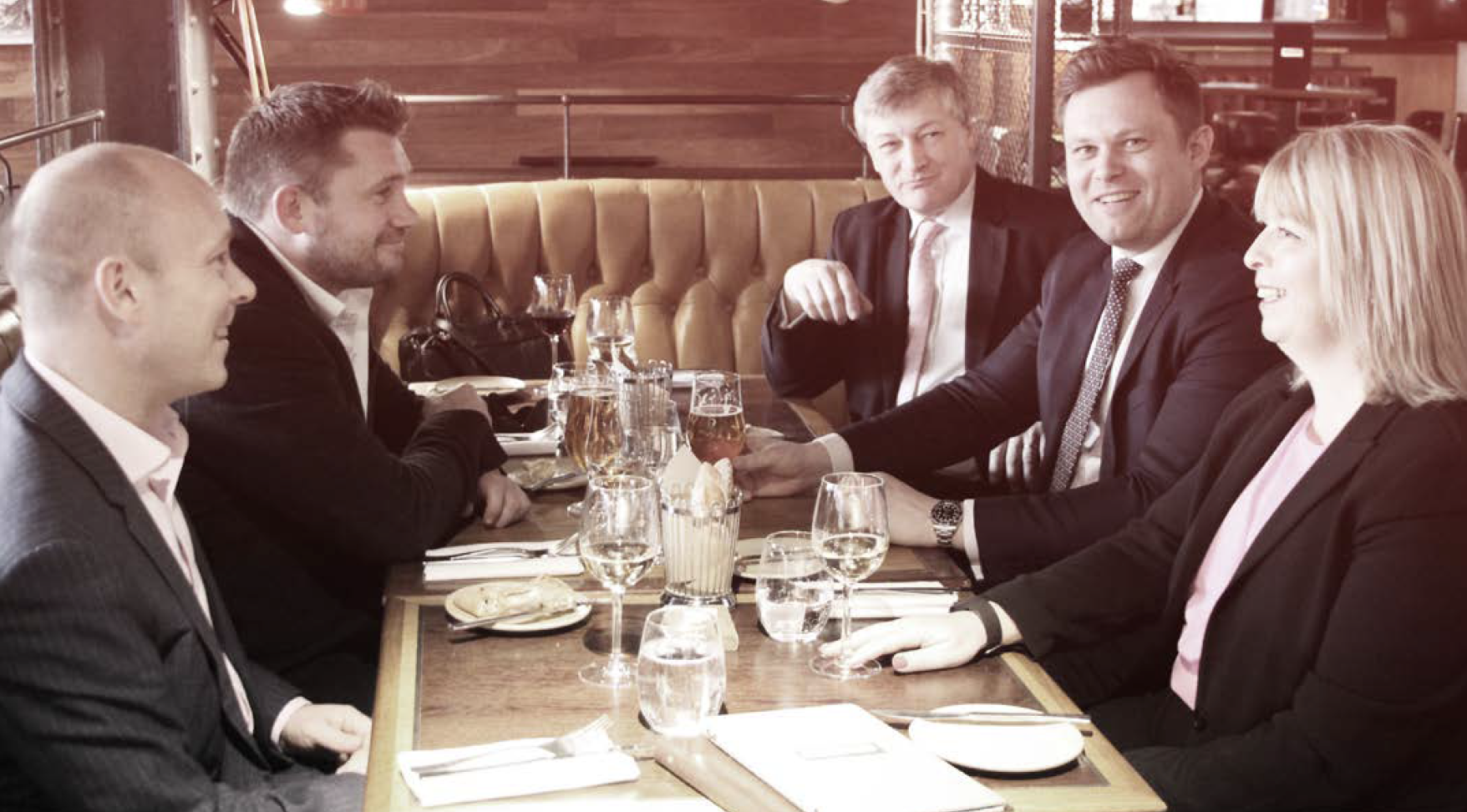 6. What is the best advice for a prospective borrower?
BS: The Duke of Wellington said "time spent on reconnaissance is seldom wasted". This is sage advice for any management team or entrepreneur.
MW: I agree, the initial document pack, presentation and ability to answer questions and provide information in a timely fashion are often our first impressions of how a relationship with a borrower will play out.
MF: Be realistic and honest about the risks, downsides and expect to be asked direct questions about those aspects of the proposition.
AC: Involve the bank early in any request. Engage with us, show us the site and the concept and we can then support you on your business journey. We are keen to build strong relationships with our clients, and this collaborative approach can help ensure you are getting the best deal.
7. How does the bank view capex projects like additional letting bedrooms?
MW: It is always fascinating to see just how well some businesses respond to injections of capex. We are supportive and encourage continued investment in operator's portfolios, from small touch-up jobs to full refurbishments and everything in-between.
BS: We are supportive of income generative and value enhancing capital projects such as, for example, the creation of additional letting bedrooms.
AC: A trend we have recently seen in the market is pubs adding letting rooms. This is to diversify their revenue streams to mitigate cost pressures. When our clients propose this to us, it's an exciting concept to consider as we already understand the existing business model and it's a case of working with the business to add value to its services. Providing the demand can be illustrated, we would be supportive.
MF: It is not just limited to letting bedrooms; we are seeing operators getting creative with underutilised space and creating flexible working spaces to encourage people to work from their sites.
8. How does the bank view late night traders and do banks lend to nightclubs?
AC: This is a market which is in decline, with a third of the nightclubs in the UK closing. But, the nightclub scene is an important part of many cities' night-time economy, and can be highly cash generative. We are active in the market and consider support on a case-by-case basis.
BS: Late night is a pretty challenging segment of the leisure sector. Hence we are quite selective. As ever Managements' experience and ability is key.
MW: We would not rule out lending to the late night sector. We would, however, need to spend more time on our due diligence to ensure we were lending to the right person and the right site. There are some very good/iconic businesses in this space.
MF: We have a selective appetite for this sector and would tend to favour operators with a proven track record.
9. Do you feel the fast casual/high street branded restaurant market has reached
saturation?
MF: Certainly not, however, we do believe that consumers are becoming more brandled. There is a need for operators to refresh their offerings, to ensure that they remain current as those that do not will potentially be at greater risk from new entrants/concepts.
AC: We very much see this as a market that will continue to grow, but one which will have to keep evolving and innovating to meet ever changing customer tastes and stay on trend. As a team we visit Street Feast venues such as Dinerama to try the street food on offer, see which traders are successful, as these traders often become the next generation of fast casual restaurant owners. It's important for us as funders to understand this market.
MW: London seems to have an insatiable appetite for restaurants at all segments of the market. I have more concerns regionally, as it is difficult to anticipate which catchments are reaching or have reached capacity. I think it will be an interesting year for this sector.
BS: There is a fair amount of comment in the trade press about saturation in the casual dining market. What I see and what my customers tell me is that competitive rivalry has become more intense than ever and this has been driven by the volume of new site development, which hasaccelerated in recent years. So, has the market become saturated? Possibly.
10. How much further do coffee and cake focused venues have to grow?
AC: Coffee in the UK is big business, with the market on track to exceed 30,000 outlets by 2025. Emphasis has turned to quality coffee due to the influence from both artisanal chains and independents. Strong artisanal independents such as Grind and Taylor St Baristas have been so successful that they have now expanded into small chains.
MW: This market appears to be growing fast and in London there seems to be a move away from the corporate offering. There is certainly space for innovation from new operators. It is a sector that we are monitoring and would love to lend to an operator that has scale.
BS: The developments in this market have undoubtablely made pub and restaurant operators up their game. Coffee and quality coffee is now a significant consideration of most hospitality operations.
11. Any predictions and will you still be lending in 2017?
BS: Are we still open for business and actively seeking new customers as well as supporting our existing customers? Yes; this is at the core of what we do. Predictions... 2017 is going to be a difficult and therefore a challenging year for many operators in the leisure sector; this is no secret - the cost pressures and intensified competition are well documented.
MW: I think there will be a continued shift to suburban London and regional locations as operators seek growth, in addition a number of new developments are due to open in 2017, which should open up new catchments for the lucky operators that secured the space. Despite the cost pressure challenge we remain very positive about the sector. We are a young bank, with no legacy issues that is keen to grow with our customers.
AC: The sector as a whole will see continued pressure by way of rising costs, including minimum wage and supplier costs. It remains to be seen if this cost can be passed onto the consumer. We think there will be increased M&A activity with some of the smaller embryonic operators reaching maturity and seeking an exit. We will continue to seek out new lending opportunities in 2017.
MF: It is becoming a more competitive landscape for both operators and funders and we see this continuing in 2017. London remains a buoyant market with overseas visitor numbers growing. Overall we expect growth to remain modest. We are very supportive of new business and will continue to support the sector in 2017.
It seems that we will continue to have a very supportive banking environment in 2017, which is great news for operators, the sector in general and us as advisors. If you have any queries for Avril, Bob, Matt or Mark, their email addresses are detailed at the top of the article and I amsure they would be happy to discuss any opportunities.
Birmingham: Where Modern Meets Magnificent
Anthony Barnes - Senior Associate
For anyone burdened by the misapprehension that Birmingham is a dull, concrete dominated, post industrial urban sprawl, a commonly held view with commentators of past decades, whenarriving in its centre today, visitors will discover a city transformed and presenting an image fit for its rightful status as the country's true second city! Gone is the dominance of 1950s/60s concrete, replaced by a dynamic and evolving city landscape of modern inspired architectureblending comfortably with the magnificent 19th century buildings. Along with the new buildings is an improved and exciting public realm, delivering a greatly enhanced experience for all. Over recent years both public and private initiatives have helped transform Birmingham city centre, delivering new and rejuvenated commercial, retail, leisure and living space. Armed with this new infrastructure and skyline, the city now displays a confidence which rightfully underpins its status as it continues to develop to meet future opportunities and challenges.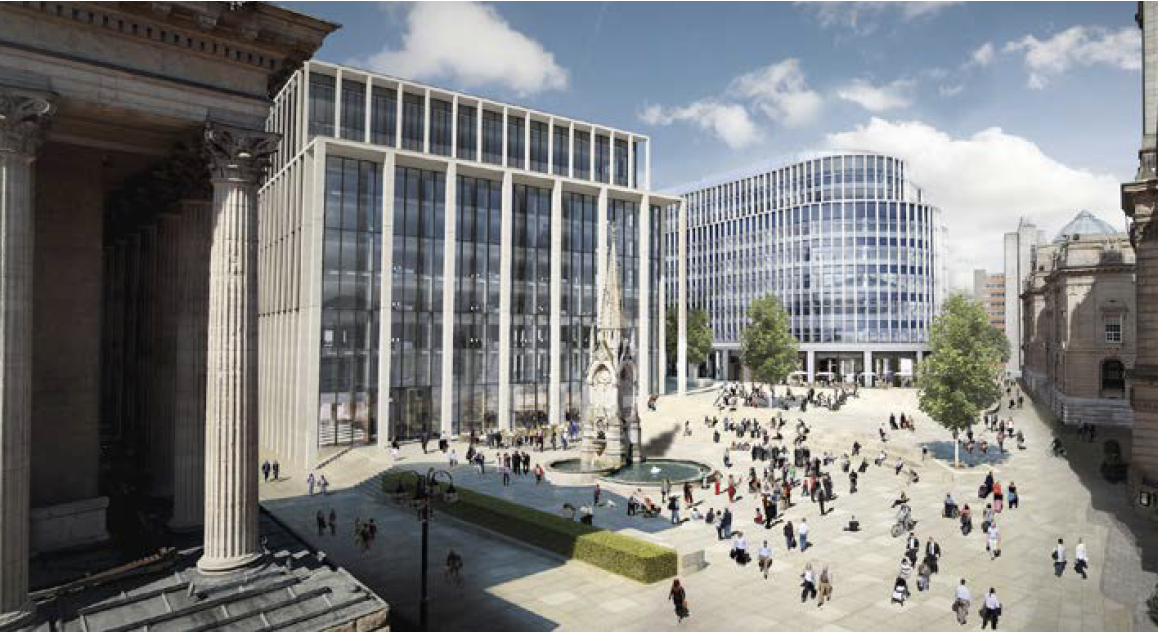 Paradise Scheme across Chamberlain Square
Completed developments, those under construction, as well as those planned over the next few years, continue to provide operators with confidence to open new bars and restaurants. Many of the more recent developments have been targeted at the traditional retail and central business districts, which in previous years have suffered from an under provision of qualityoperations. The city's future appears assured and in 2016 it achieved the highest rate of business growth of any UK city, reflecting double the national average. Along with this new interest and demand, licensed retailing rents in core parts of the city centre have seen growth, although the already established leisure schemes currently remain the highest rented locations.
Leading the strategic developments is the redevelopment of New Street Station, which emerged butterfly-like as Grand Central in September 2015. In addition to this strategic infrastructure project, a number of new mixed use and grade A office schemes are expected to significantly boost both city centre worker and resident numbers, helping increase the demand for leisure opportunities. Of note are the development schemes at Snow Hill Plaza to the northeastern side of the central business district, Arena Central between Broad Street andHolliday Street as well as Paradise Circus, between Centenary and Chamberlain Squares; this latter development made possible by the relocation of Birmingham's main Library to its new iconic building overlooking Centenary Square. The opening of Grand Central has also acted to open up the access to the city centre's southern side, helping facilitate a renaissance of JohnBright Street, once famed as a centre of the city's nightlife in the 1970s. Following years in the doldrums with tired and vacant premises, this street has seen the return of restaurants and bars with a new hotel currently under development.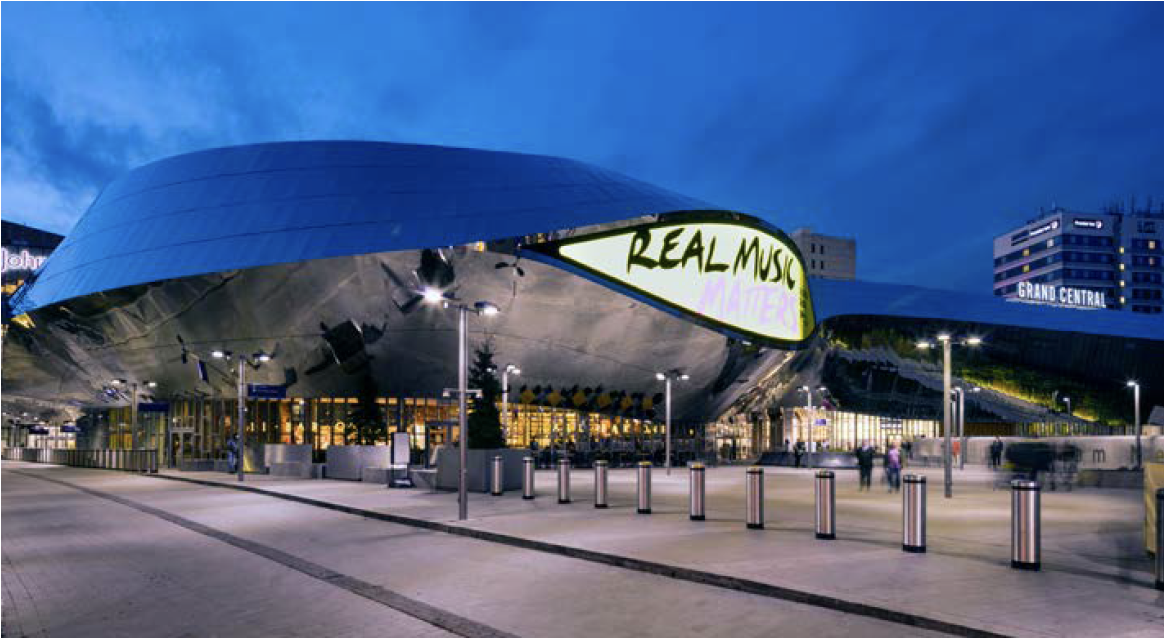 Birmingham Grand Central (credit Network Rail)
The city's transformation and inward investment, has been assisted by both commercial and Government decisions. Firstly the decision to develop HS2, the nations high speed railway, Phase 1 linking London and Birmingham, which is to form the HQ for the construction, its future operation, maintenance and staff training. Secondly is HSBC Bank's decision to site the new head office for its UK Retail banking business in the heart of Birmingham, resulting in the relocation of 1,000 jobs from London. HSBC has acquired Building 2 of Arena Central currently under construction and planned to be operational by early 2019.
The established leisure areas of Brindley place and The Mailbox will continue to play an important role servicing the increasing demand from visitors, workers, shoppers and residents. With its continued popularity amongst licensed retailing operators, the Water's Edge, Brindleyplace development has seen its ground floor shell rents grow to £45 per sq. ft. However, the polarisation of demand for licensed and leisure space in these schemes may now be reducing, with key recent openings having occurred in the city's central business and retail districts. Examples of corporate brands include; Byron opened in New Street in late 2016, Loungers' Cosy Club opened in Bennetts Hill in May 2015, Living Ventures' Botanist opened in Temple Street in April 2015; and subsequently Living Venture's Gusto and Alchemist brands opened in September 2016 as a part of the redeveloped former Grand Hotel on Colmore Row. These corporate operators have joined local private group operators, Pure Bar & Kitchen opened in Waterloo Street in 2014 and Lasan Group's Nosh & Quaff fronting Victoria Square opened in July 2015. Whilst parties are keen to maintain the confidentiality of their deals, we understand that headline shell rents in the central business district have now been established in the range £25.00 to £30.00 per sq ft.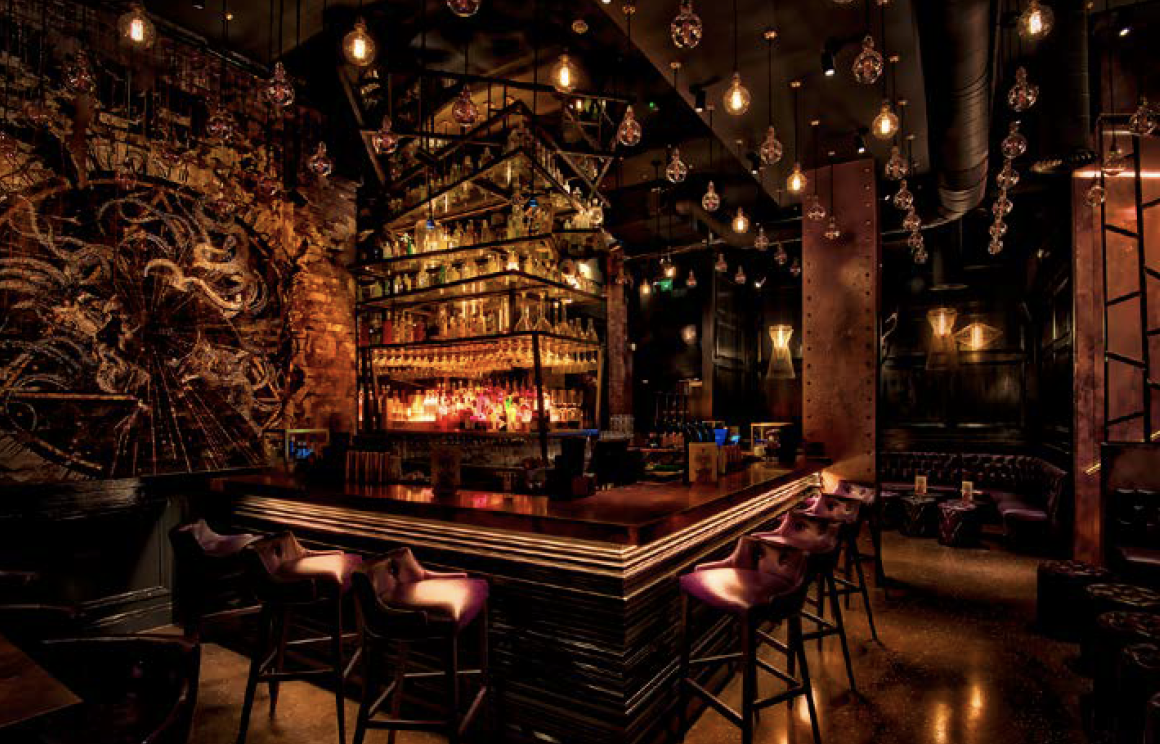 Alchemist at The Grand
With the increased accessibility now delivered by the New Street station redevelopment, John Bright Street saw the opening of The Stable bar by Fuller's in November 2015 and Turtle Bay inDecember 2015, joining BrewDog which opened as far back as December 2012. Here too, headline rents are understood to have now nudged £25.00 per sq ft.
Even the city's much maligned leisure strip Broad Street has seen improvements, with Fleurets successfully introducing Burning Night Group to the long vacant former Brannigans bar for their Bierkellar, Around The World and Shooters Sports Bar concepts, which opened in December 2016. Opening in the same month, also at the western end of the street in the longredundant Waxy O' Connor's bar, a reported £4 million investment has created Varansai restaurant which provides up to 500 dining covers across 3 floor levels.
For those seeking a fine dining experience Birmingham now has more Michelin-starred restaurants than any other UK provincial city. Such quality is to be found at Adams in Waterloo Street, Purnell's in Cornwall Street, Turners in High Street Harborne and Carters of Moseley, as well as the long established Simpsons in Edgbaston. With a significant increase in users andoccupants of Birmingham's city centre, future leisure opportunities in the ParadiseScheme ought to find ready occupiers. Buildings One and Two of this development are planned toprovide 9 new units totalling up to circa 36,500 sq. ft. of ground floor space for retail or licensed leisure uses.
With its transformed bar and restaurant sector, Birmingham now has an offer fit for its second city status and ready to meet the demands of its existing and new workers and citizens.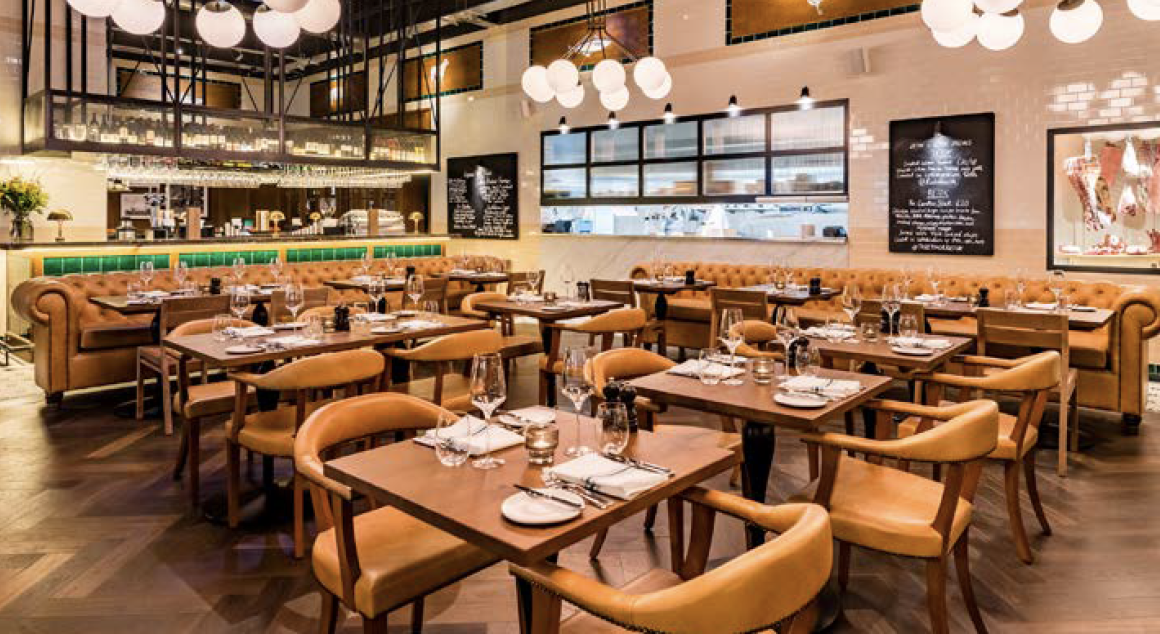 Tom's Kitchen, recently opened in The Mailbox, Birmingham
Bristol in Bloom
Kevin Conibear - Head of Retail Leisure & Restaurants
Whilst we continually witness the expansion of London operators to the regions, the rise of regional operators is equally impressive and one city and region in particular punches well above its weight.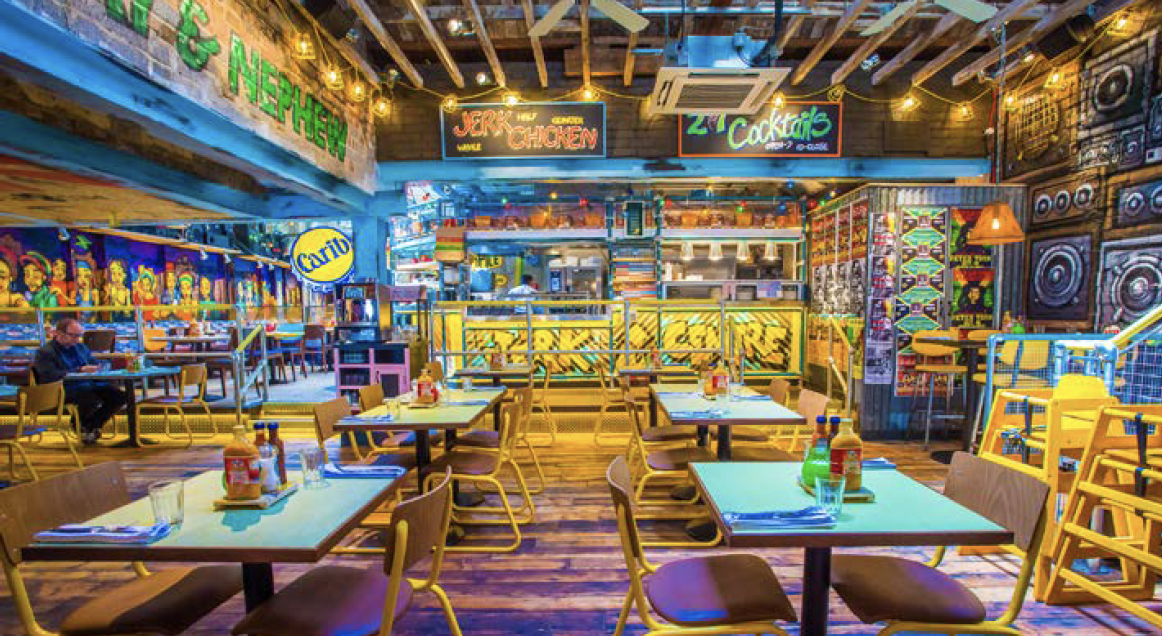 Turtle Bay, Cheltenham Road, Bristol
It is logical that the UK's largest agricultural region, the South West, should be a catalyst for food based businesses, given the abundance of fresh produce, in addition to access to one of the longest coastlines in the UK. At the heart of the South West is the region's capital Bristol, a city that continually tops polls as one of the best places to live and visit in the UK, recentlydescribed in the Sunday Times' Top 100 Restaurants as a "gastronomic boomtown". Its strategic position and proximity to the countryside fuels Bristol's popularity.
Historically, the city was underpinned by the food and drink trade, from port in the 14th century to sugar in the 17th century. This has fostered a variety of cuisines and styles of operation, epitomised by a record seventeen Bristol restaurants being named in the 2017 Good Food Guide. From popups and street food, through to Michelin Star restaurants, Bristol offers the entire spectrum of innovative food choices. Why such diversity? According to the Office ofNational Statistics, Bristol's population is home to 187 nationalities, 91 first spoken languages and 45 different religions and the population is predicted to increase at a rate of 6% higher than the national average in the coming years. That diversity filters into the restaurant scene, with novel concepts and styles.
Bristol has a thriving music and arts scene, which is symbiotic with the food and leisure scene within the city. As the birthplace of Massive Attack, Roni Size and Tricky, at the core of Bristol is independence and a resistance to conform. Diversity is key, which has created a hot bed of innovative new concepts, supported by festivals such as Grillstock, Veg Fest and Eat Drink Bristol Fashion.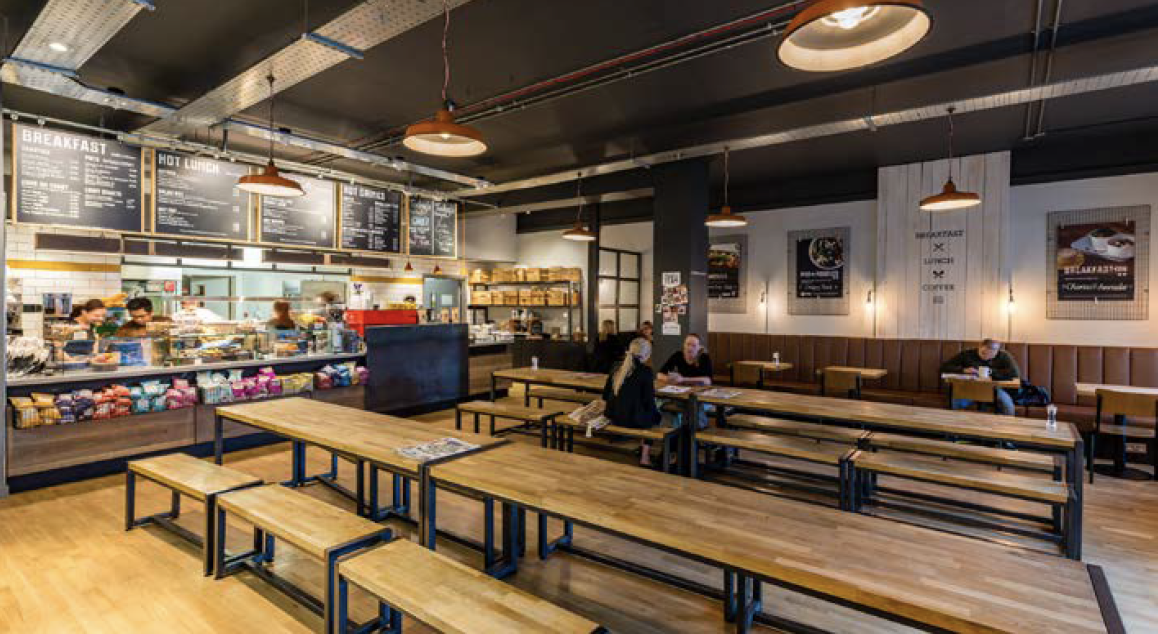 Friska
With their roots firmly in Bristol, a number of operators have expanded beyond their South West heartland to become major national players. Loungers, Las Iguanas, Boston Tea Party, Grillstock, Turtle Bay, Aqua, Pieminster and Friska all call Bristol home and have enjoyed great success expanding to other locations across the UK. The majority of these are well into doubledigit growth and have a truly national presence, recognised as leading restaurant groups across the UK.
Whilst growth tends to be organic at an early stage of their development, investors recognise the strength of these concepts and have courted the founders, often for years for the opportunity to invest in their expansion. Whilst some have rejected the overtures and chosen to grow steadily through cash generation, others have carefully selected funding partners to allow them to accelerate their growth beyond Bristol to become national brands.
One of Bristol's monumental success stories is Loungers, founded by three friends in 2002. Alex Reilley, Jake Bishop and Dave Reid opened their first Lounge on North Street, within a former opticians. The informal neighbourhood café bar ambience is aimed at families, friends and residents, offering all day dining and drinking options, with a touch of eccentricity. Bridging the "third space" between the office and home, at any point of the day you can expect to meet mothers, office workers, local residents and students in equal measure. Developing the brand and introducing Cosy Club in 2010, adapted to sit comfortably in city centres, the 100th Lounge will open in 2017, a growth story that originates from three Bristol friends, who were initially driven by what they identified as Bristol's untapped potential.
Alex Reilley - Loungers
Alex Reilley, one of the original founders and current Chairman of the group has overseen Loungers' growth from a Bristol suburb to being on the brink of opening number 100, within fifteen years.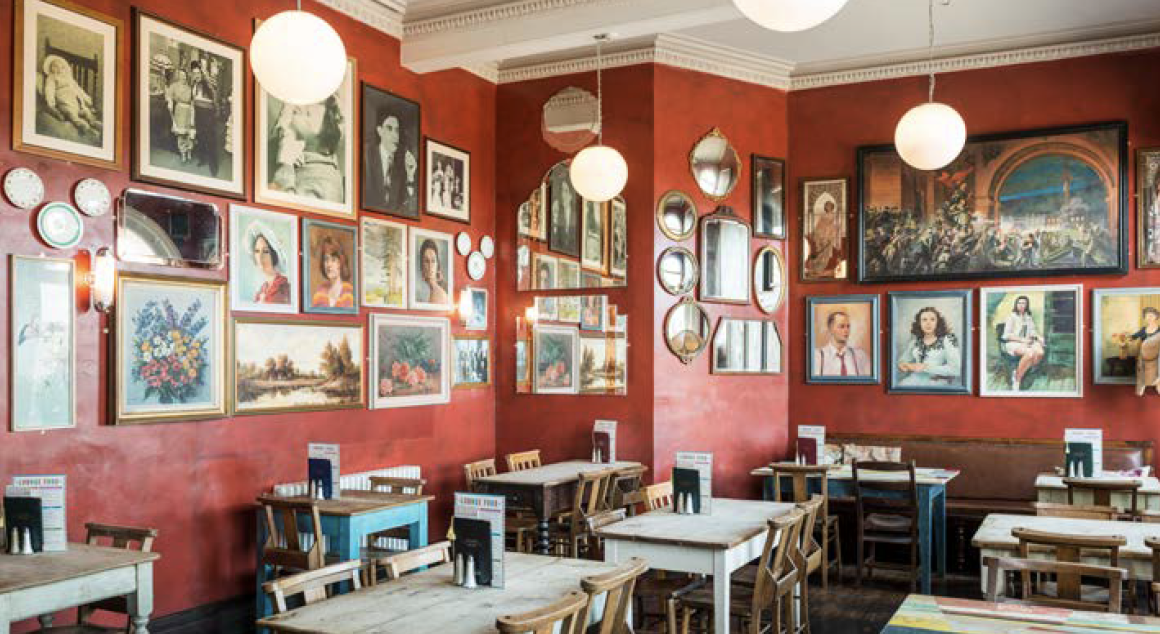 Loungers, Banco Lounge
Why did you choose Bristol as the location to launch the group?
It was where the three of us that co-founded the business lived and at the time, it felt like suburban Bristol had a lot of untapped potential.
At what stage did you decide to expand to other locations?
It all happened pretty quickly. We opened our second site just ten months after our first. This was driven by the opportunity to do so and whilst we'd talked about opening more sites we hadn't expected to open our second so quickly. We'd initially talked about having three sites in five years, but ended up having seven sites by the time our first site was five years old.

What were the major considerations when deciding how to fund expansion and the speed of it?
In the early days we ploughed all of our profits back into the business and we took on as little bank debt as possible. This served us very well going forward as the business was never under any real pressure from carrying too much debt. As a result when we wanted to put our foot down the banks were really enthusiastic to support our growth as we were very moderately leveraged. Funding obviously can dictate the speed of growth, but so can your operational ability to cope with opening new sites and this has always been our biggest obstacle to growth. Physically opening new sites is fairly easy, but recruiting the right people and ensuring the unique culture of Loungers is retained is the real challenge.
What period of growth has been the most challenging?
Without doubt the early days. Up until us opening our tenth site, our offer was very inconsistent and we were hopelessly under-resourced in central management. Once we addressed this, which in itself was an 18 month process, we became a lot more organised and successfully growing the business got a bit easier.
What similarities or differences have you witnessed in other towns and cities compared to Bristol?
Personally I don't know another town/city like Bristol - it's very unique. For sure there are other UK cities that share similarities to one another but Bristol marches to the beat of its own drum.
What are your ambitions for the group over the next three to five years?
We will reach 100 sites by April/May this year. Our aim is to reach 200 sites in the next 4 - 5 years.
What is your opinion of the current Bristol leisure scene?
Unlike a lot of similar cities size-wise, Bristol has no standout leisure pitch. It is therefore a very difficult market to understand and operators coming into Bristol really struggle to understand what makes a good pitch. Bristol also has a wonderful 'independent' scene, which disrupts the norm. Over the years we've seen good brands open in Bristol and fail - they close their doors,pack up and leave, not knowing why they failed. This is the challenge with Bristol. As a city it's not 'anti-brand' but it knows what it likes and what it doesn't like. It's a confused, unique, and wonderful scene and, in my view, if you can work in Bristol you can work in most other places.
What advice would you offer to emerging concepts with plans to expand beyond Bristol?
Don't be afraid! Bristol is a tough market compared to most other locations in the UK.
Family Brewers
Martin Willis - Chairman
In theory, the globalisation of brewers in recent years and a concentration on lager production was manna from heaven for the UK's family brewers.
For a few years, things were looking good.
Then in 2002 the Government introduced Progressive Beer Duty (PBD) which followed the European Union model whereby small brewers benefited from a lower tax regime. The UK did not adopt the full European model, but substantial tax discounts are available to small brewers brewing up to 60,000 hectolitres (circa 36,600 barrels) per annum. The discount is skewed to benefit the smallest brewers, brewing up to 5,000 hectolitres.
This led to the proliferation of the micro brewer and the rapid expansion of the Society of Independent Brewers (SIBA) which has more than doubled its membership in the last 10 years or so.
The growth in craft beer, beer brewed by craft brewers at a craft brewery, usually considered to be small, traditional and independent, has been significant. This growth has, over the past 10 years, led to it being a significant part of the beer industry. SIBA has supported itsmembership by developing the Direct Delivery Scheme, now known as Beerflex, which helps itsmembers sell and deliver to some of the significant retailers in the country such as EI Group (formerly Enterprise Inns), Punch Taverns and supermarkets.
Notwithstanding the competition from SIBA members, the family brewers continue to thrive, largely as a result of their history, family control and good management with a long term objective. Two of the larger companies, Everards of Leicester and Thwaites of Blackburn are planning new breweries. Others, such as Young's which ceased direct brewing to merge its brewing activities with a fellow family brewer, Charles Wells, now operate as a pubco, operating both managed and tenanted outlets.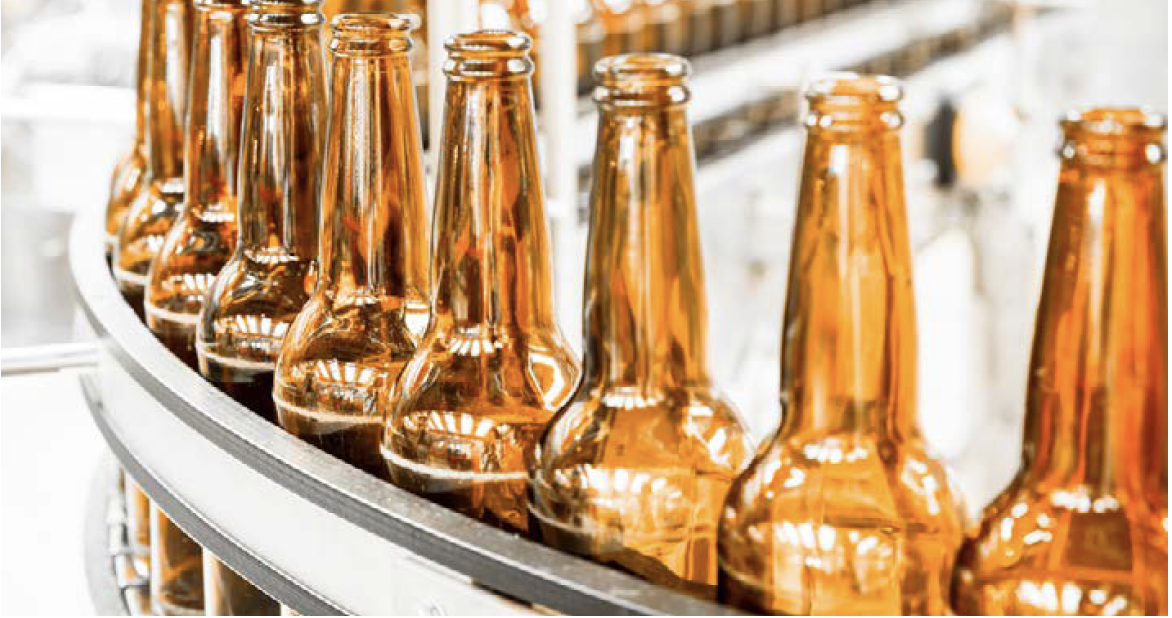 The proliferation of managed houses has been a significant change in family brewer operations although nearly all still operate the traditional tied tenancy (as opposed to lease) model. Their estates are usually confined to a fairly tight geographical area, but this often means they own some of the best licensed retailing sites in their area. With investment (many family brewers have not shied from significant investment in their estates) high quality houses have been developed. The Pub Code changes introduced in 2016 should also benefit the family brewers as most still regard the 'paternal' style of landlord and tenant relationship as paramount.
Whether the current tax benefits available to SIBA members will continue is a matter of debate. There are calls for the Government to tweak the current tax regime to create a fairer and more level playing field. Possibilities are that the first significant tranche of benefit is made available to all traditional brewers. Secondly, that the current ceiling of 60,000 hectolitres is increased to the European ceiling of 200,000 hectolitres.
We have seen a significant shift in investor sentiment towards the pub industry in recent years. Many now appreciate that the multitude of pub sales during the recession years was well overdue and has resulted in a stronger industry going forward. Most pub operators have realised the benefits of investing in properties to provide the right ambiance and the fundamental importance of customer service. An interesting development in the family brewer sector has been the partnership joint ventures that have been created with some of the
new breed of licensed retailers, which have transformed customer service in the industry.
The family brewers continue to own strong freehold property portfolios providing good investment fundamentals for either an investor in the company or family shareholders. Changes in the tax regime can only be beneficial to the family brewers going forward. This would also pave the way for some consolidation in the ale production market.
The British Beer & Pub Association (BBPA) represents over 30 family brewers, over half of which are Fleurets' clients, where the firm provides property advice, agency and valuation services.
Fleurets is proud to support the family brewers - most of whom are of a similar age!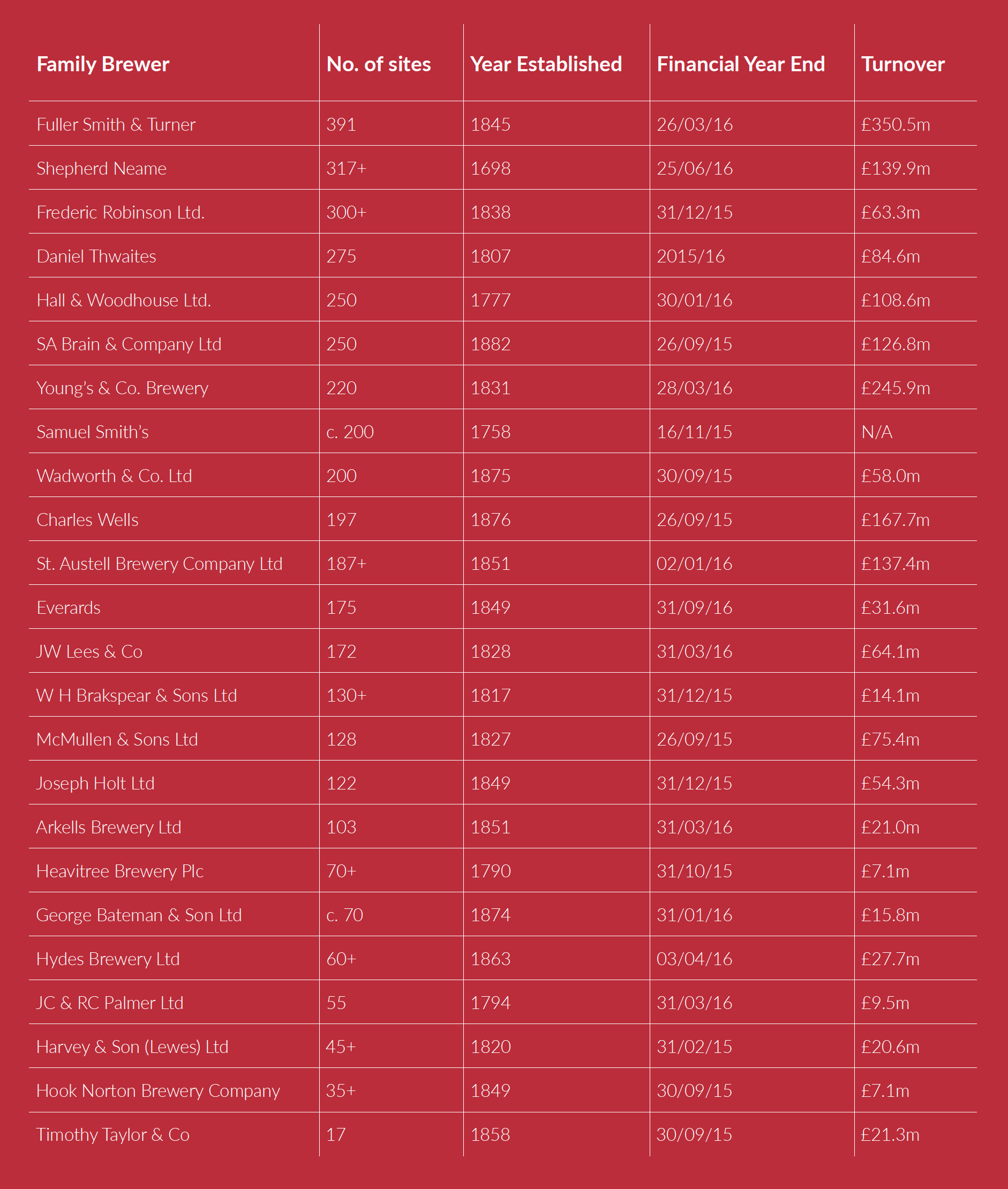 Investments
Tied Investment Model
James Davies - Director
The sale of a freehold public house with a tied occupational lease in situ has come to prominence following the introduction of the pubs code and Market Rent Only legislation in 2016.
For those unfamiliar with the term, a tied lease provides the freeholder with multi layered rental income, most commonly split between the 'dry rent' and 'wet rent'.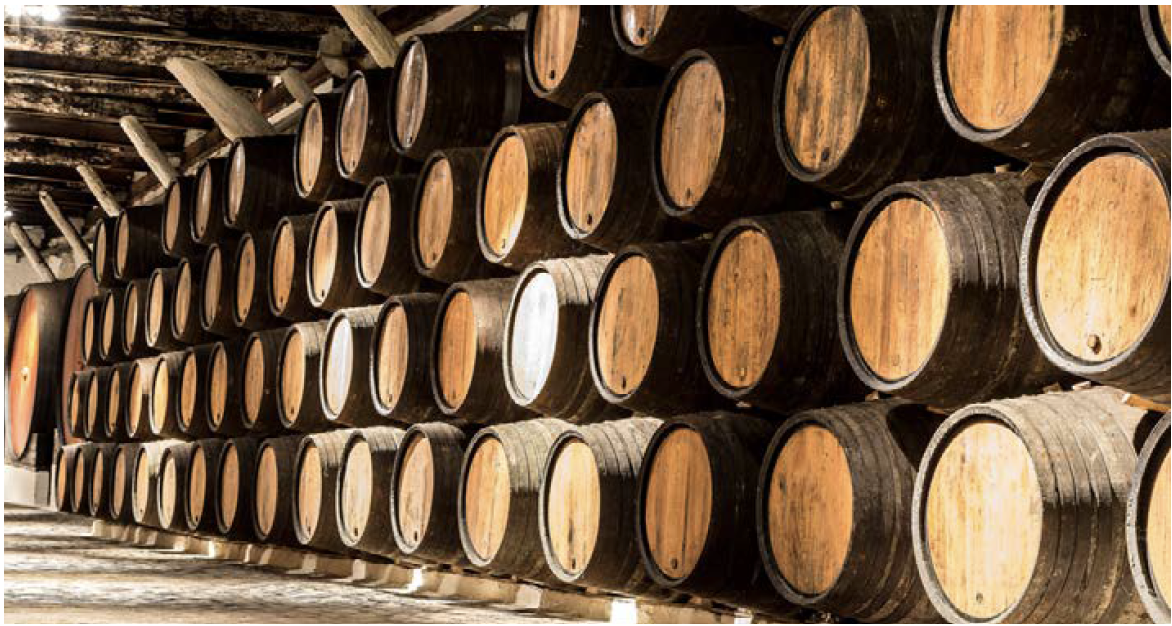 Dry rent is simply the property rent, wet rent is derived from the "tie", whereby the tenant has to buy whatever products are listed in their lease from the landlord's nominated supplier. Normally this tie will be at least all forms of beer, which usually also includes bottled beers and ciders and in some instances wines, spirits and minerals as well. Group purchasing power enables the landlord to derive additional income from the tie.
It is not uncommon for there to be a third income from a machines tie whereby the landlord gets a share of the income generated from any gaming machines on the premises. The reason for categorising these different types of income is down to the stability of return. The propertyrent (dry rent) being the most consistent income followed by the wet rent and then the machines tie. This structure tends to work better on a volume basis whereby the landlord (and also the tenant) can benefit from bigger discounts from suppliers if they have perhaps hundreds or even thousands of pubs.
A freehold public house with a tied tenant in situ can be an attractive proposition for both the property investor and operator, however to understand how such an opportunity could be attractive it is important to breakdown the different parts to see how it works in practise.
Dry Rent - the length of a pub lease can of course vary enormously, however a typical term would be between 10 - 20 years and the most common rent review provision would be a 5 yearly review period. More common within the last 10 years have been leases which contain annual adjustments in line with the Retail Price Index. These are quite often "collared and capped" to limit fluctuation and have typically seen an annual increment and therefore a smaller adjustment when it comes round to reviewing the rent after say a 5 year period. The quality of tenant will of course vary but most commonly will be a private "hands on" operator or independent pub company.
Wet Rent - I have provided a brief overview of how the wet rent fits in to the structure above so we will now go into a little more detail. When one refers to the barrelage of a pub, this relates to brewers barrels which are 36 gallon barrels providing 288 pints. Now, in practise this is only theoretical, as the metal barrels, generally used in public houses, range in size anywhere from 8 gallons up to a 22 gallon keg, which can be back breakingly heavy!
We currently have two such properties for sale, located in Finsbury Park and Clerkenwell, (see page 32) we would be delighted to provide further information to interested parties.
Working example
Fleurets has recently sold a tied lease investment located in an average suburban high street within Greater London. The summary details were as follows: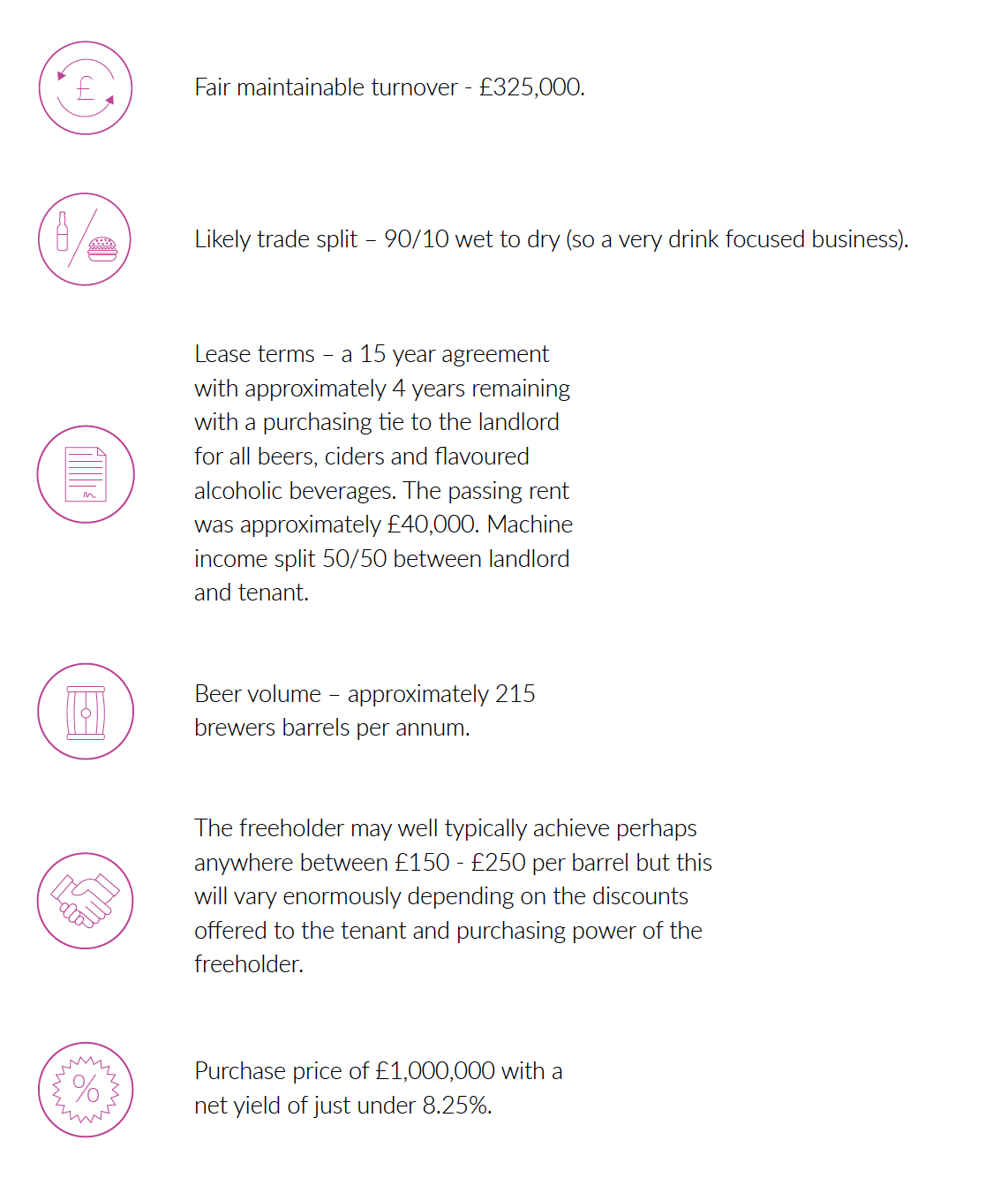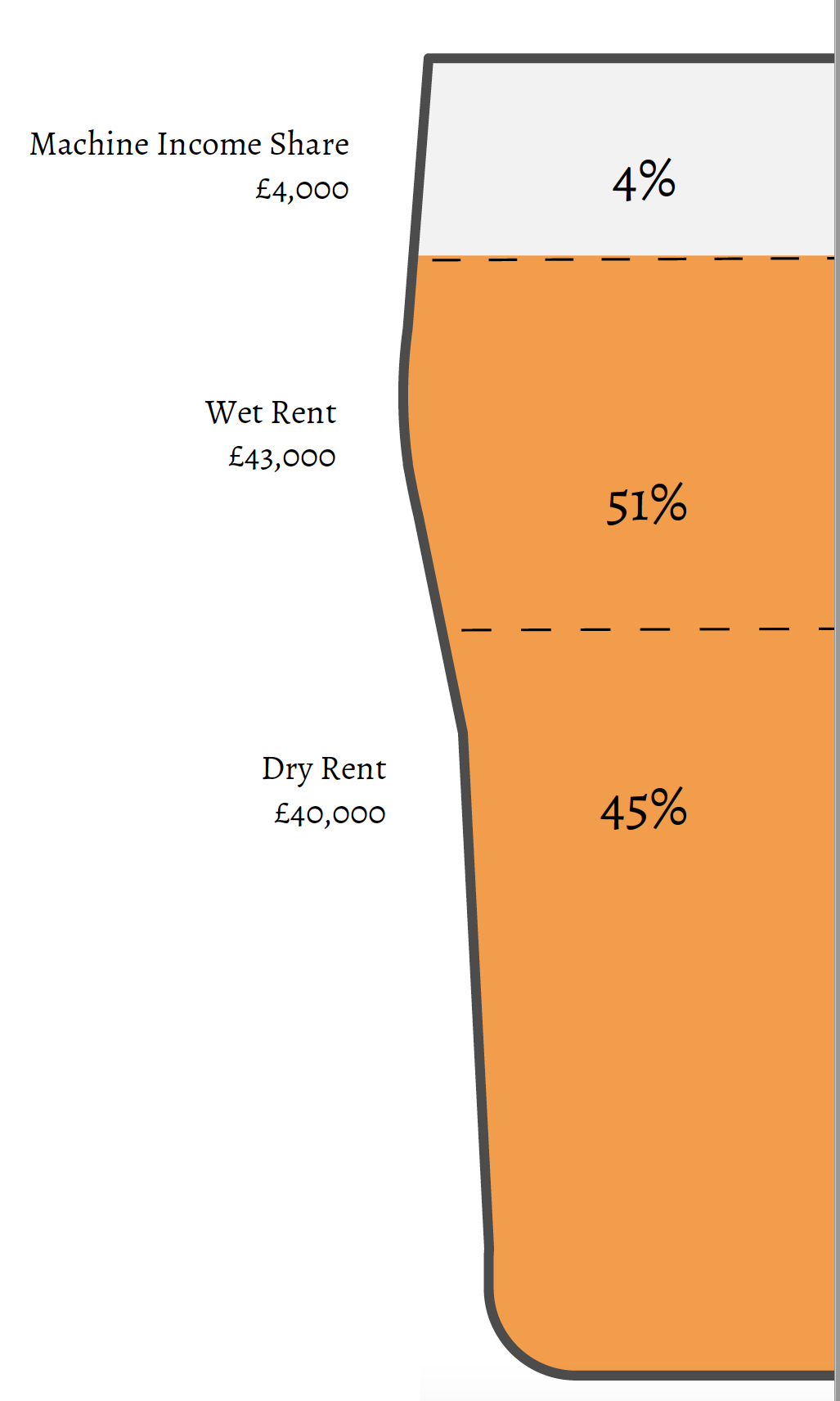 Costs will of course vary up and down but it does at least give the gist of how it may work in practise.
If the tenant does not wish to continue with the tie, as per the existing lease agreement, thepurchaser of the freehold public house could choose to either offer a free of tie rent (which would normally be higher than the tied rent) or secure the services of a third party supplier to continue with a supply agreement and then take a percentage of the profit.
Landlord and Tenant Act - with good quality sites in scarce supply, an operator may consider buying a tied lease, which initially provides them with a stable income and then in the future an opportunity to take back occupation themselves at the end of the lease. The sitting tenant would normally have security of tenure provided by the Landlord and Tenant Act, however if the purchaser owns the building for in excess of 5 years and wants to take it back for their own occupation or development then notice can be served (a Section 25 Notice) to confirm their intention.
Hotels
Coaching Inns - Staging a Comeback!
Andrew Whelan - Senior Associate
Before the railway, coaching inns provided a rest for weary travellers. However, recently the demand across the country has reached new heights, and we explore why. Five trends have emerged which has contributed to the drive in demand.
1. Growth in staycations. The changing habits of holiday-makers have led to, generally, shorter and more frequent holidays in the UK. Good quality coaching inns situated in historic towns and cities have benefitted from these changes.
2. Changing demographics. Coaching inns' customer profiles tends to suit the more affluent older clientele. This is the part of society that has seen one of the biggest growths in disposable income and leisure time.
3. Casual dining boom. The press has highlighted a shift from diners preferring a casual gourmet experience over the more formal experience. A coaching inns' comfortable atmosphere offers this ambiance.
4. Proliferation of the coffee-shop & cream-tea culture. Most coaching inns are character buildings with traditional open-fire lounge areas, enclosed patios and charming restaurants. Alongside strong Wi-Fi, many offer a strong alternative to the coffee chains and tea-shops now dominating our town centres.
5. Acquisitive pub chains. Major pub chains have been joined by large numbers of well funded and very acquisitive pub companies, such as the Coaching Inns Group, Cirrus Inns and Oakman Inns, who are all actively looking to source these buildings. For example, the Coaching Inns Group currently operates 16 coaching inns and intends to increase the size of its portfolio to 25 properties by March 2019. Kevin Charity of the Coaching Inn Group has recently stated: "We have doubled our estate in the last 2 years and we now have investment in place to support a £50 million expansion across the UK."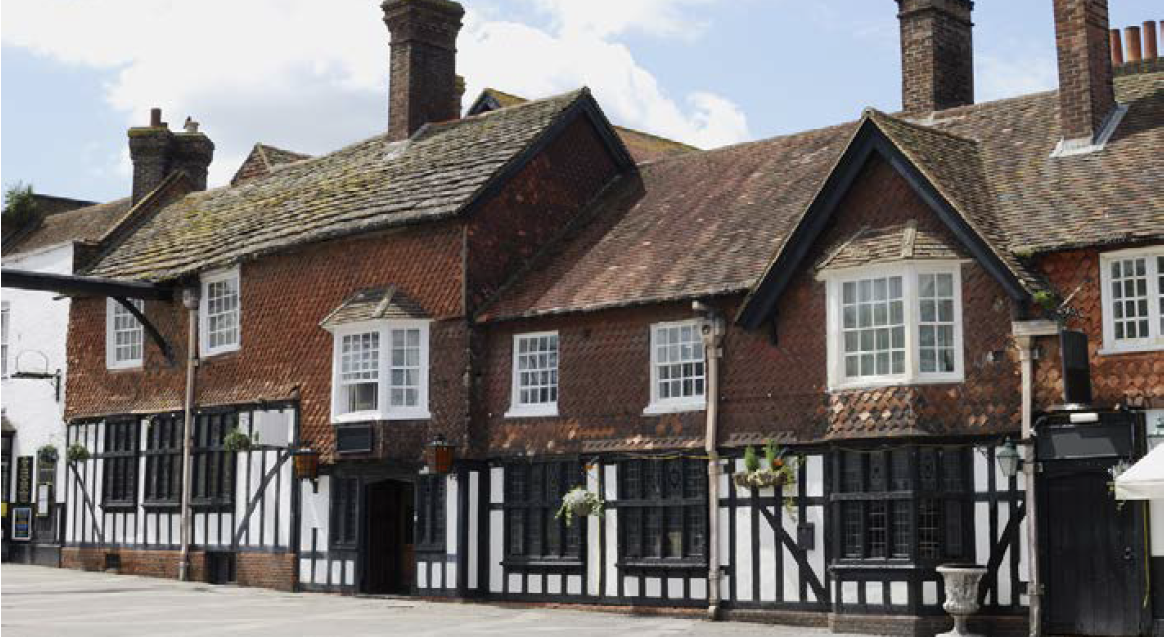 This thirst for new sites is partly driven by the current high occupancy rates and RevPAR that can be achieved in this sector. The graph below shows how Youngs' occupancy rate and RevPAR has been steadily increasing over the last 5 years. For the 6 months, ending September 2016, Young's is quoting occupancy across the estate up 1.3% to 78.6% with RevPAR maintained at £63 an average room rate of £81.19.
As branded budget hotels continue to increase their market share, the demand for alternative quality accommodation with character is expected to grow and this sector of the market will no doubt continue to boom for the foreseeable future.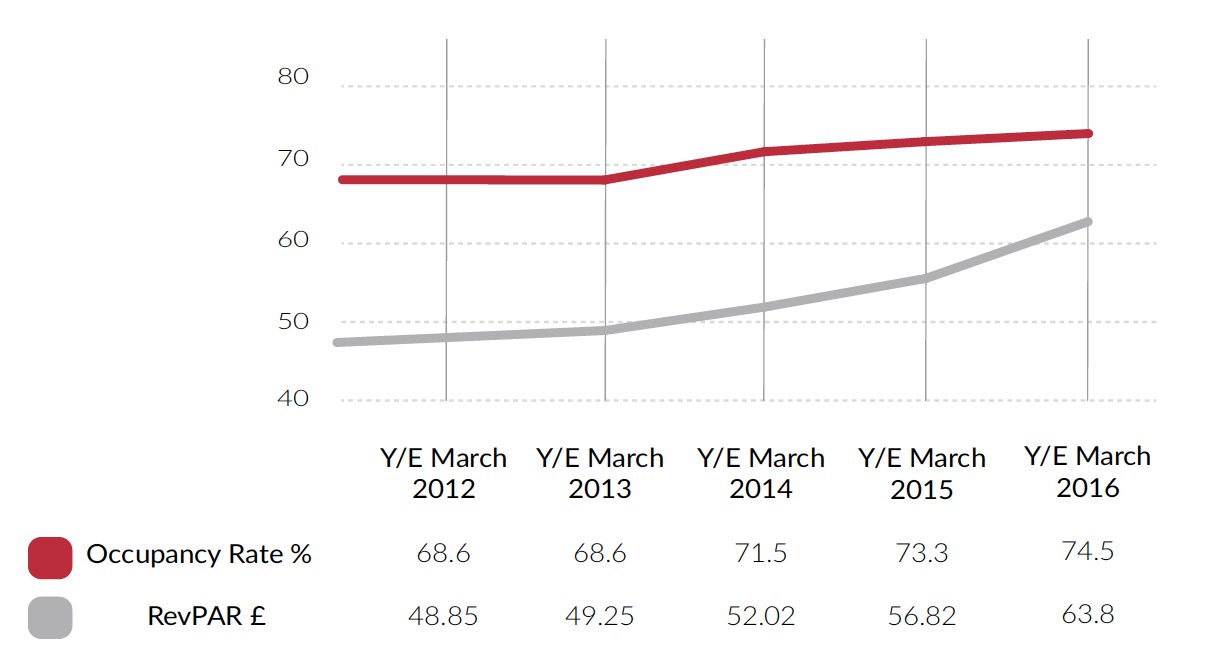 Small Hotels are in Demand
Andy Frisby - Divisional Director


Despite a widely reported drop in demand for London's top priced residential property, the hotel/B&B market in areas such as Bayswater, Paddington, Victoria and Earls Court continues to gain momentum.
Fleurets recently sold the Caring Hotel W2 location to Arianya Group, owners of the Garden Court Hotel, off a guide price of £7 million.
The Caring Hotel was priced at £280,000 per key, a strong price. The market reacted well and high demand resulted in competitive bidding. Interest came from a variety of different buyers, including existing operators, family offices, and overseas investors.
Recent comment from the trade press suggests the small hotel marketplace is suffering. Much has been made of the recent supply increase of 4,500 room stock in the capital as well as the massive growth of Airbnb. The hotel market is also dealing with unprecedented cost rises with increases in the minimum wage, as well as increases in input prices to the F&B side of the business. Online travel agents are an increasingly important source of custom, while the Government and local authorities continue to want their 'fair share' of income with increases in rates as we move to the 2017 assessments.
HotStats Hospitality Intelligence, quotes a 36.8% year on year increase in Rooms Costs of Sales for the month of December and a profit decline in London in both Rooms (-0.4%) and Food and Beverage (-3.8%) for 2016 putting further pressure on overall profitability.
Many of the hotels in W2 range from two to four stars, with the majority targeted towards the budget market place. Historically, they are family owned and passed down the generations. Few are put to the open market and deals are generally done quietly.
These hotels are often seen as a safe haven, having historically been underwritten by resi prices and we have seen an exponential rise in value over the last 20-30 years alongside other similar asset classes within Central London. The drop in value of sterling, a growing economy and stable legal system continue to attract foreign money into the sector.
The simplicity of the small hotel business was recognised by the marketplace for the Caring Hotel in that an operation of 25 rooms has just room servicing, reception and limited F&B offer (continental breakfast only) making it a very simple business model. As a result the cost increases highlighted above have a limited effect in this sector of the market and buyers appear to recognise this.
Cheaper sterling is attracting more foreign visitors. Central London hotels inevitably benefit from these increases due to the near proximity of tourist landmarks.
So, what of future supply of rooms? Within ½ mile radius of the Caring Hotel there has been an increase in supply of just 1.2%. The increase is only 2.6% within 2 miles of the same location. Considering the time it takes to apply for planning, convert and/or build rooms, the local market is unlikely to saturate with new entrants in the near future.
The general marketplace does not appear to be overly concerned about cost pressures and the simple economics of safety, security, supply and demand continue to drive prices.
We expect continued strong demand for small hotels in Central London, however, it is unlikely that they will come to the open market. As ever, to obtain one of these prized assets it's not a case of what you know, more who you know.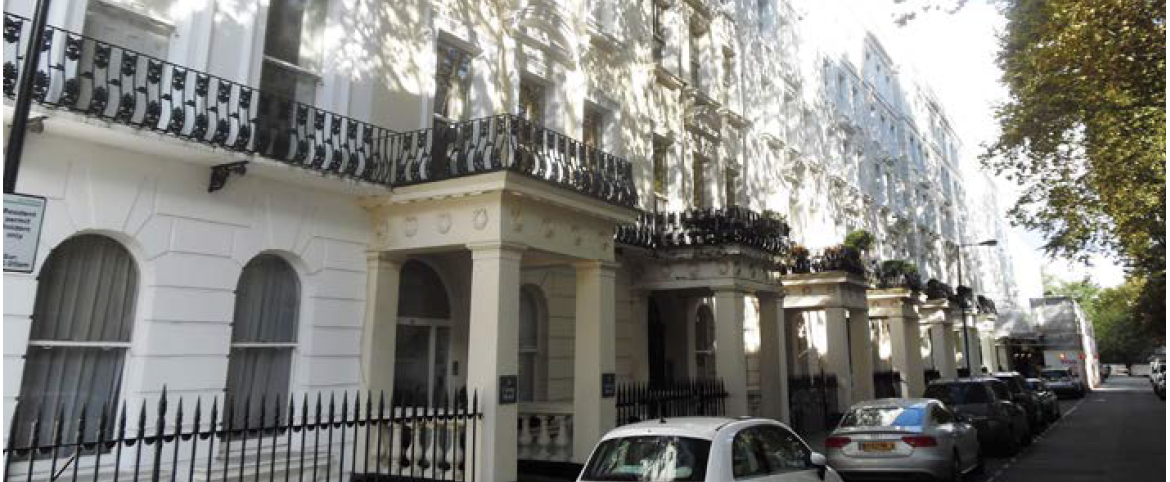 The Caring Hotel, Bayswater
Restaurants
Online Real Estate
Ed Sandall - Divisional Director
There is a growing movement in the hospitality world to seek marginal gains through the use of technology. As a wave of costs hit the sector, anything that can either drive footfall, like Uber Eat or Deliveroo, or mitigate costs are being embraced. Only time will tell if they are all as beneficial as initially badged.
One technological facet being embraced by the eating out industry is online booking platforms. It is now incredibly easy to book a table via a booking platform, simply fill in the online form, pick a time and get a neat email or text confirmation; or even easier, use an app.
Gone is the risk of the operator losing a booking because the telephone lines are busy. Equally the customer no longer needs to worry about busy staff noting their booking down incorrectly or any communication issues. It is therefore not surprising that booking online haswidespread appeal from Millennial through to the Baby Boomer generations.
A bit of Google research identifies Bookatable.com and Opentable.com as the two main players in the UK market. Bookatable was established in 2006 in London and claims to have 3,000 restaurants on their books in 12 countries. In 2016 they were acquired by Michelin.
OpenTable was founded in 1998 in San Francisco and has expanded to cover more than 37,000 restaurants in an ever expanding list of countries, including the UK. In June 2014 the Priceline Group for $2.6 billion.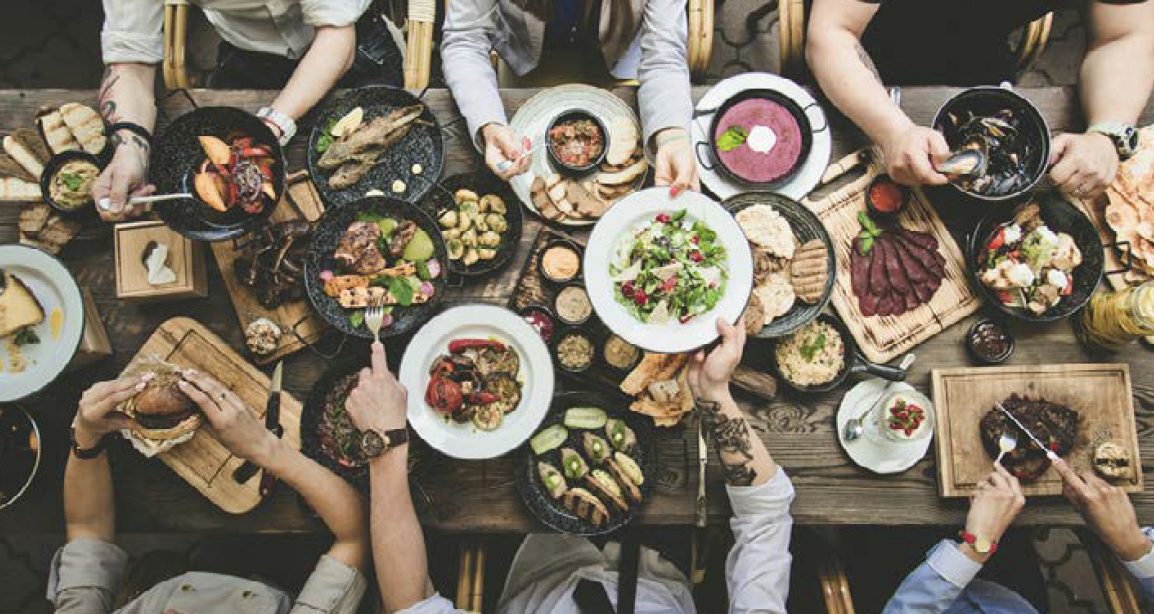 Users can filter restaurants by cuisine type, location or price range, and menus are usually available to browse. Mobile devices already supply 36% of OpenTable's UK restaurant bookings and 47% of those in North America.
Recent OpenTable innovations include Hot Tables, a service that automatically alerts you to coveted late cancellations. The company is also trialling mobile payments for iPhone users in eight US cities, including New York, Chicago and Los Angeles. If the service gets a wider rollout, you won't even have to hang around waiting for the bill at the end of a meal. Everything is settled inside the app.
We understand that, broadly speaking, the websites do the same thing by capturing the customer's vital information, which can be shared with the operator while they are part of the subscriber base, albeit the operator does not own the data. The operator pays a flat fee and additionally a charge per booking, the customer pays nothing and can build up reward points in exchange for loyalty to the site but not the venue, which can be exchanged for discounted meals.
The benefits to the operator are significant: increased viability, hopefully escalated bookings as well as reduction in the time staff are handling booking enquires. The websites have larger budgets for Search engine Optimisation and often appear higher on Google searches than the operators' own websites.
The common issue which cannot be mitigated is the no shows, albeit it does seem easy to press a button and opt to cancel a table, again avoiding the need to make a call.
On the surface these online portals seem like the perfect conduit between operator and customer. But we have been here before. If you speak with any hotelier, one of their main grips is online travel agents (OTAs). Some years ago the hotel industry was disrupted in the same way, with a myriad of websites initially offering the customer the ability to see room pricetransparently for competing hotels in a particular location.
As guests became more comfortable with this medium of booking, the power swung away from the hoteliers and to the websites, customers stopped direct bookings. The hotelier, particularly at the independent end of the market, lost their online real estate. This resulted in an increase in commissions in the profit and loss accounts and in some cases a fall in value.
It is difficult to predict how the restaurant industry might mitigate the impact of these websites. If you are lucky enough to be located in high footfall locations, you have a natural advantage. I am aware of operators introducing loyalty cards and building their own databases to initiate direct booking. Only time will tell if the battle for online real estate has been lost already.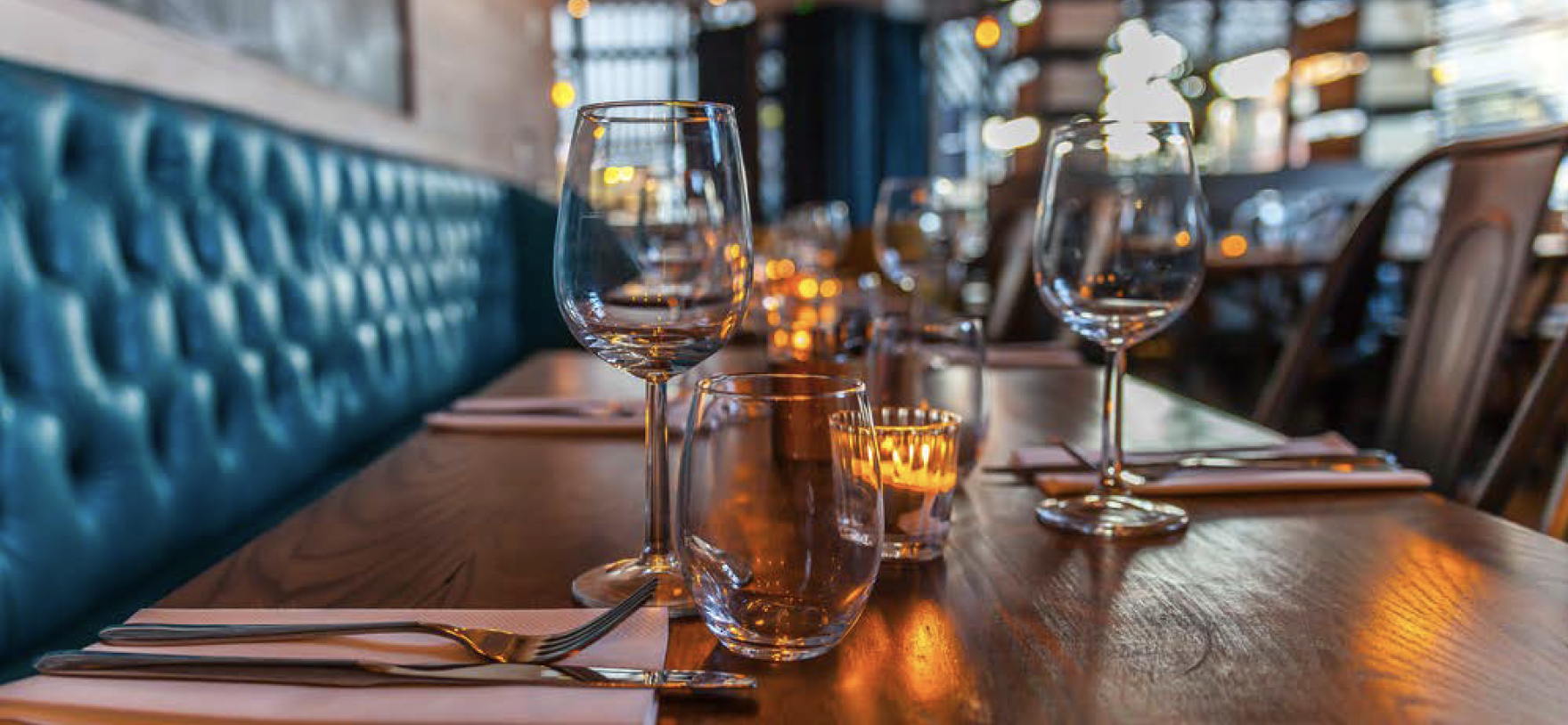 Pubs
Sale Prices & Market Activity
Simon Hall - Director & Head of Agency
Despite the political, legislative and economic uncertainty of the last 12 months the pub property market reached the end of 2016 with relatively little turbulence. The sales mix had moved away from bottom end pub sales, leasehold sales and package deals to increased volumes of freehouse sales and greater availability of free of tie leases.
Sales Statistics Summary
- Freehold price £363,543 +4.9%.
- Leasehold price £39,801 -18%
- Bottom end volume down -28%.
- Freehouse volume up +150%.
- Leasehold volume down -20%.
- Brexit - no noticeable evidence of pricing adjustment.
- Pubcos being innovative to ease impact of MRO.
- Tenants/LH buyers cautious due to MRO uncertainty.
- 62% of freehold sales remaining as pubs.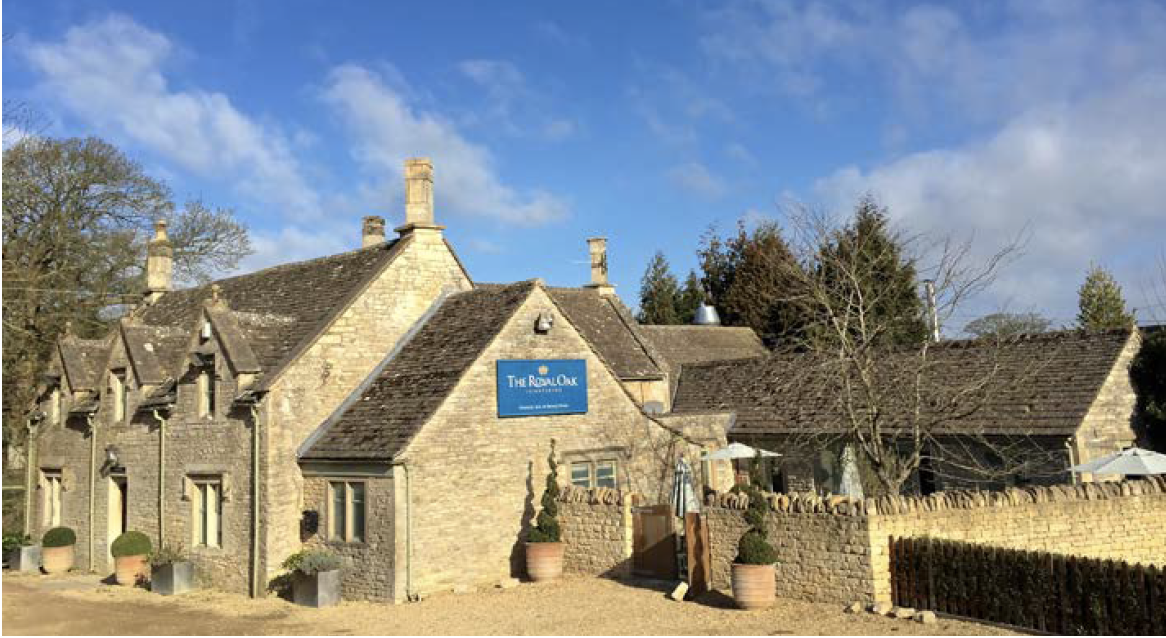 The Royal Oak - Leighterton - Sold to private buyer for continued pub use
Market Overview
2016 saw fewer package deals, fewer bottom end pub sales and fewer leasehold assignments but a significant increase in the volume of operational freehouse pub sales and more free of tie lettings.
Brexit did not impact on transaction volumes, individually or in packages. On an individual level, the attraction of very low interest rates and positive trading performance has seen purchasers prepared to buy, despite increasing operational costs and what may or may not happen in Europe.
At corporate level, increased scrutiny alongside an underlying caution, left some delaying investment decisions to see what would happen. This inactivity was suddenly broken by the surprise announcement of the planned Heineken led takeover of Punch Taverns.
The Pubs Code stuttered into existence on 21st July 2016, the key element of which was the Market Rent Option (MRO). Several months in, and we are still waiting to see what effect it will have on rents, values and market activity. Pubcos have innovatively managed the impact of MRO by offering new tenancies (not leases), offering existing lessees attractive deals to move to new agreements, in some cases buying back leases and by setting up managed divisionscapable of taking pubs under their control at lease expiry.
Freehold Freehouses
Until mid 2015 operational and profitable businesses had not transacted in any great numbers since 2008. Unless there had been some external influence encouraging the decision to sell, vendors chose not to.
H2 of 2015 saw double the freehouse sales in H1. This continued into 2016 with transaction volumes increasing over 150% over the year.
Private individuals were increasingly prepared to sell and more corporate managed house operators started to churn their estates, taking the opportunity to move into the gap vacated by the large tenanted pubcos, who had all but stopped their disposal programmes.
Bottom End Freehold Pubs
Bottom end pub sales were dominated by the big 6 tenanted pubcos from the start of the recession, up until mid 2015. Since then the pressure to sell has abated and disposals now trickle through based on normal estate management decisions. The volume of these transactions declined -28% in 2016 (-23% 2015).
Demand has remained strong, led by cash backed purchasers, as finance remained difficult to obtain in this sector with typically 50-60% Loan To Value, all that is available.
With a higher average sale price and a higher average trading level, the quality of pubs being sold improved, reflected by the increased proportion of pubs remaining as pubs after they were sold, rising significantly to 62% (46% 2015).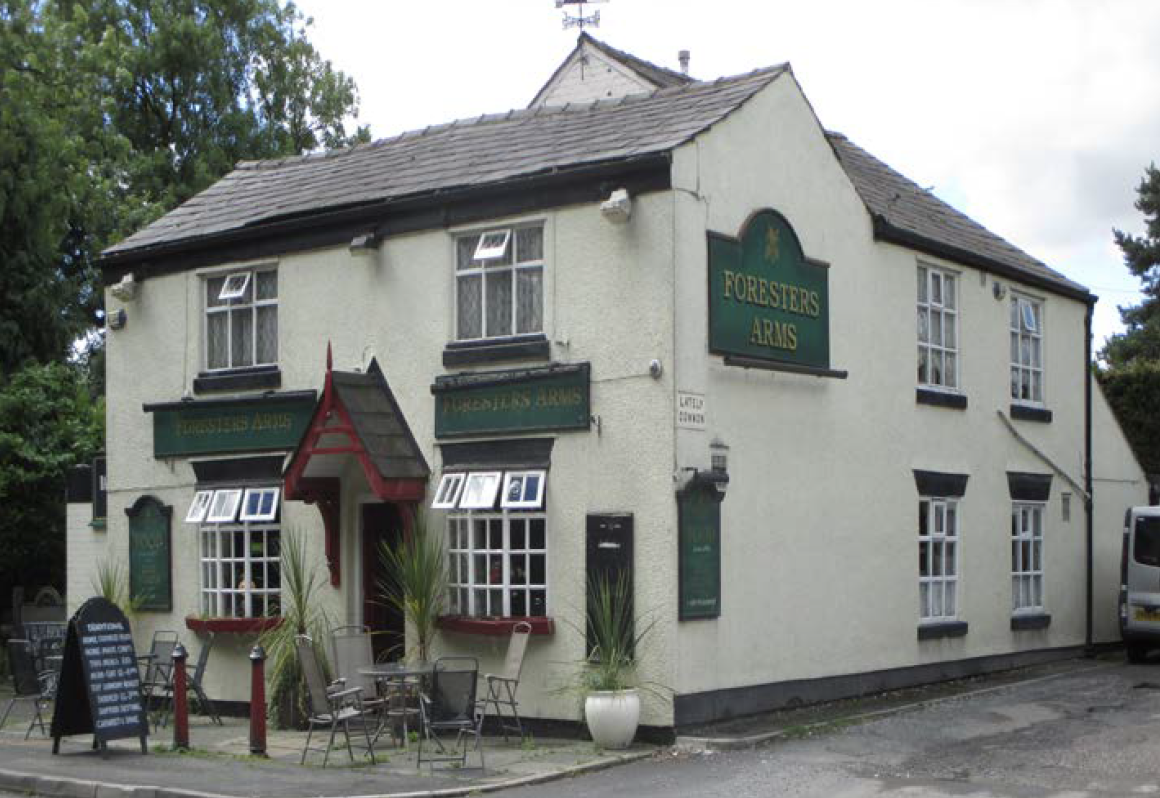 Foresters Arms - Glazebury - Free of tie letting
Leasehold
The Pub Code and MRO legislation impacted the leasehold pub market throughout the year. This was compounded by the actions taken by some of the big 6 pubcos, increasing the uncertainty over the leasehold assignment market. Until there is greater clarity over the implementation of the legislation many successful tenants will remain frustrated over the prospects of selling their leasehold businesses.
Despite the political and legislative uncertainty, the leasehold market did however, display remarkable resilience. New lettings and business assignments continued to take place and significant premiums were achieved in some cases.
We saw a significant increase in free of tie lettings. This included lettings from some pubcos but primarily they were from private owners choosing to let instead of sell their freehold business. This reluctance to sell is interpreted partly as a desire to retain the property asset but also to open up new avenues of marketing when the freehold is difficult to sell at an acceptable price due to the continued limited number of purchases with funding. This was the case for an overseas property owner on the Forresters Arms, Glazebury, Warrington where weagreed a free of tie lease with an option to buy the freehold.
PUB SALES - Alternative Use Sales
- 62% of all freehold pub sales remained as pubs
- Pubs sold for continued pub use were sold for 38% more than for non pub use
In a marked change to the previous 8 years, 2016 saw the number of pubs sold for continued pub use leaping to 62% from 46%. Out of all the freehold pubs Fleurets sold, the average sale price for a pub use was 38% higher than the average sale price for alternative uses.
Higher pub values were not found at all levels. The sale price of bottom end pubs sold for pub use was -6.7% lower than for alternative use in the North, and -8.5% lower in the South. This suggests that there are still a number of more marginal pubs that don't have great value for pub use and which the market determines are better utilised for alternative uses.
Out of the pubs sold for alternative use the largest proportion were sold for residential use at 50%, restaurant 18%, retail 5%. The now ubiquitous convenience store stayed at just 3% of overall non-pub uses. Other end uses included:- Art Gallery, Care Home, Antiques Showroom, Funeral Directors and Social Club amongst others.
Leisure
Massive Gains
Phil Smith - Senior Associate
The UK health and fitness market continues to bulk up, with private club memberships estimated to surpass 6 million in the next three years according to Mintel. The sector has also diversified and a two tier market has emerged between health and fitness clubs and boutique studios, which provide an alternative to a traditional gym workout. With private equity backing nationwide expansion and the chase for space is driving rental growth, the health and fitness sector is looking very healthy as an alternative property investment.
In 2016, the overall value of the health and fitness market for private clubs was estimated to reach £3 billion. To achieve this growth, the sector has had to evolve significantly. Looking back, as the recession took hold, it was the mid-market, dominated by Fitness First and LA Fitness, which was hit hardest. Gym members had become dissatisfied with high monthly membership costs, joining fees and being tied in to contracts. They started to question value for money and membership numbers began to dwindle.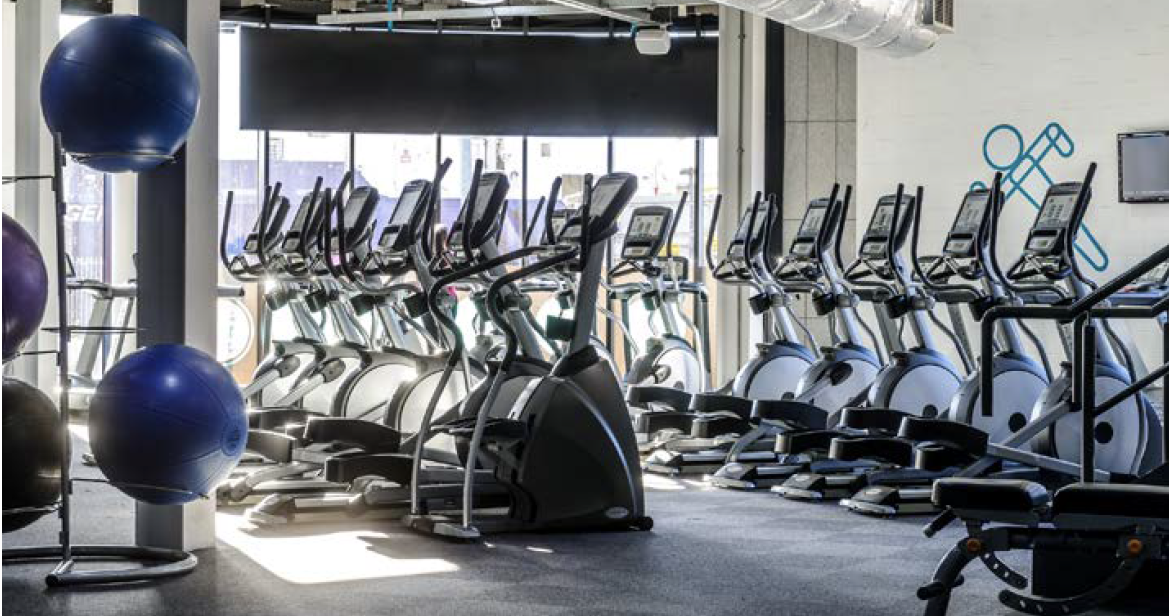 Aberdeen Pure Gym
This presented an opportunity to capture a highly dissatisfied customer base, giving rise to the budget gym sector, which now makes up c. 15% of the private club market. There are many budget gym operators including PureGym, The Gym Group, Anytime Fitness, Fitness 4 Less and Buzz Gym to name but a few.
Buzz Gym currently have sites in Reading, Swindon and Slough and are looking to expand nationwide. Owner Adam Stowell comments; "Our concept is all about creating a buzz and not just another boring gym. We are shaking up the market further by combining the service and quality of product you would expect at a boutique gym, with the affordability and convenience of a budget gym. For £19.99 Buzz Gym offer 24 hour access, over 200 stations of state of the art equipment, fully loaded Olympic lifting and strength zones and over 400 free classes per month!"
The budget gym model maximises membership numbers over the available floor space, extends opening hours and minimises operational costs, particularly wages, whilst providing access to high quality equipment for a low monthly cost and with flexibility over membership.
Ticking all those boxes leads to member retention and this has been one of the key factors behind the success of PureGym, owned by CCMP Capital. Founded in 2009 with four sites, PureGym has expanded rapidly to become market leader across the private club sector. Having acquired LA Fitness in 2015, it now has over 180 sites nationwide, with more in the pipeline for 2017. Sir Chris Hoy is the brand ambassador and appears on TV and social media marketing campaigns.
To maximise member numbers, clubs are open 24 hours a day, 365 days a year and are typically in excess of 20,000 sq. ft. This costs c. £1.5m to fit out with high quality running and cross training machines, free weights, strength training equipment and studios. They are all 'dry' clubs; LA Fitness' swimming pools were filled in to maximise useable floor space and substantially reduce operating costs.
Each club must fit within a tight property costing model. Depending on location, rents in the periphery of central London will typically not exceed £15 per sq. ft. and £10 per sq. ft. nationwide. A 15 year lease with RPI rent reviews is standard, with cap/collar increases providing security over future property liability. This also provides the investor with a guaranteed income stream over the length of the lease, secured by PureGym Limited, which has a Dun & Bradstreet 5A2 rated covenant.
Recent acquisitions include High Street, Bromley, which is due to open imminently. This facility is c. 25,000 sq. ft. over two floors and has reportedly let for £200,000 p.a. (c. £8 per sq. ft). The largest inner London facility is in Bermondsey, totalling 21,000 sq. ft. and reportedly let at a rent rising from £10.00 to £14.75 per sq. ft. over the first five years.
The covenant strength is demonstrated by the investment sale of PureGym Camberwell. This is a new build facility of just under 12,000 sq. ft. which let at £140,000 p.a. (c. £11.50 per sq. ft.), for a 20 year term with a tenant break at the 15th year. In October 2016, it sold for £2.105m; a net-initial yield of 6.26%.
With space at a premium in central London, particularly for in excess of 20,000 sq. ft. rent exceeds sustainable levels for the budget gyms. The substantial customer base and ability to increase membership prices leaves space to be contested between the mid-market brands, including Nuffield Health, Virgin Active and Third Space; a luxury operator which operates four substantial London sites in Soho, Marylebone, Canary Wharf and the most recent opening at Tower Bridge.
Founded in 2003, Gymbox is another midmarket operator which promotes itself as the 'antidote to boring gyms'. By stripping back the fit out, and with DJs providing the music, an intense atmosphere is created which aims push their members' limits and sweat levels.
The focus is 'functional fitness'; boxing rings feature in many clubs and a huge draw is the wide range of studio classes, which include Fight Klub, Bar-tendaz, Saved by the Bell and Rave. With membership fees at upwards of £70 per month, Gymbox are pushing the upper limit of the mid-market, however the model is clearly working: they have eight gyms in central London, including Holborn, Bank and both Westfield's.
One of the more recent openings is at the Bower in Old Street, totalling c. 10,000 sq.ft., which reportedly let at a headline rent of £14 per sq. ft. However, the most recent opening is one of the largest gym lettings in central London. Located at 12 Leather Lane near Chancery Lane, it totals 38,000 sq. ft. and reportedly let at a headline rent of £912,000 p.a. (c. £24 per sq. ft.).
The popularity of classes has led to the expansion of boutique fitness studios. These occupy smaller spaces and typically focus on one particular exercise, providing classes throughout the day. The classes are taught by qualified instructors using high intensity interval training (HIIT), promising to achieve faster results than a standard gym workout. Customers can buy passes which enable access across a host of different studios, offering flexibility and no longerrestricting members to one site.
In central London, the diverse range of operators includes spin studios Psycle in the West End (£20 per class), Boom Cycle in Holborn (£16) and Ride Republic in Fulham (£20). Barrecore have 11 clubs nationwide and use ballet and yoga techniques to 'reshape your world' for £28 per class. Billed as the 'best workout in the world', Barry's Boot Camp has crossed over fromthe US to open 3 studios in central London.
1Rebel occupies 7,725 sq. ft. over ground floor and basement at St Mary Axe in the City. The headline rent was agreed at £265,000 p.a. (c. £34 per sq. ft.) They combine three types of workout in their studio in HIIT classes called Rumble, Ride and Reshape. A second studio has recently opened in Broadgate Circle and, with funding secured, 1Rebel are now geared up for an expansion drive to the affluent surrounds of central London.
At these rental levels, it is little wonder landlords are very keen to let otherwise secondary space to studio fitness operators and with the revenues that can be generated by charging by the class, this sector is attracting considerable investor attention. The open market letting activity is driving rental growth at rent review and with long leases to strong covenants, health and fitness has become a very attractive alternative property investment.
It is a specialist sector, so it pays to take expert advice. Fleurets is regularly involved with rent reviews, lettings, valuations and investment transactions of health and fitness property, advising occupiers and investors.
Third Space Soho