Click here to view the online magazine.
Click here to open the pdf directly.
A comprehensive review magazine with topical articles from Fleurets' experienced staff, alongside a taster of completed transactions, current instructions and professional advisory work.
In this issue:

Life's a ball - Rosie Hallam explores some of the more unusual ways to socialise.
Just my cup of tea - Lizzie Hawes investigates the evolution of the cup of tea in the pub world.
Fall & Rise of Travelodge - A review of the Travelodge CVA and where they are now.
Leisure Sector Tenant Covenants - A review of the key operators and their covenant
Taste Trends - Head of Retail Leisure and Restaurants, Kevin Conibear, looks at the current restaurant trends.
UK Brewers - A view from the top - James Davies interviewed three representatives from the family brewers about topical issues.
Getting into the swing of things - Managing Director, Graeme Bunn explores the golf market.
Challenge and opportunity hand in hand
Graeme Bunn - Managing Director
Sentiment is always a peculiar character. Certainly within the leisure sector, sentiment across the various sub-markets has never been so polarised. With enough headwinds and tailwinds to create an interesting meteorological study, the months which lie ahead will create challenges for many and opportunities for slightly fewer.
The restaurant market, perhaps more specifically the casual branded market, is witnessing the most pronounced and dramatic changes of any of the sectors within the leisure market. The annual report of Fulham Shore Plc, published in July, summed up the market well, highlighting that "more restaurant space has appeared on the market than for many a year…from poor performing locations… newly created developments…and administrators selling sites for broken companies."
Evidence of the most dramatic change in sentiment in the restaurant sector is the decline in the share price of the Comptoir Group, owner of twenty Comptoir Libanais venues. The group floated on the Alternative Investment Market in June 2016 at 50p per share. The following three months saw growth up to 80p per share. Since then it has been a steady decline. The spring of this year saw the shares fall back to their original flotation price. The summer saw them hit 25p and only last month they fell to 15p following a fund raising placing in order to raise £4m to finance the opening of four new restaurants.
Whilst not as pronounced, sentiment is also turning in the coffee market. Whilst Costa
continues to report like-for-like sales increases, the growth trend is clearly declining (6.1% LfL growth in FY14 has fallen to 2.9% LfL growth in FY16 for Costa.) and some commentators are suggesting flat like-for-likes from the large branded operators by early 2018.
The pub market is similarly pronounced, albeit on more geographical lines. As has been the case for a number of years, operators within London and the South East continue to benefit from the greater affluence of its residents and sheer power of numbers. The most obvious barometer of this phenomena being the like-for-like sales increase reported by Young's of 8.6% for the 13 week period ending 3rd July 2017.
Perhaps a better barometer of the strength of the market is shown by Mitchells & Butlers who most recently reported like-for-like sales growth of 1.8%. JD Wetherspoon benefited from the bounce from their strategic disposal programme, with like-for-like sales materially ahead of the wider market at 4%. The clear trend is appearing to be the pub market performing much more strongly than the branded restaurant market as the impact of over supply and perhaps customers becoming tired of indistinguishable offers, really starts to bite this sector.
Across in the hotels sector, investor appetite for hotel property stock is at a high. Transactional volumes in this sector are predicted to reach over £5 billion for 2017, representing growth above 2016 volumes of 28%. Driven by London, and transactions to overseas investors, the recent strengthening of Sterling may soften appetite, but given the weight of money which appears to be chasing similar assets, any significant movement in investment yields are likely to be limited.
The months that lie ahead will be a mixture of buoyant transactional activity and fluctuating operational performance, sprinkled with some company distress. Challenging times but ripe with opportunity. To conclude I return to Fulham Shore who sum it up nicely "The opportunities are there for nimble and agile operators".
Life's a ball
Rosie Hallam - Senior Associate
I am sure that as children we all had afternoons at the bowling alley and spent time in play centres being entertained by a sea of colourful balls and slides, giving our parents at least some respite from the need to keep us constantly occupied.
Some children never really grow up and for those Peter Pans of the world there is now a whole new domain for grown-up entertainment led socialising, meaning ball pits and crazy golf are nolonger just fond memories from our childhood. The 2010s has seen the fun and games of childhood grow up.
But this isn't really anything particularly new, it is just that in recent years it has become far more popular, socially acceptable and better publicised via social media… and it has reached London!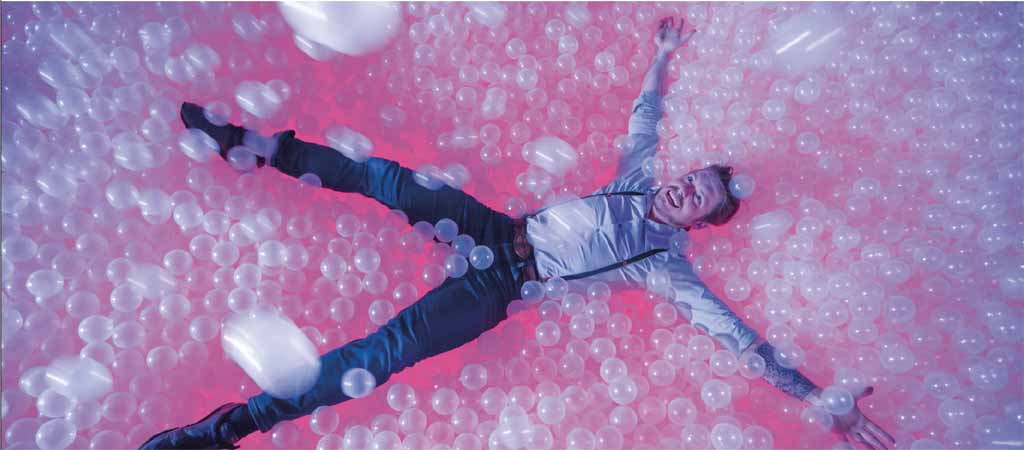 Ballie Ballerson
It would seem that balls have something going for them when it comes to competitive and entertainment led socialising.
Arguably, it all started with Bounce, the social Ping Pong business that opened the doors on its flagship site, a 12,500sq ft basement unit in Holborn, in 2012. The people behind the concept are Dov Penzik and Adam Breeden, the latter a serial competitive social entertaining mogul, also being the co-founder of Flight Club and former CEO and co-founder of All Star Lanes. Following the success of the Holborn site, three years later the second site opened, this time in Shoreditch, soon to be followed by Chicago in 2016.
After a bit of a lull, social entertainment and competitive socialising really took off when crazy golf reached London. We now have not one but two indoor crazy golf centres in the form of Swingers and Junk Yard Golf but these were by no means the first to create such exotic andexciting venues.
As Propel reported recently, Adventure Island Mini Golf in Star City, Birmingham, was the first when it opened its doors nine years ago. With two 18-hole Tiki themed courses alongsidea Tiki bar this has provided a colourful crazy golf experience for children and adults alike for many years. As reported by Insider Media recently, they have just been acquired by Waterworld Leisure Group whose first step is to open site number two in Stoke on Trent next year, as it plans to roll out the concept nationwide and it could be an Adventure Island Mini Golf will be coming to a town near you in the future.
Swingers and Junk Yard Golf arguably cater for the older crowd, by which I mean 18 plus and not eight! The concepts are that bit more grown up. Junk Yard Golf opened their London venue in the Old Truman Brewery as a pop up concept in May 2016 featuring a 9-hole course built using all manner of 'junk'. Proving a resounding success after just a short time it was rebuilt to create not one but four courses and six bars.
Junk Yard Golf must have seen the opportunity to capitalise on our love of crazy golf having seen the success Swingers had when they set up their pop-up site in Shoreditch in September2015. According to the Evening Standard, this venue received 90,000 visitors over its six month hosting. After this success, the hunt was on for a permanent venue. The result, a 16,000sq ft former World War II bunker beneath the Browns Buildings opposite the Gherkin in the City. This time it provides two 9-hole courses, the Windmill and the Lighthouse, and four bars and a street food dining area anchored by Pizza Pilgrims, DF Mexico and Patty & Bun. This place oozes cool, and one year on since opening in May 2016, the attraction is still strong.
Basement space clearly has the potential for more exciting uses than just storage or nightclubs,as Swingers has proven. The competition for suitable basement venues is growing as is the ompetition for the customers. And they are not alone.
A competitor for the crown of most exciting new concept must surely be Ballie Ballerson. Like so many new social entertainment concepts this one started life as a pop-up with a basement pit filled with 250,000 clear balls over an LED floor to create a glowing ball pit, far cooler than any of the ones we played in as children. Ballie Ballerson has now closed its pop-up site and moved to it's permanent residence in Shoreditch, on Curtain Road. As reported in Propel, thistime it boasts a ball pit filled with 1,000,000 balls inside a venue eight times the size of its predecessor, along with two private ball pits, a waterfall, and ball themed cocktails.
Generally, businesses such as these do not require the street frontage and prime positioningthat their counterparts in the more mainstream retail and leisure sector do, although that said the latest Ballie Ballerson site does benefit from these characteristics in its new site. Basements are ideal and the cost is proportionately lower making entry into this sector more accessible. The problem they will face is finding sites large enough to cater for them.
Whilst basement space is being sought after for these concepts, it is also interesting to see that new uses are being found for out of town industrial units, reinvigorating schemes with a leisure focus, this time with trampolining. As The Guardian reported, only a year ago there were just four indoor trampoline parks. Wind the clock forwards and in just over a year concepts such as Flip Out and Oxygen have set up shop bringing yet another children's activity to the adult domain. Flip Out's expansion has been rapid with 25 sites now listed on their website. Day or night it caters for all and even some sites have a DJ for their 'After Dark' sessions.
It is hard to imagine a world without all these exciting and fun ways to socialise, entertain and in some cases, get fit! I just wish I had been the one to come up with the concepts.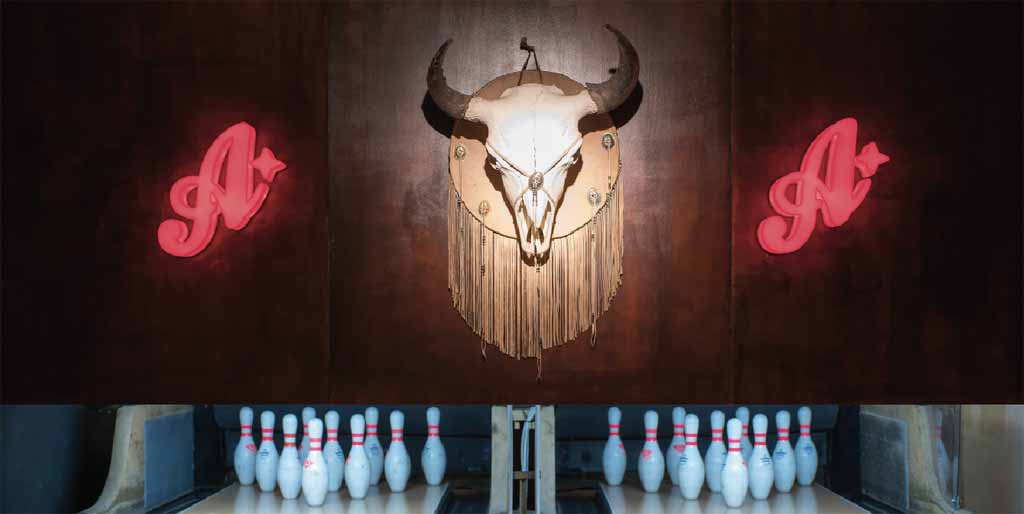 All Star Lanes
Just my cup of tea
Lizzie Hawes - PR & Marketing Manager
In 2016 Big Hospitality predicted that the UK coffee shop market would be worth £15bn and have over 30,000 outlets by 2020.
However, with coffee shops on every high street (16,501 in 2014 according to Hospitality and Catering News) the question of whether the market is saturated has never been so pertinent. However, amid the 'stir' there is a new trend 'a-brewing'; the cup of tea, a key symbol of British culture.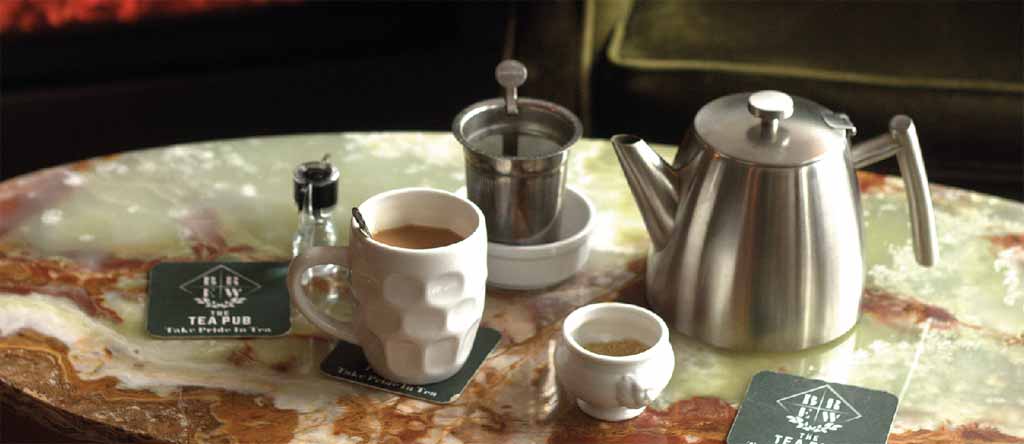 Brew - The Tea Pub
Bill Gorman, Chairman of the UK Tea & Infusions Association was quoted in the Morning Advertiser to say that 165m cups of tea are consumed each day by comparison to 70m cups of coffee; we just tend to make them ourselves! So where does the future lie for the 'cuppa', that key symbol of British culture?
The afternoon tea market is so popular that hotels are offering the innovative to the bizarre concepts to compete, from Charlie and the Chocolate Factory to even cheese themed afternoon tea. However traditional options are also thriving. We think Sketch's offering, pictured below, is simply stunning.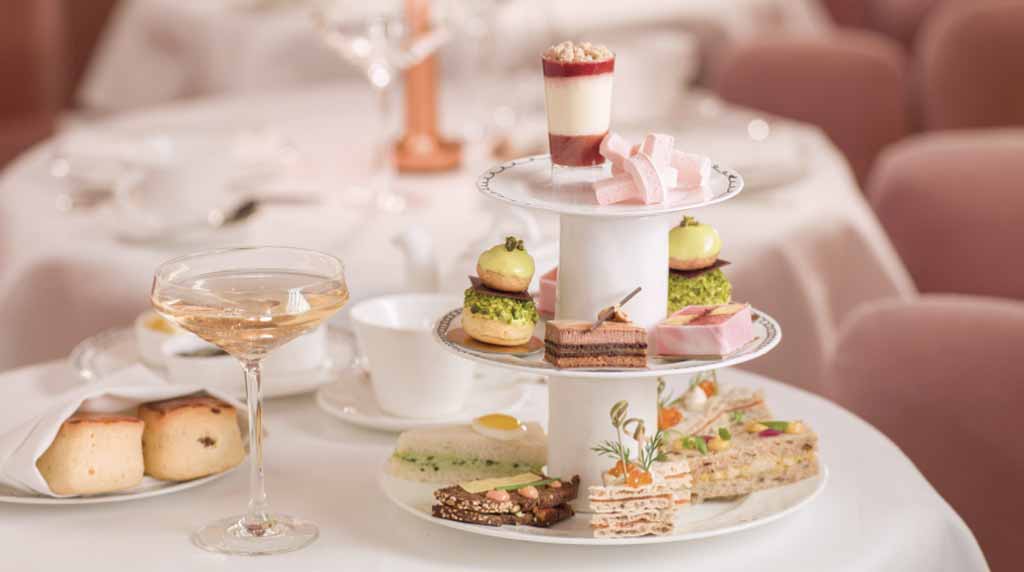 Sketch
Pubs are also capitalising on this trend; Shepherd Neame has altered its opening times at 25 sites to target morning customers and in June this year the world's first tea pub was opened in Tooting Broadway. Brew, The Tea Pub offers tea-based cocktails as well as pots of tea. The Founder, Alex Holland, commented: "What does it say about Britain, a nation defined by tea drinking, that we accept the worst possible quality as normal? British people should be able to take just as much pride in tea as an Italian does in coffee or a Frenchman in wine." The Evening Standard reported that Alex Holland plans to "convert builders tea drinkers with a simple menu of five teas and an unintimidating atmosphere."
Restaurants and tea producers are collaborating, pairing high end teas with dishes, according to The Times. Thomas Rabuel, General Manager at Club Gascon commented: "Our Head sommelier Julien Sarrasin professionally pairs all six dishes from Le Marche tasting menu with 3-6 wines & 3 teas. The idea behind tea pairing was to offer the same experience to guests who don't want or are not able to drink alcohol but still want to have a drink that would enhance the taste of the dish. In the first 3 months after the tea pairing introduction, Club Gascon's tea sales increased by 400% and keep growing month-on-month."
Specialist tea retailer and café Yumchaa launched a market stall in 2004 and have since expanded to seven sites across London, with more planned in 2017. Josh Mordecai, Managing Director, commented: "Yumchaa has seen a marked increase in consumer demand for superior teas, fruit infusions and herbal blends over the last two years. This has helped us to achieve like for like sales of + 20% on last year. Internet sales are also strong with our online store exhibiting 80% growth on the same period last year. Sales of Matcha, a powdered green tea, have grown threefold on last year."
I am totally in love with tea, and am excited to see the industry expand just as the coffee sector has done. The challenge is changing the consumer's mindset and buying habits. Look out for British National Tea Day on the 21st April next year and in the meantime, mine is a builders with a splash of milk.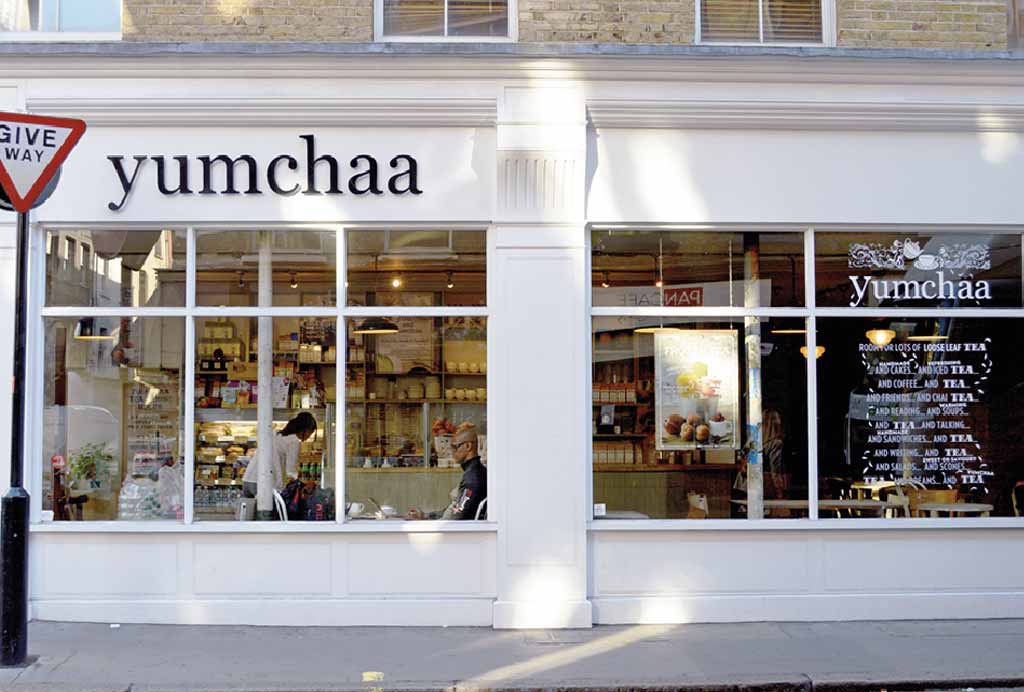 Yumchaa
Hotels
Fall & Rise of Travelodge
Paul Hardwick - Director & Head of Hotels
A little over five years ago Travelodge was on the brink of administration and investor and market sentiment was weak. In this article we look at Travelodge's changing fortunes and how, in a short period of time, they have become a popular choice for investors once again.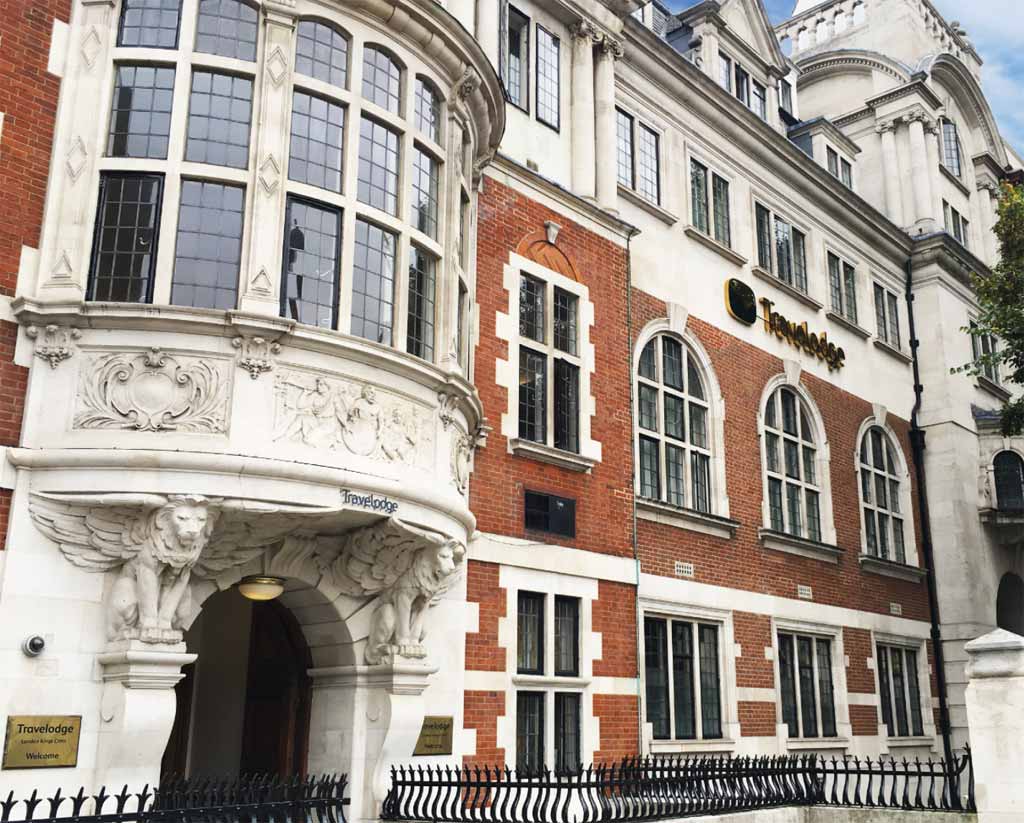 Travelodge
In 2003 Travelodge was sold by the catering and property management company, Compass Group Plc, to private equity firm Permira, who saw new opportunities to make a return on their acquisition. Over the proceeding years, Permira extracted enormous sums of money from the property estate, including an extensive sale and leaseback program of 136 hotels, which raised £400m.
In 2006, the business was performing well, and having stripped value from the property estate, Permira looked to sell. Hindsight is a wonderful thing, and a highly leveraged £675m acquisition by Dubai International Capital (DIC), just before the financial crisis, should perhaps have set alarm bells ringing. Even with Travelodge continuing to trade well, such a large debt burden became unserviceable and action was needed.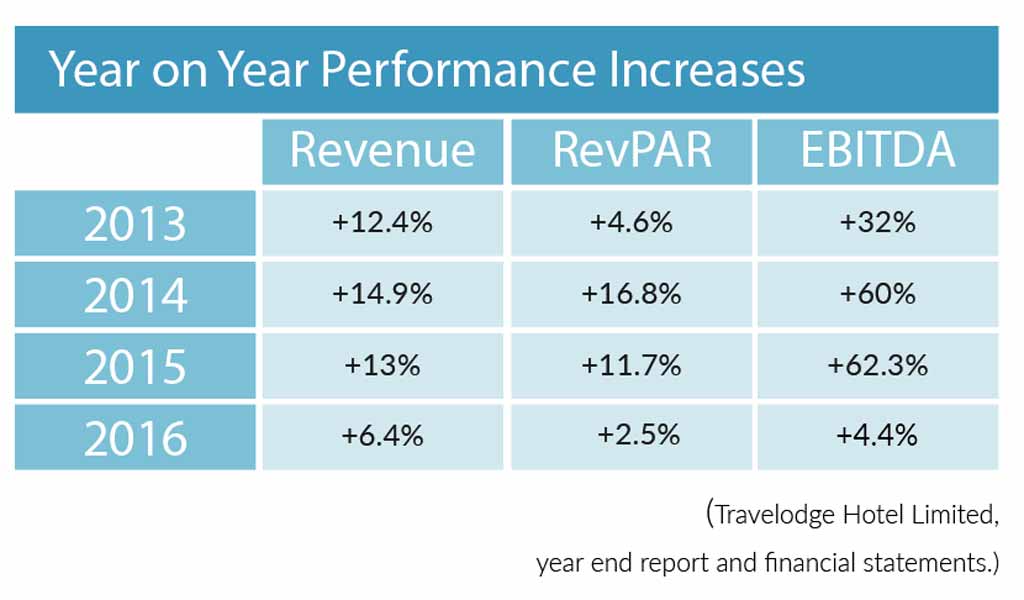 Enter the investment bank Goldman Sachs and two US based hedge funds; GoldenTree Asset Management and Avenue Capital. A debt for equity swap dissolved DIC's ownership and the new owners set about paying off , writing off and restructuring the debts and hired KPMG todeal with the property side of the business, using a Company Voluntary Agreement (CVA).
A combination of the CVA, the financial restructuring and the program of refurbishment eventually resulted in a significant upturn in performance.
As the business began to re-establish itself, the investment market took more interest.
Fleurets has been involved with numerous transactions since the CVA, from carrying out loan security valuations to advising on acquisitions. Average investment yields have hardened since 2012 and there have been a number of portfolio transactions suggesting that investors' appetite for the company has returned. Last year's acquisition of 55 Travelodge hotels by Secure Income REIT for £196.2m, which reflected a yield of 7%, is a prime example.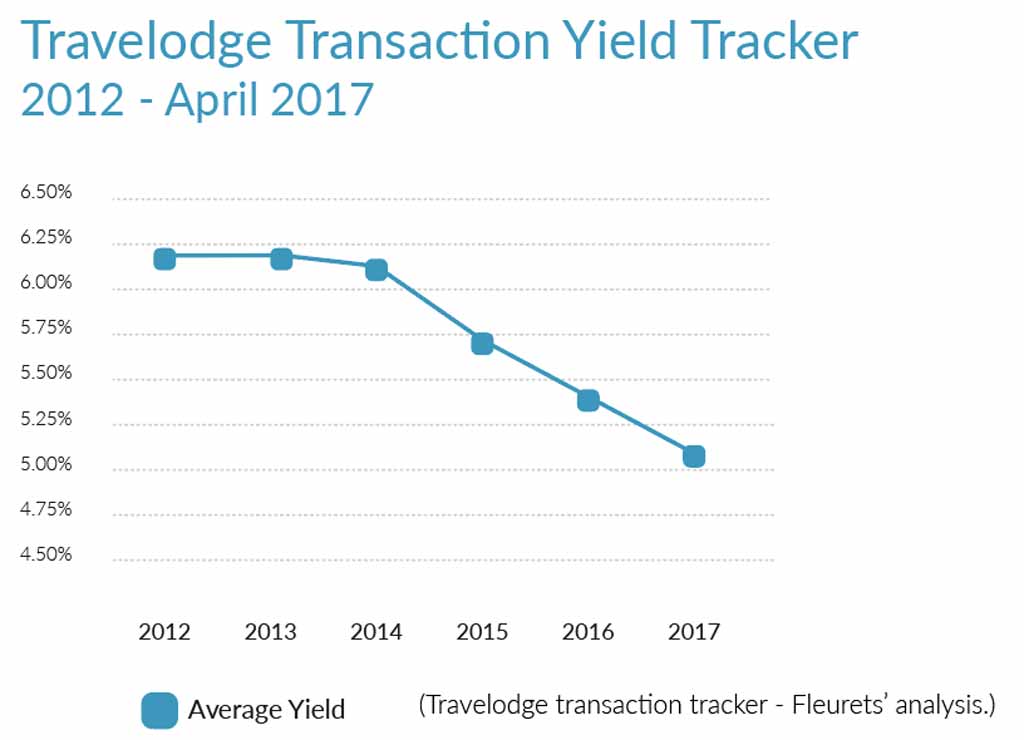 On to the present day and the recent H1 2017 results show continued improvement. Year on year increases in revenue (6.8%), RevPAR (2.2%) and average room rate (2.3%), a £3.3m increase in EBITDA and a strong development pipeline are all good indicators.
However, there are still potential hurdles to overcome. Not least, inflationary cost pressures and any negative effects of Brexit. However, if results continue to improve, we feel the investment market will continue to see Travelodge as an attractive covenant.
CVA Highlights
All the hotels remained open
109 hotels had their rent cut to 75% for three years.
Circa 8% of the estate were seen as unviable and sole the new owners over a 6 month period.
52 development sites, where leases had exchanged but not completed, continues to be developed.
Investments
Leisure Sector Tenant Covenants
Ed Sandall - Divisional Director
The Leisure property investment class has become a core part of most property funds, often driven by long unexpired lease terms, RPI linked rental growth and a long list of growing and ambitious operators who not only fuel further rental growth but also provide security in the event of a vacancy arising.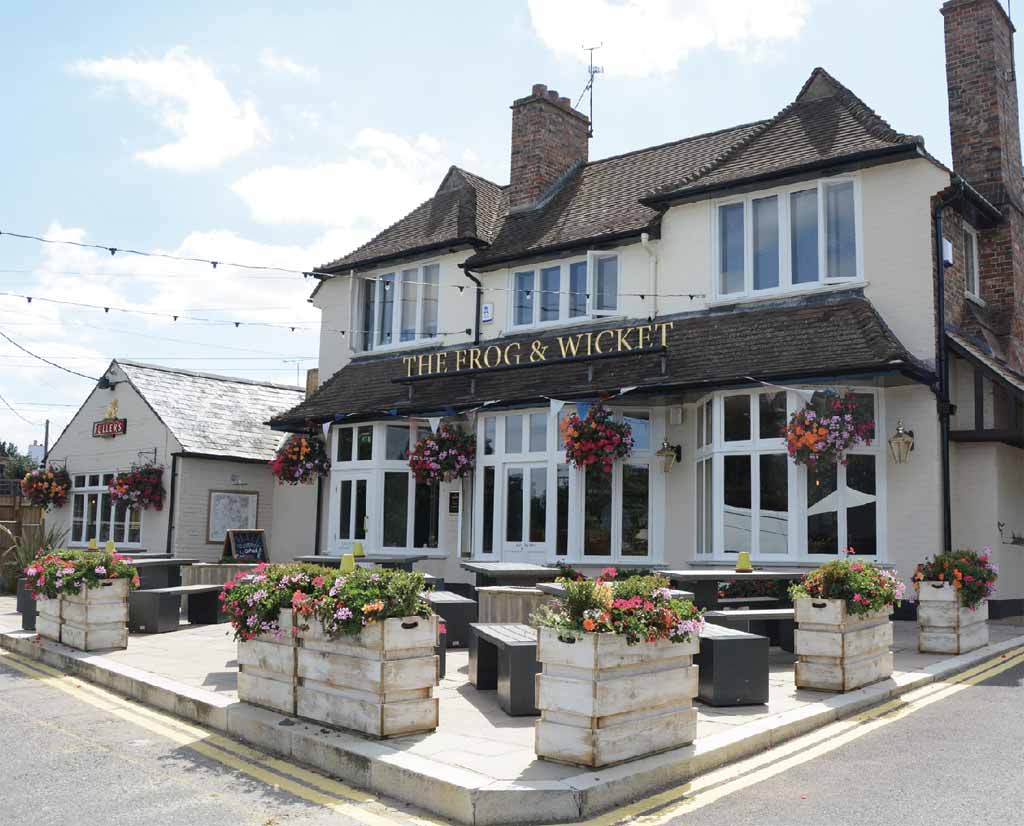 With leisure yields at an all time low, reflecting the attraction of the sector and the abundance of cash flows into the funds requiring a home, we take a closer look at the fundamentals of a number of the key tenant covenants within the sector.
Fleurets advised on £350m of leisure investment within the last 18 months, including advising BlackRock on the purchase of 13 pubs from Aprirose let to the Stonegate Pub Company for £23m reflecting 5.5% NIY, and advising OLIM Property Limited on the acquisition of a mixed portfolio of 13 pubs and 5 convenience stores for £20.3m from EI Group reflecting a blended NIY of 6.57%.
Most recently Fleurets have provided purchaser due diligence to Proprium on their acqusition of Admiral Taverns.
Fleurets are well placed in this growing sector and can provide advice to assist from the initial enquiry through to transaction and completion. Contact either myself or Graeme Bunn, Managing Director for assistance.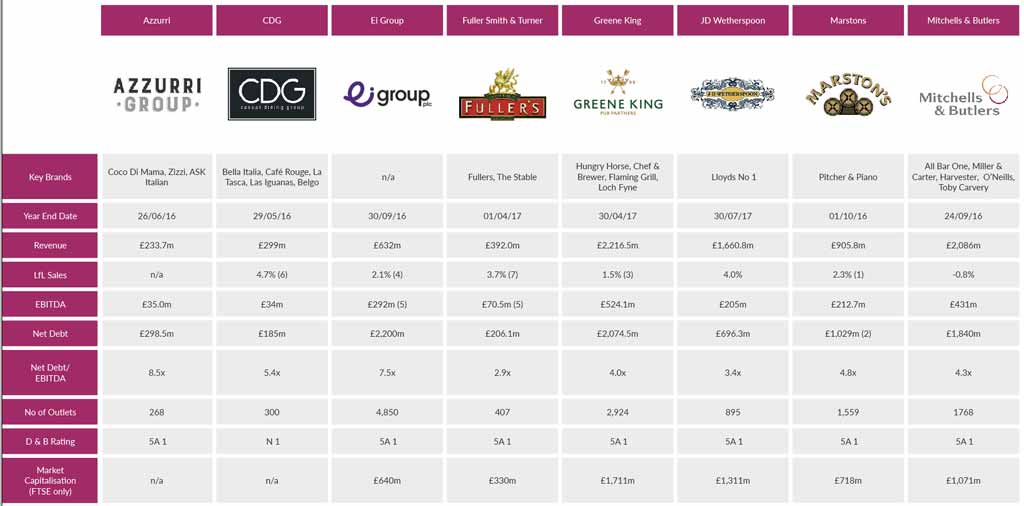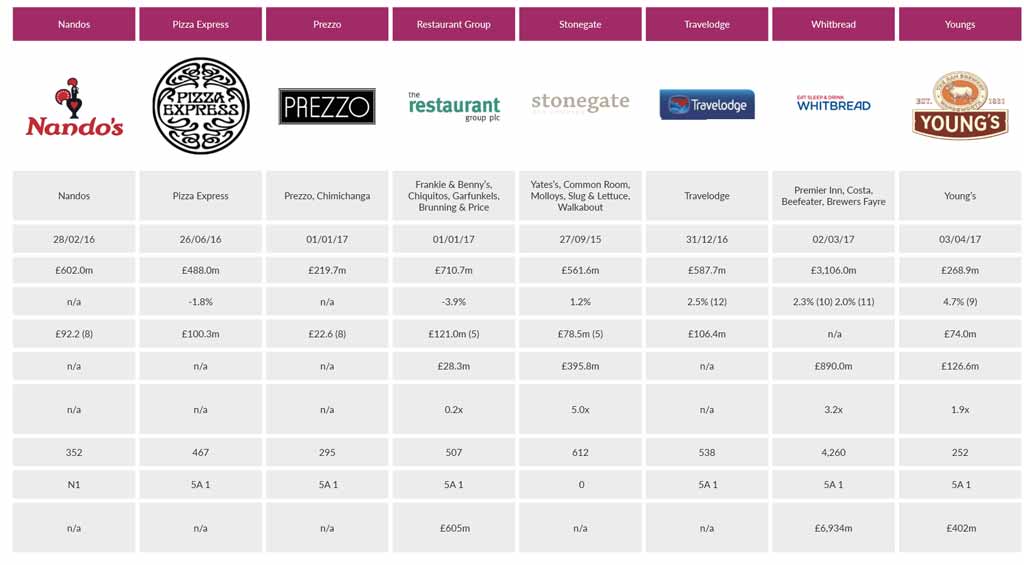 Restaurants
Taste Trends
Kevin Conibear - Head of Retail Leisure & Restaurants
Whilst branded operations are a familiar sight, new operators are introducing us to global foods, as well as addressing our health concerns, creating vibrant and exciting restaurants.There are a myriad of concepts we could explore in this article we consider three of the restaurants.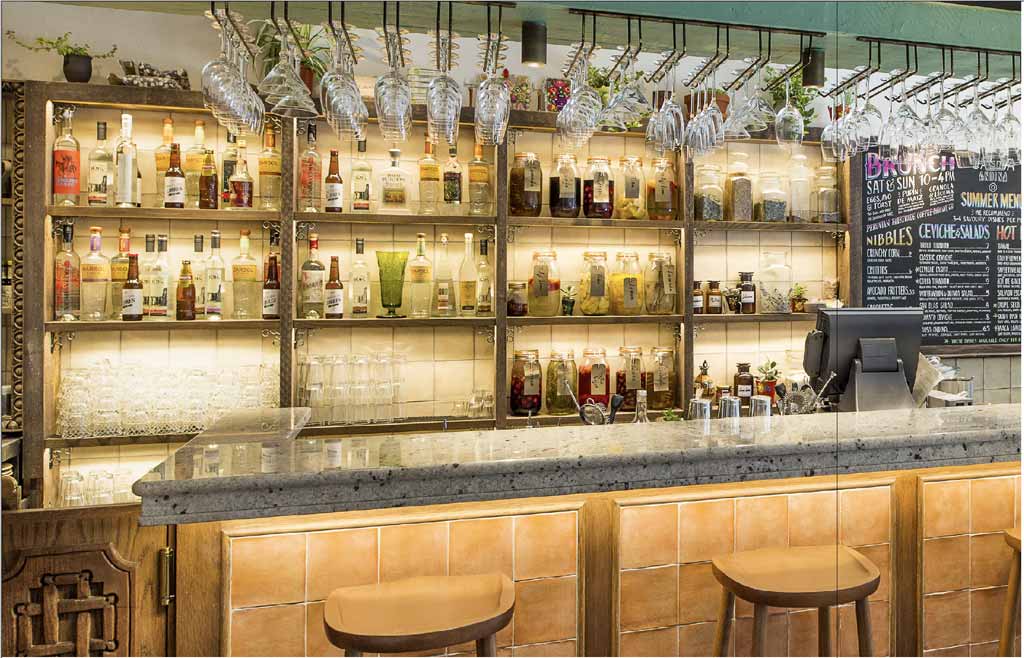 Casita Andina
Taco Revolution
Tacos are no new phenomenon, but as with many cuisines, we presume they are as authentic as their origins. Today, we can experience true Mexican heritage from operators that have invaluable insight into the country.
One such restaurant is El Pastor in Borough, the brainchild of the team who brought us Barrafina; Hart Brothers and their partner Crispin Somerville. Sam Hart and Crispin spent fifteen years in Mexico City, spending their days searching for the perfect 'Pastor'. Returning, they harboured ambitions to bring this experience to the UK, culminating in El Pastor opening earlier this year. Originally targeted for Barrafina, the team agreed the property was perfect for the taco, once they had seen off the forty competitive bids.
James Hart, who left his job in the city to help create El Pastor, shows the enthusiasm for the concept: "Our aim was to create a tacqueria serving authentic Tacos as good as Sam and Crispin experienced whilst living in Mexico. You find good tacos in various spots around London now, but the scene remains quite small. Regionally, the culinary history of Mexico is incredibly rich and diverse, which is why we love exploring the country. Until recently, the UK has only really experienced Mexican food in the form of Tex Mex, but we are now witnessing
real cuisine hitting our streets.
One of the biggest challenges is sourcing ingredients. Whilst the team aim to source as locally and sustainably as possible, the key ingredient; maize/corn is something Hart is extremely passionate about. "The tortillas are the foundation to everything we create and we focus on preserving the heritage of the corn varieties and help small Mexican farmers keep that heritage alive." This can result in the team paying five to six times more, but they feel it is paramount to its ethos.
Interesting Allergies
In an ever increasing health conscious and allergy sensitive society, finding a restaurant to accommodate these can be challenging. Restaurateurs have seized the mantle.
Martin Morales, an award winning Peruvian chef, author, restaurateur and arts producer, opened the first of two Ceviche restaurants in 2012, Andina in Shoreditch and most recently Soho's Casita Andina. Inspired by his grandmother, Casita Andina replicates Peru's rustic homely restaurants; picanterias. Everything on the menu is gluten free and Martin is keen to accommodate all; "Inclusivity is a value that we have, as a passionate, independent restaurant group, so why exclude people who can only eat gluten free food? That is why we created this. It is gluten free, but it is so many more things, with many vegan, vegetarian, nut free, nutritious guilty pleasure dishes, all of which are sustainable and locally sourced. The customers love it, they feel included. Others who worry less about allergens thrive on the fact that our dishes arejust more considered".
Vegetable Headliner
Research undertaken by the Vegan Society in 2016 indicated that 3.25% of the UK populationis either vegan or vegetarian. Many restaurants are placing greater emphasis on the use of vegetables in their cooking.
Earlier this year, Josh Eggleton converted Chicken Shop in Bristol to Root: "The inspiration behind Root has been the concept of eating more veg and less meat, having a menu that truly represents seasonality and sustainability. That isn't to say we've wiped meat off the menu completely, Root features a small selection of meat, of the highest possible quality, from some of the finest suppliers in the region. I've always been inspired by sustainable eating and cooking, using the whole animal and cooking with vegetables in imaginative ways. You can't beat a British tomato in the summer or a turnip in the autumn. When we set up Eat Drink Bristol Fashion it was designed around that philosophy, promoting Great British produce and sustainable farming."
Customer reaction to the restaurant has been strong. "We've had loads of support on social media and in the restaurant. We have an open kitchen so it's a good place to chat with Rob and the team about what we're doing there."
What Next?
These are exciting times for UK restaurants, with novel new concepts lining our streets. Our contributors agree that sustainability and preserving traditions is paramount and anticipate further growth based on these trends.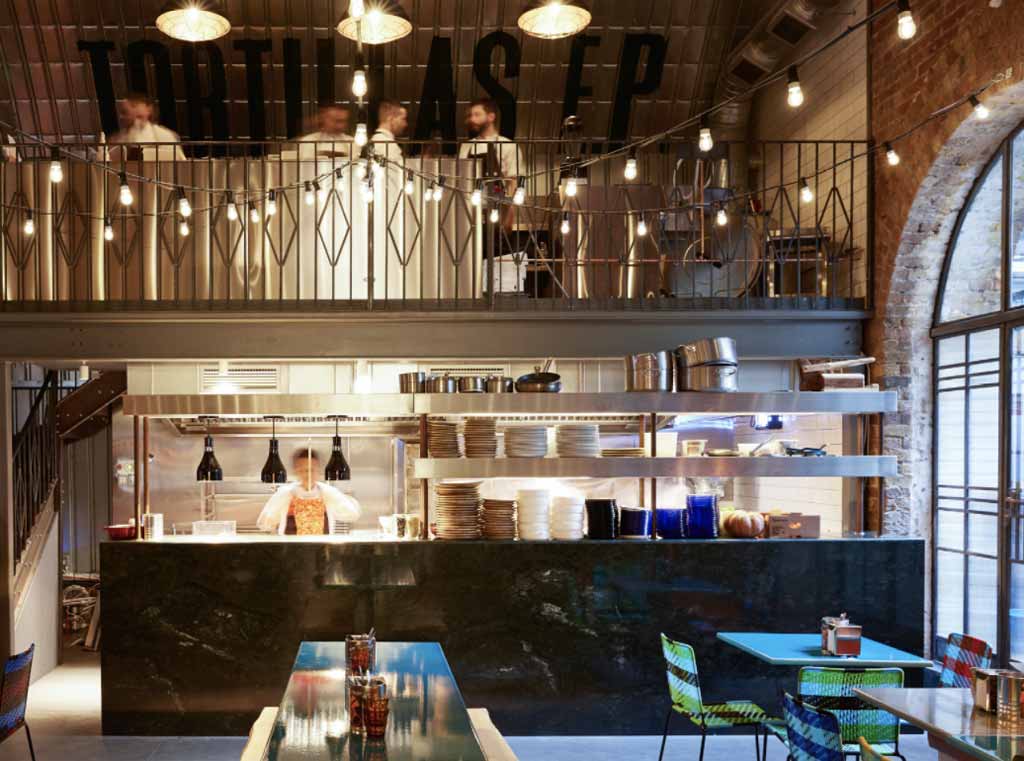 El Pastor
Pubs
UK Brewers - a view from the top
James Davies - Director
In this edition of On Market's - 'Meet The' series, I have been fortunate to chat with three prominent industry leaders from the world of family brewing, Tom Davies, Chief Executive of Brakspear; Tom McMullen, Joint Managing Director of McMullens and John Draper, Estates Director at Thwaites, who have given their insight honest opinions on some of the challenges currently facing the industry and their vision for the future.
John Draper - Thwaites (JD)
Tom McMullen (TMc)
Tom Davies - Brakespear (TD)
1). The term gastropub became overly used a few years ago. "Craft Beer" would appear to be the next frequently used description, do you see the surge in independent breweries and craft beer pubs continuing?
TD: "Craft Beer" is certainly a buzzword of the moment and for good commercial reason. The perception of craft allows the producer and retailer the opportunity to attract a higher price for their products as well as increase customer engagement. It has been a good thing for the beer market and I can't see the trend coming to an end anytime soon.
JD: There has been a growing interest in craft beer, which is great to see, and as a result there has not only been an increase in micro-breweries but also craft ale shops. Because there are very few barriers to entry and the on-costs of running such a business are relatively low, I think we will see this growth continue. However it will continue to change and adapt and with variable product quality and potential supply chain difficulties, only the best will survive.
TMc: New entrants will probably continue to enter the UK market for a while and some existing great businesses are going to continue to grow, but I am not sure that we will track the US trajectory - there are route to market challenges.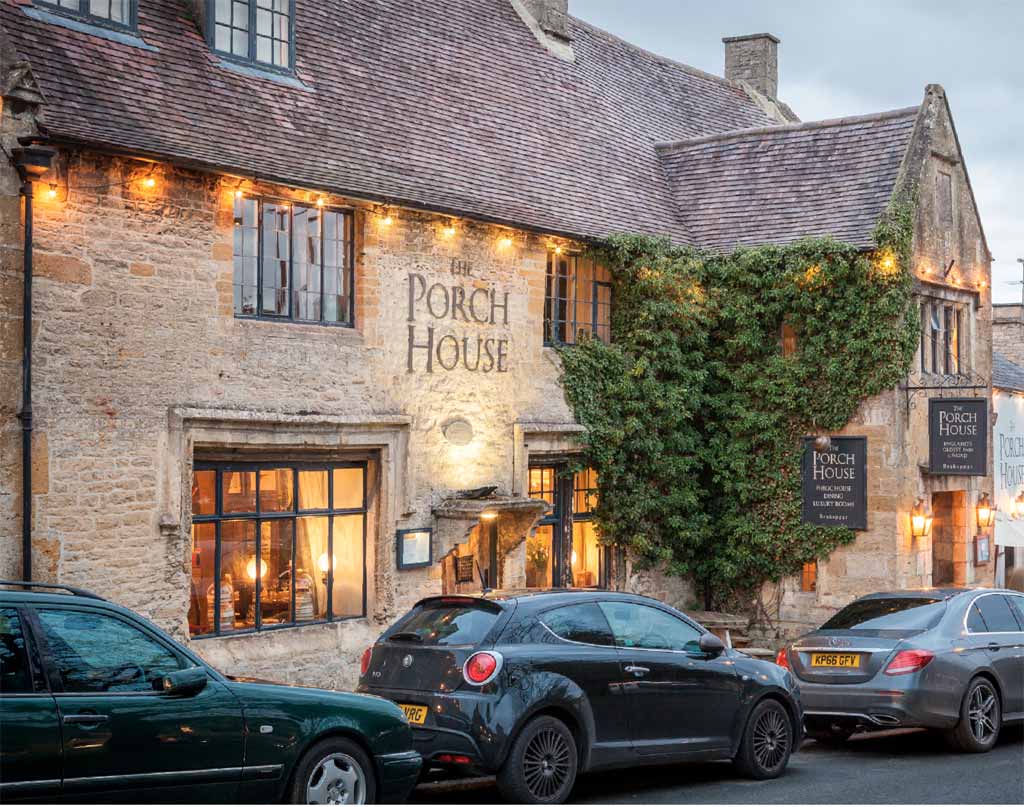 The Porch House, Stow on the Wold
2). The total number of pubs in the UK has fallen over the years but great, well operated pubs continue to thrive. Where do you see the opportunities for traditional, wet focused public houses?
JD: There is definitely still a market for wet led pubs - in fact our Thwaites Pub of the Year is a wet focussed pub (John Bull Chophouse in Wigan). There is an opportunity for those who want to stand out in the market through offering a premium range of beers, spirits and cocktails and, as always, exceptional execution of the offer will drive the success of the venture.
TD: Traditional wet led pubs have struggled over the past 10 years as consumer tastes and habits are changing. As a result these pubs have been neglected in terms of investment in favour of food pubs or those with a more chameleon offering. Business such as Amber Taverns have proved that well run and well invested community pubs can thrive but they do need to be in urban areas. Rural wet led business I fear are a thing of the past.
TMc: I see stability more than material long term opportunity here (except where capital values are depressed) and the former is at a premium at the moment with current cost inflation - particularly in labour and utilities.
3). How much product testing do you get to do?
TD: Now that is a question! With the market changing as quickly as it is, it is important to try new products as they come out. Dare I say it though, taste is clearly very important but brand, marketing and consumer engagement are almost more important and that will decide the success of the brand so sometimes just a look at the packaging is enough!
JD: We have an in-house panel who test our beers on a weekly basis. But we also test all products (not only beers, wines, spirits and soft drinks but also bar snacks) before they enter our supply chain. It's always an enjoyable task for anyone involved!
TMc: My palate is not going to determine a successful product development pipeline but I am increasing involved in encouraging the process.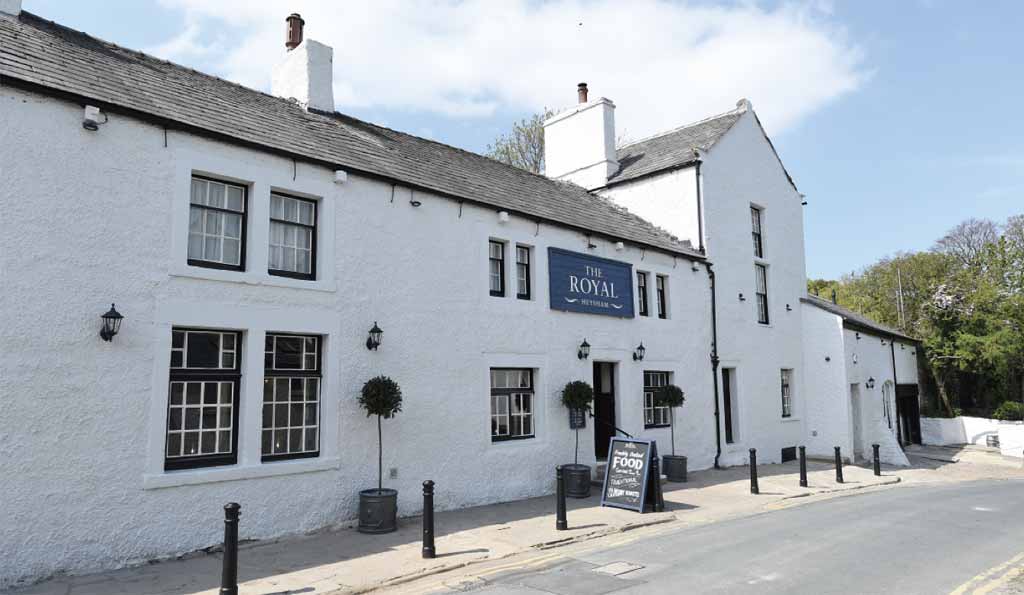 The Royal at Heysham
4). Family brewing is one of the UK's most established and resilient industries which is constantly evolving, what do you predict will be the next big thing in your business?
TMc: Technology in general will shape our business. There may not be a single big thing but the totality has the potential to have a material long term impact.
JD: Thwaites has been brewing beer for 210 years now and we are still as passionate about it as we've always been. It's a smaller part of our business and one which we are very proud of - but the Company's growth will be centred primarily around further acquisition and development of managed houses, hotels and inns and creating customer experiences in those divisions.
TD: For me, family businesses are about slow and steady growth. I don't see ourselves as trend setters but we are agile enough to move quickly as the market dictates. Our focus has been on diversifying our pubs to increase the number of revenue streams be it food, rooms, coffee, events or all of the above. I don't see one big thing but an evolution to keep up with the modern day customers.
5). Do you have a new pub or refurbishment which you are most proud of?
JD: We purchased a Grade II Listed pub called the Royal at Heysham on the coast near Morecambe a couple of years ago. It was in a semi dilapidated state with disused cottages at both ends of the building. At Easter we completed a comprehensive redevelopment, adding 11 guest bedrooms, outside bar and kitchen. It now trades consistently above £35k per week and has been incredibly well received. There was a lot of work that went into the transformation but the result is fantastic.
TD: 12 months ago we completed a refurbishment of the Sheep on Sheep street in Stow on the Wold. We own the Porch House opposite which is the oldest Inn in England dating back to 947AD which, as you would expect, is the archetypal Cotswold pub. In the Sheep we wanted something totally different putting a contemporary look and feel in an old Cotswold building with 22 bedrooms. 12 months on and we are delighted with the results.
TMc: We have some great suppliers, some relationships going back over 100 years, but I would have to say any pub where we have managed to remove a nameless satellite sport provider and improve both wet sales and the bottom line.
6). If you could go back in time and change one thing the pub industry has been affected by in the last 20 years what would it be?
JD: No single piece of legislation, however I do think the continual Government interference in the tenanted sector has felt like "death by 1,000 cuts." The legislation governing the Landlord &Tenant relationship is far more draconian than any other commercial property sector. I would like to see everyone working together in the best interests of tenants.
TD: Consecutive government taxation policy on pubs and beer. I strongly believe that the Great British pub has been seen as a soft touch by the government over the past 20 years and through duty, VAT and business rates pubs are being hammered from every angle. The government should be encouraging responsible drinking and socialising in controlled environments rather than driving customers to buy cheap supermarket alcohol to drink in unsupervised and often antisocial environments.
TMc: A culture where it is not possible to evenly highlight the value of a well-managed, sensible consumption, pub environment. Humans are social creatures and pubs are a defence to loneliness, social isolation and, in the company of friends, family and empathic staff, provide a safety valve from the pressures of daily life.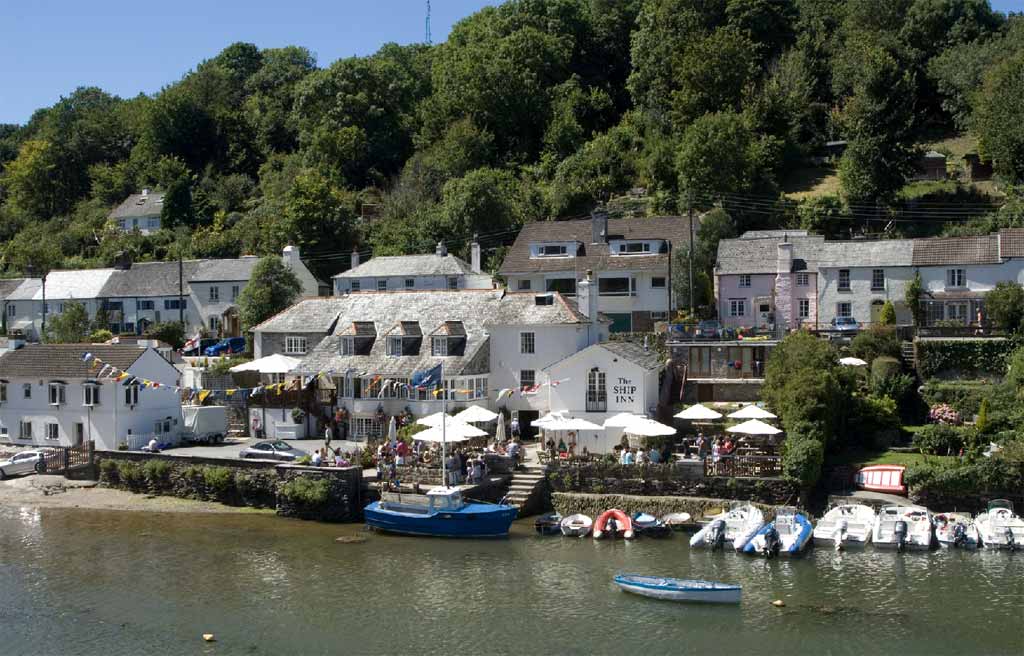 The Ship Inn, Noss Mayo
7). What changes to government legislation would you change tomorrow if you could?
JD: The new rating appeals system is an absolute mess. The Valuation Office is under resourced and the Government has put in place an elongated process designed to deter appeals to try and protect rates revenue. In the North West we know for a fact that a percentage of pub valuations were carried out by an already retired ex VO employee with no previous licensed trade valuation experience, who was bought back in on a short term contract and is now back retired!
TMc: Business rates: they contravene almost every accepted principle of a well designed and implemented tax regime. Inequitable, complex and counter-productive.
TD: I think the ACV (Assets of Community Value) legislation is a ridiculous piece of law. I understand the reason why it was brought in but it is now being used as a default position to pubs everywhere whether they are used by the community or not. We have too many pubs in the UK for the way modern society use them and more will have to shut. I would far rather see one successful, well invested pub than 3 all on their knees struggling to survive. Something has to give as registering pubs as ACVs to stop development is crazy. In a capitalist society supply and demand will equal out and if we need more pubs in the future then more will be built or opened but it seems ridiculous to allow currently unviable pubs to sit empty for years on the basis that a group of people who probably never went into it decided that they liked the idea of having a pub in their community so registered it as an ACV (in most cases after it had closed).
8). When you are considering a potential acquisition, how much do you rely on data and trading information and how much is "gut instinct" drawn from your experience?

JD: A bit of both because we want acquisitions that fit with who we are. We do have regard to the trading data, but carry out a lot of our own due diligence, including customer visits, demographic analysis and the usual property due diligence.
TMc: I am not sure I have enough experience to draw on gut instinct so my preference would be for demographic data and a walk about (preceded by a Google Maps recce). Trading information may provide comfort but only if it is from an impeccable source.
TD: Being a small family business we probably don't do the analysis that many of our larger counterparts might. We base a lot of our decision making on gut instinct and the question, "Will this still be a great pub and company asset in 50 years' time?". If the answer is yes then we will try to buy it.
9). What is your favourite pub (which you don't own!)?

TD: My personal favourite is called the Ship in Noss Mayo in Devon. It is a lovely pub but happy memories of time spent there with friends and family make it special for me.
JD: Ye Olde Trip to Jerusalem in Nottingham, reputably England's oldest pub, currently under the stewardship of Greene King. They are doing a reasonable job on the operating side but need to spend a little more maintaining the fabric of the premises.
TMc: James Davies has led me to believe that the Chequers in Marlow is a fantastic pub… there is certainly a great view out of the front windows.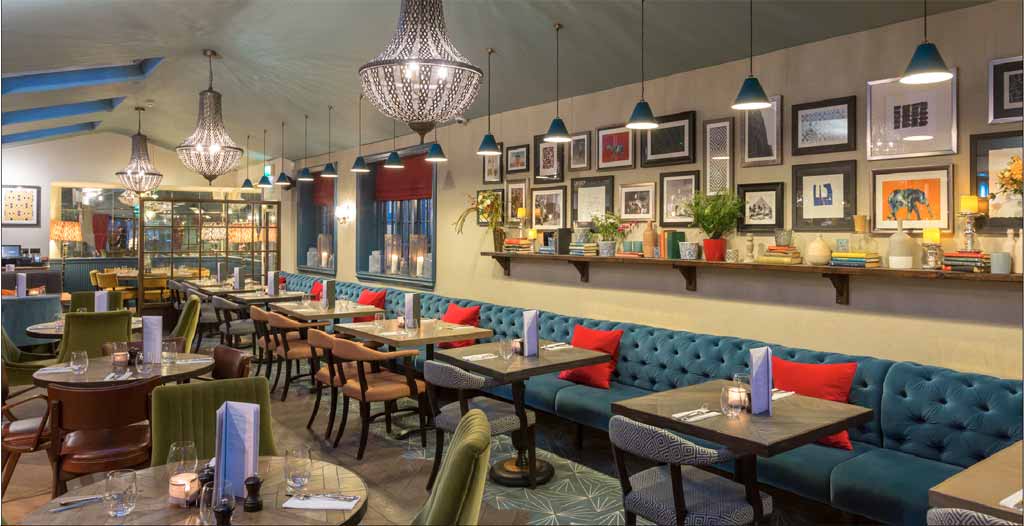 The Sheep on Sheep Street, Stow on the Wold

Leisure
Getting into the swing of things
Graeme Bunn - Managing Director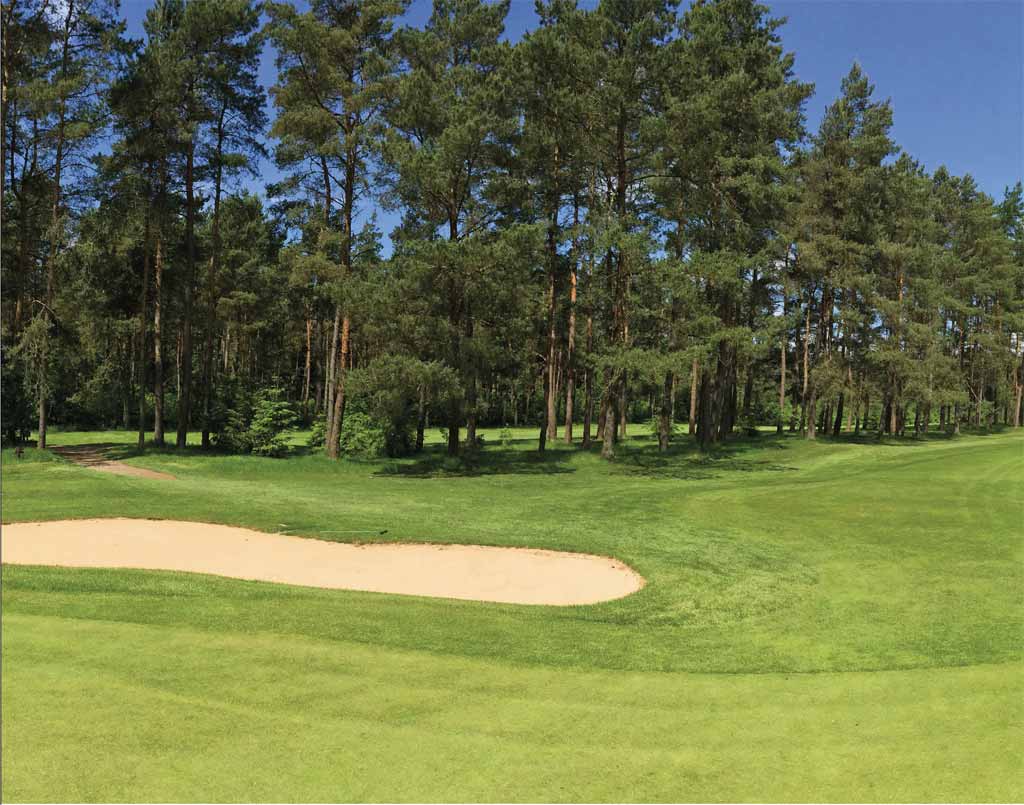 The author A A Milne famously once wrote "golf is popular … simply because it is the best game in the world at which to be bad".
However, the fortunes of golf courses in the UK continue to be subject to a variety of challenges, most particularly highlighted by the continuing decline in golf club membership. By way of example, club membership in England fell 20% between 2004 and 2013 according to England Golf. In contrast, the number of UK golf courses has grown to an all time high of 2,931 in 2014 leading to an imbalance between supply and demand.
Whilst there has also been a shift from club membership to 'pay and play' by those golfers seen as more nomadic, overall participation in the sport has also fallen.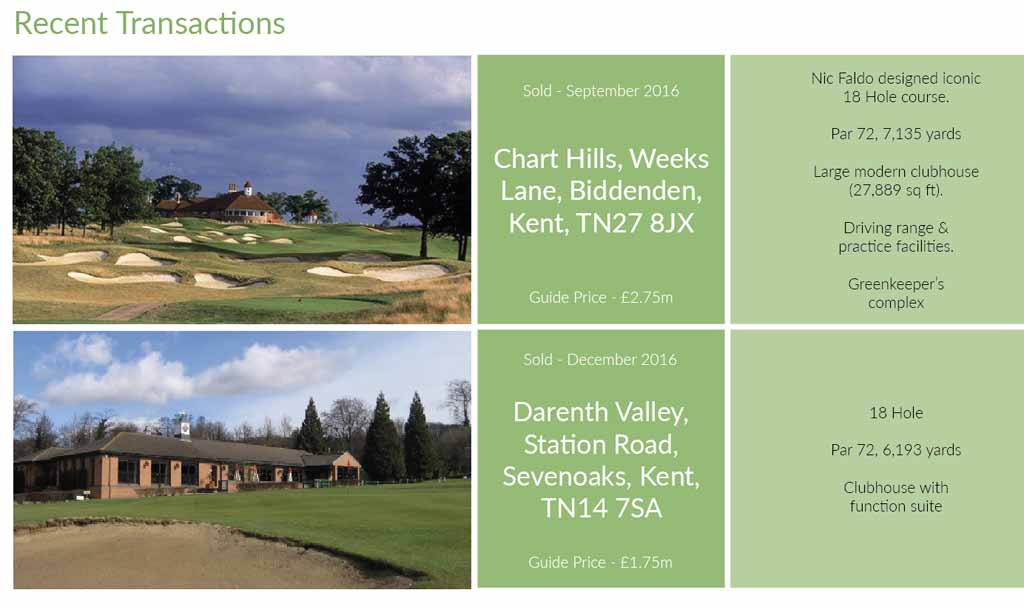 According to the Sport Industry Research Centre there are 3.9 million active golfers in England
who played at least one game of 18 hole golf in the preceding 12 months. This falls to 1.6 million who play each month. However, only 27% (762,000) are registered golfers as members of a club. The vast majority, 73%, are termed "nomadic" golfers, a golfer who is not a formal member of a golf club and as a consequence is likely to be a more infrequent player.
None the less, golf remains consistently among the UK's top 5 most popular sports, particularly in Scotland where 18% of the adult population plays at least once a year. This falls to 6% in England.
In relation to transactional activity within the sector, 2016 witnessed a number of golf clubs being put up for sale, with clubs on the market ranging from small basic parkland courses up to substantial golf course resorts with significant hotel and banqueting facilities attached.
At the lowest end of the market, sale prices have been underpinned by alternative use, with national farmland prices on average now being close to £10,000 per acre. Courses at the entry level of golf have often reverted to pasture land and this is likely to rise in the coming years. Where courses are located in more inaccessible areas or with relatively low immediate population catchment, this is likely to be particularly prevalent.
It is our experience that golf courses at the lower end of the market are often assessed by purchasers by reference to a value per acre and having regard to underlying value for alternative uses in the longer term. As a result analysis of prices paid relative to profit performance is not necessarily a reliable benchmark to value particularly as many such businesses are underperforming and/or sold with limited declared levels of profitability.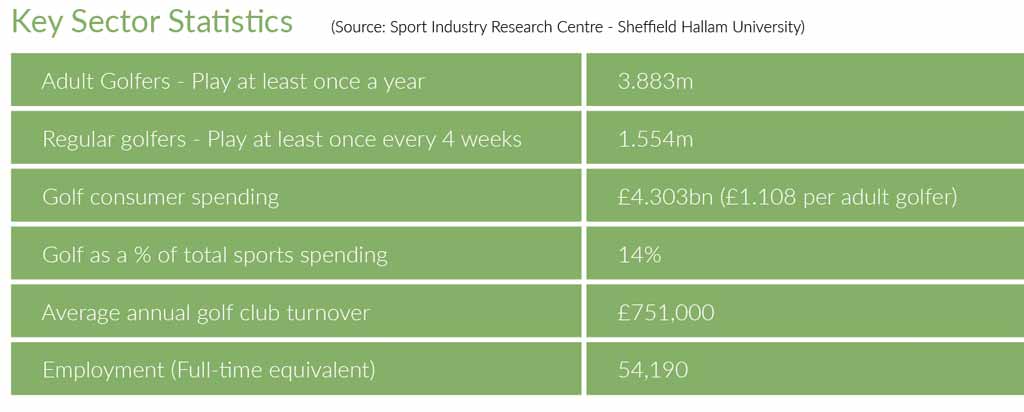 Fleurets is well placed to advise on the valuation and sales of golf courses and other leisureproperties.