Click here to view the complete PDF
A review of the hotel property sector alongside a taster of completed transactions, current instructions and professional advisory work.

In this issue:
- Thriving in uncertainty - An overview of hotel market activity from across the UK, summarised by Head of Hotels Paul Hardwick.
- Talash Hotels Group - Fleurets interviewed brothers Ravi and Sanjay Kathuria, founders of Talash Hotels Group.
- Hotel Case Studies - A selection of key hotel transactions and professional services work from across our nationwide network of offices.
Thriving in uncertainty
Following a strong second half, 2017 transaction volumes in the hotel sector reached circa £5billion, a significant leap from the previous year, driven by a number of Central London trophy hotel sales in the first half of the year followed by a number of large portfolio transactions in the second half. This continued into 2018 with further portfolio transactions including the sale of the remaining Amaris Hospitality Hotel Portfolio for circa £600million, Apollo disposed of its 20 unit Ribbon Hotel portfolio for c.£742m, Starwood Capital exited from the 14 unit Principal Hotel Portfolio for c.£830m and, more recently, Queensgate Investments acquired four Grange Hotels in a £1bn deal. 2018 looks like it will be ahead of 2017 by a considerable margin, albeit with a much lower contribution from single asset transactions.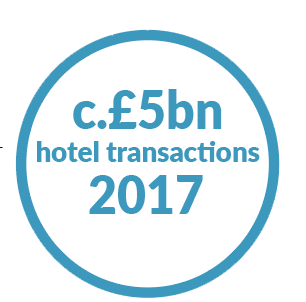 The market is experiencing a shift in buyer profile with European and Middle Eastern investors, alongside real estate funds, family offices, small and expanding multiple operators and other longer term investors coming to the fore.
Particularly strong appetite exists for investors looking to secure long dated, fixed income assets, hotels as an alternative investment class being very much in the sights, an example of which being Secure Income REITS' acquisition of 76 Travelodge Hotels for around £245million. Investments with index linked growth prospects are attracting very keen yields, Premier Inn Hotels and Travelodge investments frequently transacting.
We are also witnessing the growing occurrence of ground lease/income strips as an alternative method of financing with hotel owners/buyers capitalising on the weight of money chasing long term secure income investments, confident that the value of their retained long leasehold hotel interests are supported by the strong prevailing hotel market conditions.
There also remains a steady flow of selective purchases by both established and expanding multiple hotel operators.

Fleurets acquired two Surrey hotels on behalf of Young's - the 43 bedroom Park hotel, Teddington and the 51 bedroom Bridge Hotel, Chertsey, for around £11.6m
Acting on behalf of the Coaching Inn Group, we acquired the group's 15th hotel, the 31 bedroom Swan Hotel in Stafford, from the Lewis Partnership.
We recently concluded the sale of the 60 bedroom Manhattan Hotel in Blackpool to Daishs Travel off a guide price of £895,000, increasing their portfolio to nine hotels.

With continued uncertainty around Brexit, a large proportion of hotels now owned or having been acquired by longer term investors, transaction volumes in 2019 are expected to be more
subdued, perhaps more aligned to 2017 levels.
Hotel trading performance across the UK remains robust. London hotels continue to perform at very high levels, albeit having somewhat plateaued, and the regions continue to demonstrate solid growth. Key performance statistics reported by STR on a 12 month moving average basis for the two years to July 2018 are summarised below.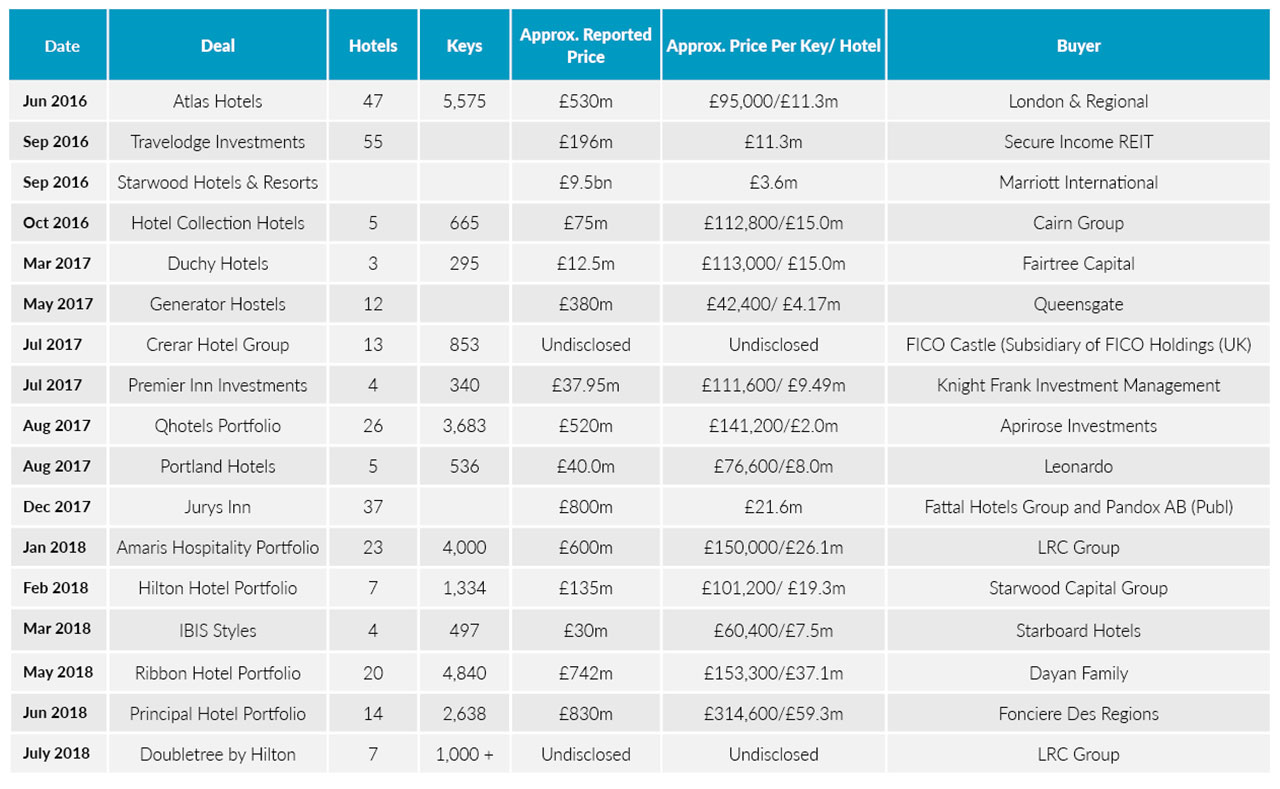 In the case of London, the 4.9% RevPAR growth to July 2017 was not matched in 2018, and although hotels continue to benefit from a strong leisure market aligned to the weak pound and buoyed by a number of key events, hotels face challenges from economic uncertainty, significant increase in hotel supply and suppressed business demand.
Expectations are that London is likely to continue with largely flat performance, with forecasters anticipating a potential small decline in 2019, primarily as a result of occupancy levels slipping.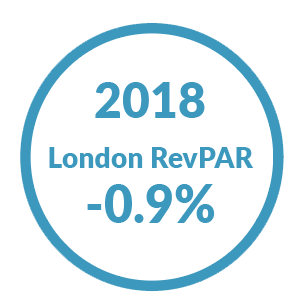 Regionally, hotel occupancy has been relatively consistent during the last few years. Current levels are enabling hotels to continue to drive ADR, the 12 months to July 18 reflecting 2.3% growth on the previous year, driving 2.5% growth in terms of RevPAR. Further growth, albeit more subdued, is anticipated.
New hotel and room supply remains a dominant disrupter within the region of 10,000 new rooms expected to enter the supply chain in London and approaching 15,000 regionally over the next year or two.
Ten years ago, around the prerecession market peaks, it was common for hotel purchasers
to pay prices that included material hope value to reflect the untapped management opportunity and investment potential.
In the current marketplace, buyers and their valuers are more cautious, reflecting market driven opportunity in pricing, whilst not underestimating risk. Buyers are being more selective, applying a greater degree of due diligence in their appraisals.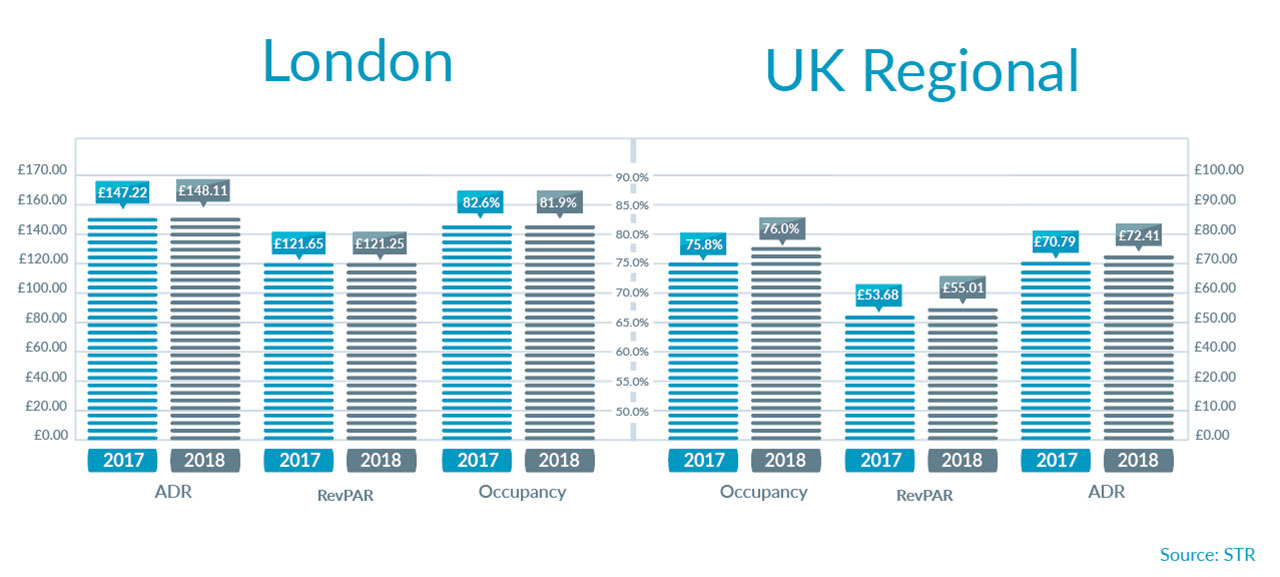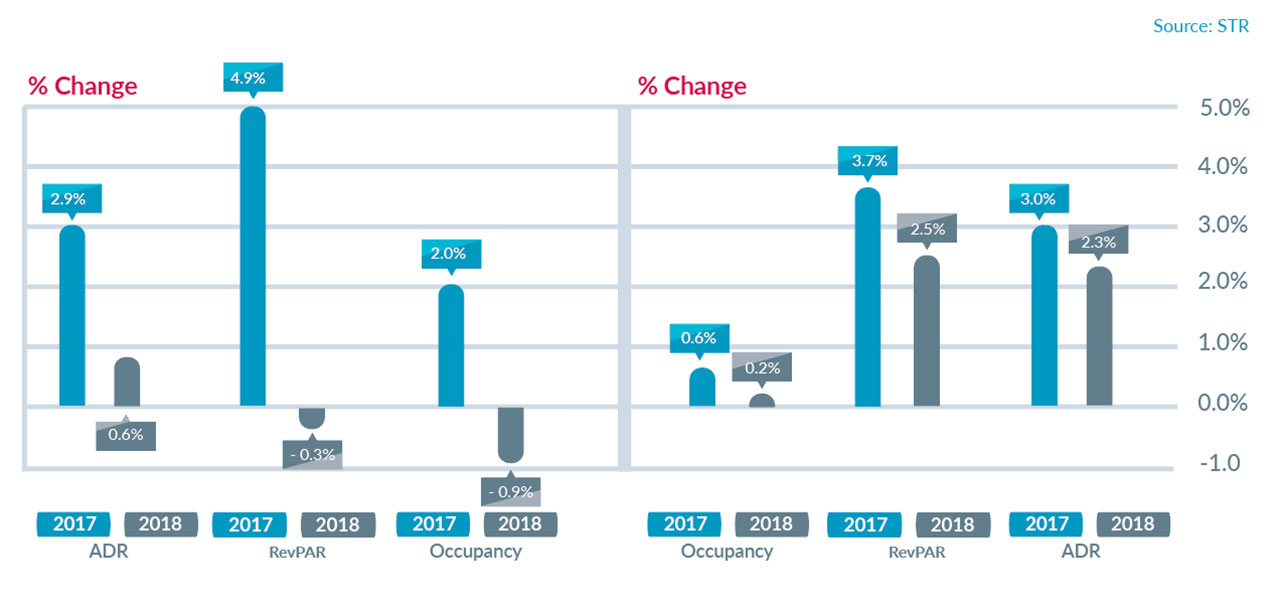 Whilst hotel pricing within prime Central London might reflect trading income yields around 5% in some instances (profit multiples in excess of 20 times), pricing levels are often skewed by perceived underlying real estate values (e.g. residential).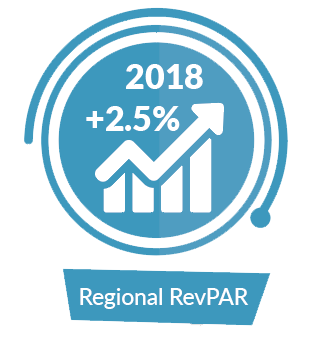 Regional pricing is much more closely aligned to traditional income considerations and return on capital requirements, yields often typically fall between 8.5% and 12.0% (multiples of c.8 times to 12 times).
Higher prices reflect those businesses that are in good condition, well operated, require minimum capital investment and are available with a supporting proven history of successful past trade and profit performance. These businesses offer buyers and funders greater confidence, and are most likely to receive maximum interest with the opportunity for competitive bidding.
Key to a fluid transaction market is confidence; in terms of economic conditions; consumers supporting hotel trading performance through leisure and business spending; visitors and their security whilst in the UK; operators and buyers in terms of formulating business projections, investment plans and considering expansion opportunities; funders and their credit teams measuring ongoing support and acquisition lending; and sellers aspiring to maximise exit proceeds.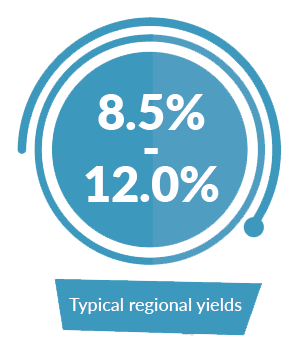 Mounting Brexit uncertainty is certainly doing no favours for confidence, however, some might say that this presents an exciting opportunity, and so far at least, the hotel sector continues to thrive.
Talash Hotels Group
Talash Hotels Group was founded in 2007 by two brothers from Coventry, Ravi and Sanjay Kathuria. Previous entrepreneurial endeavours allowed Ravi and Sanjay to save enough to purchase their first hotel, and since their estate has grown to 13 hotels.
Notably 2016 saw the opportunity to acquire Stoke Rochford Hall Hotel and Golf Course, a spectacular Victorian mansion with landscaped gardens, which has since become Talash' sflagship hotel. Furthermore, in 2017 they acquired four Mercure hotels; Wigan, Telford, Chester and Wolverhampton; marking their first group purchase.
Recently nominated for the Entrepreneur of the Year Award in 2018, the brothers are hugely determined and ambitious, citing Richard Branson as an inspiration; and further endeavour to expand their hotel portfolio in the future.
We caught up with Ravi and Sanjay to ask about their intentions and the future of Talash Hotels Group.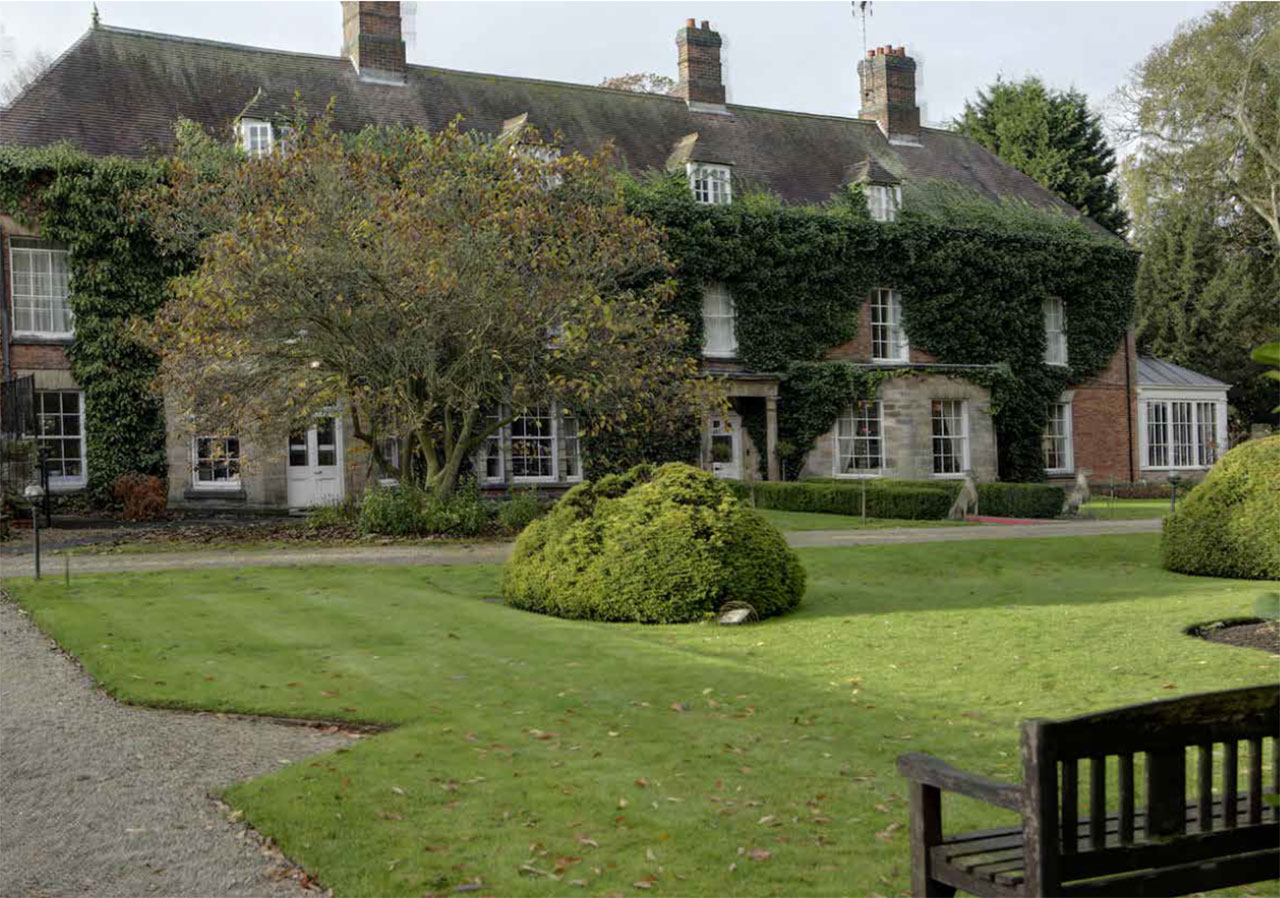 Risley Hall Hotel & Spa
Q&A
How would you describe your group in one sentence?
It's a fast paced dynamic group with family values.
If you were to identify one USP for the group, what would it be?
Our personal approach to staff and the public. People are at the very core of what we do. Our determination to succeed is driven by our passion for family and being able to provide for them. In a similar vein we realised that our hotels are more than just businesses, but opportunities for our staff to help provide for themselves and their families. Therefore one of our core objectives is to make sure our employees feel secure in their workplaces.
What is your vision for the estate in two years?
Our hotel estate currently totals 13 sites, and over the next two years we want to expand to 20 hotels.
How have trading conditions been for you in the last 12 months? And what is your view for the next 24 months, particularly with Brexit looming?
In 2017 we acquired our first group purchase, which was four Mercure hotels: Telford, Wigan, Wolverhampton and Chester. Since the Brexit vote passed on 23rd June 2016 we have actually seen an uplift in the leisure segment - irrespective of clear uncertainty across the country. The next 24 months will obviously be effected by the outcome of Britain's deal to leave the EU, however, we believe our hotels are well placed to adapt to any challenge that we may face, and with that will come opportunity. Hence our ambition for further expansion over the next 24 month. We have a number of hotels in the pipeline and are also exploring the wider leisure market - watch his space! We are also focussing on the development of our MICE business (meetings, incentives, conferencing and exhibitions), which has been driven by a shift in demand in inner city hotels.
If you could emulate one attribute or quality of your competitors, what and who would it be?
It would be Village Hotels, a collection of 30 UK-based hotels. Targeting their contemporary product at a younger market, we especially admire their brand strength and individuality.
Which of your operations is a particular favourite, and why?
It would have to be Stoke Rochford Hall and Golf Resort, near Grantham in Lincolnshire, which we added to our portfolio in 2016 and consequently is our flagship hotel. The hotel provides conferencing facilities and serves as an elegant and idyllic wedding venue. A grand Victorian country mansion with formal landscaped gardens. We are hugely proud of this hotel and also love its individuality, character and history.
Which competing operator do you most admire?
Marriott. Their outstanding portfolio is made up of individual and all-encompassing brands. Do you believe there is still room for new groups and concepts to succeed in the market? Yes with the rise of soft brands there is a strong market for hotels with their own individuality and taste which reflect the local area.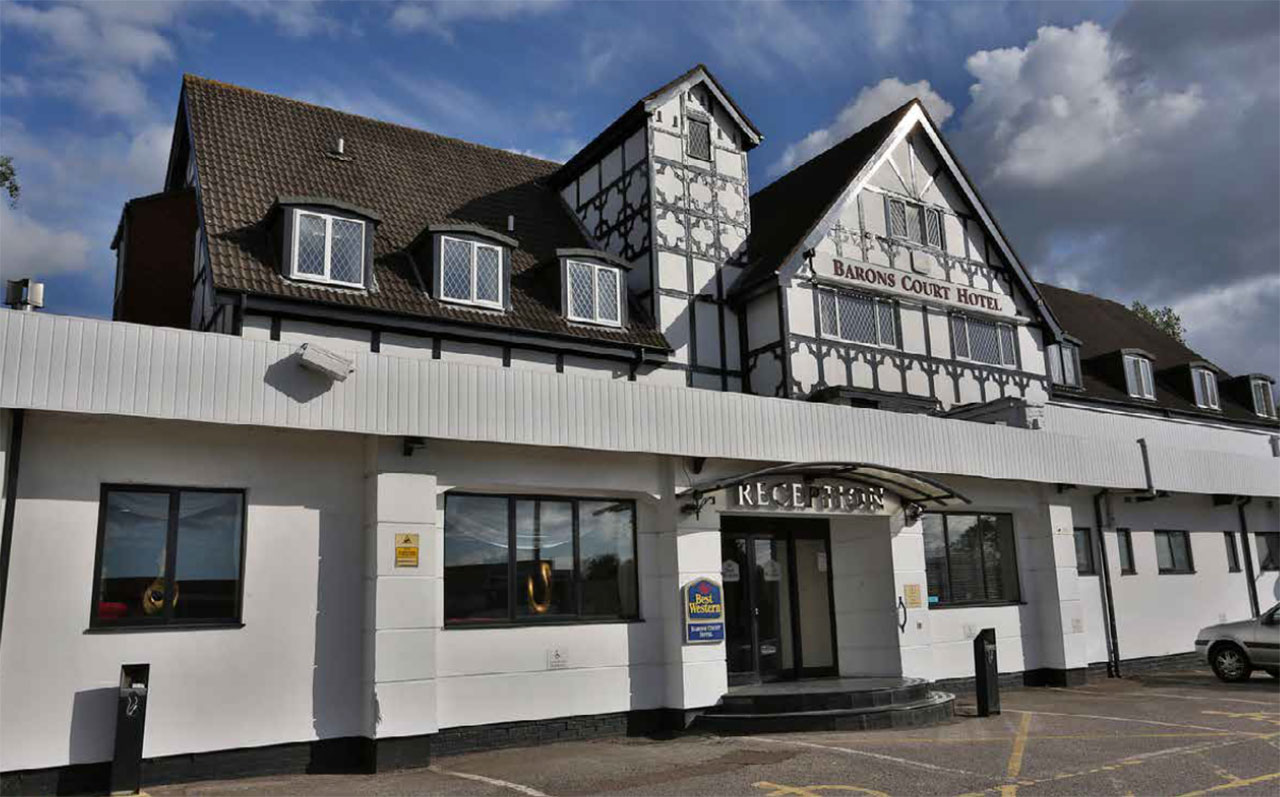 Barons Court Hotel